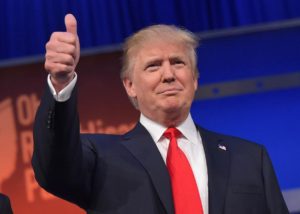 If you've read my posts before, you might have noticed I was one of those super-smart #NeverTrump types. One of the guys who thought conventional rules kinda still applied in 2016. That polls, while flawed, were probably more right than wrong when you averaged them all out. That get-out-the-vote and big data and party unity were all important. After all, hundreds of super-super-smart people assured me of these iron laws. Granted, I wasn't about to make any predictions this year, but I figured Trump had about a one-in-three chance of pulling this off. And damned if I didn't know that an arrogant group-think media, sneering prog pop culture, and the corrupt-to-the-core Clinton machine needed to be brought low.
Luckily for the Republican Party, I was wrong. So very, very wrong. I still don't agree with Trump's style or his instincts; I really wanted a small-r republican, limited-government option. But he not only won the White House, he retained the House, retained the Senate, and possibly saved the Supreme Court for a generation. A hearty congratulations to everyone who supported him, his staff, and of course, The Donald himself.
One more thing: I know I have zero part in Trump's victory, but man does it feel good to watch Clinton, Inc. be swallowed into the earth. Well done, Mr. President-Elect. Maybe it's true that only you could have accomplished it.
God bless America, her leaders, and her people.