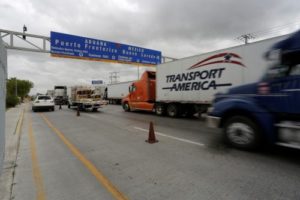 Who doesn't like fresh thinking or novel ideas? Certainly the last decade of economic tumult offers opportunity for deep reflection on our priors.
Still, what to make of this assertion from venture capitalist Peter Thiel, who said the following in a speech the other day:
The sheer size of the US trade deficit shows that something has gone badly wrong. The most developed country in the world should be exporting capital to less developed countries; instead, the United States is importing more than $500 billion dollars every year. That money flows into financial assets; it distorts our economy in favor of more banking and more financialization; and it gives the well- connected people who benefit a reason to defend the status quo. But not everyone benefits, and Trump voters know it.
For some perspective, here are brief thoughts from two AEI trade scholars. First, Claude Barfield:
The first order of business would be to get our fiscal/savings accounts in order—so long as we invest and spend more than we save (public and private savings), in open world market someone else will provide the difference—hence the large current account deficit. Other results—money to financial assets, and to well-connected flow from this—though there are lots of ways domestically to get at the "well-connected" if we really want to.
1) "Sheer size." The goods and services trade deficit was 2.8% of GDP. It peaked at 5.4% of GDP in 2006, when the domestic economy was moving out of equilibrium. That was a problem. As with a number of current protectionist criticisms, Thiel here is talking more about past problems than present.

2) It's reasonable to say the country with the biggest stock of wealth should be a net capital exporter, and our gross capital exports are the world's largest. But Thiel uses "developed." We also have the world's most developed capital markets. So we also should expect to draw capital from everywhere. It's not obvious the US should be a net capital exporter.

3) Are our capital inflows distorting? Possibly. But it's not as if the Fed or other domestic institutions have fought such distortions. We are by definition a large economy, meaning internal variables almost always "trump" external. US monetary policy, investment taxation, and the like are the place to start in criticizing any excess financialization.

4) Are there net benefits for everyone? No, because not every manufacturing job lost is compensated for by a service sector job plus lower prices for goods, services, and capital. But the number of net losers is much less than the number of those who lost jobs due to import competition, for example.

5) The bigger issue is distribution. Benefits have been distributed highly unequally, a legitimate criticism of open trade and investment post China WTO-entry. Focusing on this would help improve Thiel/Trump recommendations. For example, an across-the-board 45% tariff will hit poorest Americans hardest. There's no economic justification for it. In general, Trump voters are correct that there have been harms from trade. But the harms are being misidentified (manufucturing employment and wages rose under NAFTA) and most of the proposed solutions would make matters worse.
And one more take, this from economist Douglas Irwin in Foreign Affairs:
To make their case that trade isn't working for the United States, critics invoke long-discredited indicators, such as the country's negative balance of trade. "Our trade deficit with China is like having a business that continues to lose money every single year," Trump once said. "Who would do business like that?" In fact, a nation's trade balance is nothing like a firm's bottom line. Whereas a company cannot lose money indefinitely, a country — particularly one, such as the United States, with a reserve currency — can run a trade deficit indefinitely without compromising its well-being. Australia has run current account deficits even longer than the United States has, and its economy is flourishing.