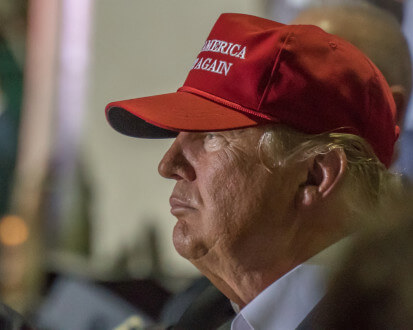 The great irony of politics is that it rewards loyalty with neglect and heaps attention on the uncommitted. Saying your vote can be counted on is a guaranteed way to get ignored, while letting it be known that you're willing to deal (for the right price, of course) means people will fawn over you. It's not a good system, it's just the one we're stuck us with.
If conservatives ever knew this, we forgot it completely when Donald Trump strode onto the political stage. As I describe in a piece on The Federalist, very nearly all of us — NeverTrumpers, Trumpkins, and ReluctantTrumpers alike — overcommitted ourselves at the outset, losing whatever degree of influence or control we might have had over the Republican nominee.
As a practical matter, the [NeverTrump] strategy was an abject failure. It persuaded too few Republicans to deny Trump the nomination. Additionally, the movement's habit of offering opposition without alternative made it seem stubborn and childish on the one hand, while its elite nature—at least, in its early stages—gave it the air of a frustrated parent falling back on a because-I-said-so defense. […] The smarter—though, more difficult—move for Trump opponents would have been to state that they could not support Donald Trump under current circumstances, and to offer a brief explanation of how they could be persuaded to change their minds.

It needn't have been likely that Trump would meet these conditions, so long as it were possible. Nor would it have required critics to pull their punches. "I will never support Donald Trump for president," and "I cannot support Donald Trump for president now because of reason x," are dissimilar only insofar as one's future standards or Donald Trump's behavior are likely to change. If the former is secure, then offering an incentive for good behavior would only have been to NeverTrumpers' advantage.
But it's not just the NeverTrumps who overcommitted themselves. Dennis Prager — who opposed Trump throughout the primaries but who argues that conservatives became morally obliged to support him once he became the nominee — provides an almost perfect example of the dangers of telling a candidate that it's all-but-impossible for them to lose your vote:
There is nothing inherently wrong with Prager's judgement that, given the stakes, it's best to vote for Donald Trump over Hillary Clinton. But [arguing] that Clinton's awfulness obliges one to vote for Trump removes any possibility of influence over the candidate. Though Prager has continued to criticize Trump regularly, it should come as little surprise that the candidate has taken so little heed; if NeverTrumpers have locked themselves out of negotiations, Prager and those like him have locked themselves in.
If you want to know who's to blame for our current mess, the person who stares back at you from the mirror is probably a good starting point.