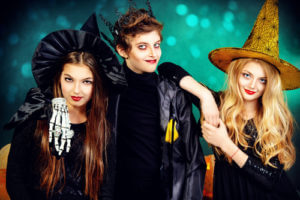 Complaining about teenaged trick-or-treaters has become a tradition in America, almost as beloved as grousing about early Christmas décor. Who do these kids think they are? Halloween is for children, not bratty teenagers who should be doing their homework.
In the spirit of this longstanding tradition, Slate's L.V. Anderson has decreed that henceforth, no person over the age of 13 may trick-or-treat. Candy will be dispensed to costumed 13-and-unders only; older kids who try to horn in on Halloween should know that they run the risk of being shunned, or possibly poisoned.
As a longstanding partisan of Halloween, I rise to challenge this ruling. Trick-or-treating is innocent and fun. It should be permitted for anyone willing to don a costume and recite the traditional script, from toddlerhood through the end of high school.
Anderson's analysis is suspect from the start, because she clearly hates Halloween. She's not just mad about the teenagers. Her crusade extends to costume parties, monster film fests, haunted houses, and effectively all other Halloween festivities that are not exclusively geared at the grade-school crowd. No spooky fun for anyone old enough to see an R-rated movie.
"Were I queen of the world," she declares, "Halloween would be a holiday for children and children only."
I don't know Anderson personally, but I'm betting she's one of these people who just hates the creepy-crawly October gimmicks. I have many friends like this, and they too find it difficult to acknowledge that their personal distaste may not need to become a moral crusade. Some people dislike fake tarantulas and monster masks. Others of us think they're kind of fun. We could debate which group's preferences should dominate public spaces, but decreeing that nobody anywhere may enjoy these antics past grade school is more than a little Puritanical.
Anderson does at least make a pretense of having an argument for stopping the fun at 13. She claims that age is, "the last plausible age at which a kid could sincerely get excited about dressing up and trick-or-treating. After 13, children transform into jaded, surly, rebellious jerks, as predictably as the onset of menses and the deepening of boys' voices."
Teenagers, she's pretty sure, are not really enjoying Halloween with the joyful, imaginative creativity of their younger selves. They just want to take advantage. It's about getting something for nothing. Conning neighbors into providing the snacks for their next kegger. Mocking the enthusiasm of the more genuine participants.
As Anderson sees it, the malicious cynicism of trick-or-treating teens destroys the spirit of the holiday even for those younger kids who still believe in magic. They should buy their own damn Snickers bars.
In other words: Get off my lawn, teenage witches!
This is highly unconvincing coming from someone who has effectively already confessed her hatred of the holiday. You'd like to ban the office parties and the adult costume shops, but you'd have us believe that your war on teen trick-or-treating is motivated by a desire to preserve the true spirit of the holiday? Color me skeptical.
You see, some of us actually like Halloween. We liked it as kids, and then as teenagers, and now as adults we still like it. We dressed up and trick-or-treated in our high school years because we weren't jaded, malicious old cynics like… some other parties to this discussion. In college we hit up local drug stores (no, I didn't mean that way) for spooky gimmicks to decorate our dorm rooms. And as grown-ups we still find it fun to improvise costumes to wear to our kids' parties, or when answering the door for trick-or-treaters.
If you've got a problem with this, feel free to direct your complaints to the Office of Holiday-Hating Killjoys, c/o Ebenezer Scrooge.
I usually interpret holiday-hatred as the bitter passive-aggression of people who aren't able to enjoy holidays as much as others they see around them. Teenage trick-or-treating raises an additional issue, though. It's become a semi-acceptable means of scorning kids who have committed the cardinal sin of not being as cute as they used to be. Tiny skeletons and hobgoblins are just so gosh-darn adorable, and that's some compensation for the trouble it takes to answer the door to them. The teens aren't quite as prepossessing, so we snort and mutter, "Too old!"
The truth is, they're not hurting anything. Even if they are exploiting their neighbors for treats, there are much more insidious ways to terrorize a neighborhood. Also, in a sense they do have to work for the goodies. They must pay their tribute to long-standing American custom. I only distribute candy to young people who are willing to 1) Don a costume, and 2) Say "trick-or-treat". If that routine makes you feel silly, then yes, it's time to retire the plastic pumpkin.
Anderson can sneer at her neighborhood teens if she wants to, but I'll be sitting near my door tonight ready to welcome all costumed comers. I'm also putting out this reminder for all pubescent pranksters: I've got the treats. Send her the tricks.