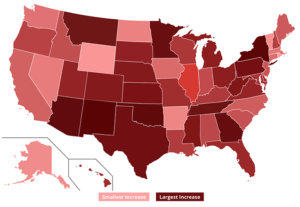 If only someone had warned that a federal takeover of the health care system would result in lower quality and less choice at higher prices.
You've probably seen the news that Obamacare premiums will be skyrocketing next year. Just as everyone with a basic understanding of economics expected. The benchmark silver plan will jump by 22 percent on average, or about $300 a month. Indiana fares the best with a 3 percent drop, while Arizona's rates (where I live) will rise a shocking 116 percent.
Worse still, nearly a quarter of insurers are leaving the exchanges; residents of Alaska, Alabama, Oklahoma, South Carolina, and Wyoming will have only one insurer to "choose" from.
But in an effort to spin the dire news, federal officials promise that most consumers will be shielded from the price hikes. That's because our benevolent masters in DC will provide subsidies weighted to consumers' income. That's despite said masters being $20,000,000,000,000 in debt with a major money lender growing more anti-American by the month.
If you want to see the hit your state will take in the upcoming year, Freedom Partners has created an interactive map with all the details. Read it and weep.