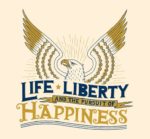 If a rump Le-Pen-style Republican Party emerges (oozes out?) after this election, freedom-loving Americans like me will knock the dust of the GOP off our sandals and start anew. What would be a good name for the next conservative party?
I know it's long but what about the Life, Liberty and the Pursuit of Happiness Party?
We could trade the "Republicans" label for "Pursuers" or "Lifers"? What about "Liberals"? This LLPH Party could be the official name and use "Liberty Party" for short and then go about reclaiming and rehabilitating the (classical) "Liberal" label.
Thoughts? Comments? Suggestions?