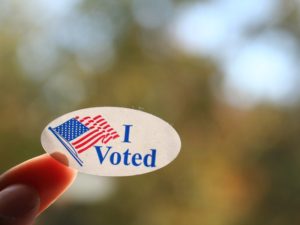 2016 has been a miserable year for conservatarians like myself. Republican primary voters soundly rejected constitutionalists, budget balancers, and limited-government enthusiasts, opting instead for a shouty 70-year-old Hillary donor who's more concerned with tweeting typos than getting out the vote.
When Reince Priebus and his feckless RNC attempted to silence lifelong Republicans such as myself, I stepped away from the party and declared my independence.
Over the past few months, I've seen a few "Never Trumpers" reluctantly endorse The Donald, apparently unclear on the meaning of the word "never." But neither Trump nor Clinton is fit for the presidency so I cannot vote for either one. (Besides, I was assured throughout the primaries that my vote wasn't needed for Trump's November landslide, and who am I to doubt the predictive powers of @WhyteGen0cyde88?)
So that left three options: Make no choice for the presidency, vote for the Libertarian, or write-in the 11th hour candidate, Evan McMullin.
Though McMullin holds similar views to my own and seems a genuinely decent guy, he doesn't have the qualifications I look for in the leader of the free world. I might enthusiastically vote for him as a congressman, but zero executive or political experience makes him a non-starter in my book. Of course, his candidacy was created in the event of a close race in which, by winning a state or two, the election would be sent to the House. However, looking at how quickly the GOP establishment caved to Donald Trump, I can't imagine they would choose anyone other than the Republican nominee. The fact that McMullin's name isn't listed on my state ballot made that choice appear even more futile.
That leaves Libertarian Gary Johnson, who bizarrely has seemed more interested in reaching out to Bernie bros than to disaffected Republicans. But as the two-term Republican governor of New Mexico, he built an admirable record. Unlike most conservatives who never deliver on their small-government promises, Johnson vetoed 739 bills passed by the Democrat-dominated statehouse. To quote Calvin Coolidge, "It is much more important to kill bad bills than to pass good ones."
Johnson also instituted one of the strictest welfare reform programs in the nation, ended public employees' collective-bargaining rights, cut taxes, and reduced regulations. This isn't to mention his efforts to implement school vouchers, term limits, and mass privatization.
Despite all these accomplishments, in 2016 Johnson has made numerous gaffes on foreign policy, religious liberty, and climate change, causing even his staunchest supporters to facepalm weekly. But, let's face it, Johnson isn't going to come close to winning the Oval Office, even if he gets more votes than any Libertarian in history. However… if Johnson were to make a decent showing on November 8, the Libertarian Party would be far better positioned for a stronger nominee in 2020:
If Johnson snags 5 percent of the national popular vote, the Federal Election Commission will classify the Libertarians as an official "minor party," granting the 2020 nominee a lump sum of cash for the fall campaign, courtesy of the American taxpayer. (And don't you think for a second that the vehemently anti-big-government Libertarians won't cash that big government check in a heartbeat.)

The exact amount of federal funds depends on the size of his vote, but Green Party officials – who have been chasing 5 percent for years – estimate that meeting the threshold would yield about $10 million. That may seem like chump change compared to the hundreds of millions of dollars major party presidential nominees routinely raise. But Johnson has gotten this far after raising only $8 million through August. The prospect of knowing the Libertarian Party's nominee is guaranteed $10 million will allow him or her to hit the campaign trail running, improving the odds of getting into the debates, winning an even larger share of vote and fortifying the party's place in the American political landscape.
I'm not enthusiastic about any of the candidates running this year. But this morning, I filled in my early ballot with Johnson as my pick.