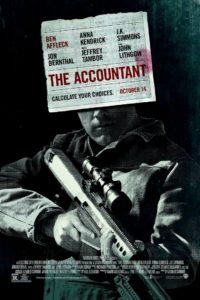 It's nice to pay for a movie and not be disappointed. I know that sounds odd, but in this day and age of Hollywood where more and more movies are created for foreign consumption, it is nice to be able to say it. Not only was I not disappointed–I actually enjoyed it.
I watched The Accountant starring Ben Affleck. Here are some more things to like. None of the characters are really unlikable, not even the bad guys. It doesn't bash any group or take political shots—when it could. Even Ben Affleck's character, a high functioning autistic, manages a small smile once in a while.
The plot twist is pretty good — clever and original. I won't give it away, but you'll like it. Hollywood moguls must have rejected this script 100 times until someone decided to treat the viewer like they had a brain. That or someone screwed up.
But even better, everything is balanced. Not too techie, not too violent, not too heavy, no special effects, not stupid, no sex scenes substituting for good dialog (In fact, the women in it are pretty ordinary looking). And, I'm not sure how to word this right, but all the characters are flawed and make small mistakes or screw up just enough so we know they're human.
OK, this is an action flick, so there is gun-play and fight scenes in it but they're pretty good.
If it has one fault, maybe, just maybe; the end almost becomes an ad for AutismSpeaks.org or something.
You don't need to see it in a big theater but see it.