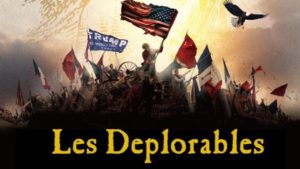 Eight years ago, we were an amorphous blob, a nondescript and motley collection of malcontents who, "…get bitter, they cling to guns, or religion, or antipathy toward people who aren't like them." However, this description of those who would later comprise at least part of the Tea Party by then-Senator Obama was hopelessly out of focus as it could apply in equal measure to the KKK, Islamic radicals, Black Lives Matter, Bill Ayers and his Weather Underground bombers, or the Beverly Hillbillies. But now, thanks to that rollicking fun couple, Bill and Hillary Clinton, who discombobulated the word "is," who popularized speculation on what sort of underwear the president prefers, who compromised America's national security, and who made it fashionable to use an intern as a humidor, we now have some clarification.
Actually, they were referring to everyday Americans, a term which we recently learned sets Mrs. Clinton's teeth on edge, but which describes those who who don't wield a great deal of power, and yet they go to work every day, obey the law, pull their own weight in society and expect others to do the same, and aren't terribly well disposed to being ordered about by power-hungry utopians whose little schemes deprive them of their earnings, their liberty, and their dignity. But as the old saying goes, "You've come a long way, baby," because not only have the Clintons brought we bitter-clingers into sharper focus but, to employ the latest in trendy vernacular, we've become "more inclusive," pushing back the boundaries of our ostensible narrow-mindedness and philistine respect for the Constitution to become more "diverse." Because we now have it on the authority of the Clintons that our ranks have grown to include Rednecks, Deplorables, and Catholics, all of whom are evidently to be treated as cultural lepers.
It's one thing to be mocked and disparaged by the au courant trendsetters of the left, who speak with that rudderless certitude which makes their disdain worth coveting (besides, it's fun to hear their heads rattle). But when the Bonnie and Clyde of American politics, one of whom lost his law license for committing perjury even as he lost the respect of his countrymen for treating the Oval Office like a porn video's casting couch, while the other achieved a level of professional buffoonery equalled only by her comprehensive and supernatural corruption, presume to look down their collective nose at those of us who play by the rules, who haven't destroyed evidence or haven't lied under oath, or violated the Espionage Act, I feel slighted. Can't liberals find snobs with a modicum of class?
"Hypocrisy is the homage which vice pays to virtue," wrote the French author Francois de La Rochefoucauld some 300 years before Bill and Hillary began devoting their lives to validating his thesis. But when vice demands payment from virtue, we have a problem.
Back on August 10th of this year, MRs. Clinton wrote in Utah's Desert News that, "As Americans, we hold fast to the belief that everyone has the right to worship however he or she sees fit. I've been fighting to defend religious freedom for years." Indeed, so swept up in the fervor of religious freedom was she that, before it was done, she even endorsed Thomas Jefferson's remark that, "all men shall be free to profess, and by argument to maintain, their opinion in matters of religion." Uh-huh. And if religious freedom and the right to "maintain their opinion in matters of religion" means declining to participate in the slaughter of unborn children?
Never mind. She had other points to score. A few paragraphs later, Clinton had Thomas Jefferson endorsing an agenda utterly foreign to the Constitution before she unloaded this transcendent whopper:
The next president will swear an oath to preserve, protect and defend that document for successive generations. And if you give me the honor to serve you as president, I will fight every day to carry out that sacred responsibility.
Of course she knows, and we know, and everybody knows that she knows, and we know, that the preservation and protection of the Constitution would put the Democratic Party slam out of business. In which case the interesting point becomes the juxtaposition of her public policy positions with the views she and her colleagues hold in private, for it is in private that that they practice a sort of ideological Jim Crow which segregates the undesirables from the ostensibly enlightened class, which is to say those whose views are most hostile to the views of the Founding Fathers.
"Politics is like sausage being made," Mrs. Clinton said in a private speech to the National Multifamily Housing Council in 2013, "[I]t is unsavory, and it always has been that way, but we usually end up where we need to be." Evidently, "where we need to be," when making such remarks is behind closed doors, far from the eyes and ears of those over whom we presume to rule. Why? Clinton continues, "But if everybody's watching, you know, all of the back room discussion and the deals, you know, then people get a little nervous to say the least." Yes, ma'am, because, you know, it's our liberty that's being bartered in these back room deals and, you know, that wasn't exactly the intent of the, you know, American Revolution. "So," she adds, "we need both a public and a private position."
Which is how she glides on cat feet from her public position that, "I've been fighting to defend religious freedom for years," to her private position as exemplified by those on her campaign staff, including one Sandy Newman, whose own defense of religious freedom is such that he wrote, "There needs to be a Catholic Spring, in which Catholics themselves demand the end of a middle ages dictatorship and the beginning of a little democracy and respect for gender equality in the Catholic Church."
"It's an amazing bastardization of the faith," chimed another colleague, John Halpin, who doesn't bother explaining how a Church that traces its lineage back to the Last Supper bastardizes its faith by remaining faithful to it. "They must be attracted to the systematic thought and severely backwards gender relations and must be totally unaware of Christian democracy," Halpin continues. Apparently, over 2,000 years of scholarship by Catholic historians and theologians have somehow overlooked heretofore unknown evidence that the Ten Commandments were the product of a popular vote.
Not to worry, however, for Clinton Campaign Chairman John Podesta is on the case. "We created Catholics in Alliance of the Common Good to organize for a moment like this." writes Podesta. "But I think it lacks the leaders to do so now. Likewise Catholics United. Like most Spring movements, I think this one will have to be bottom up."
Behold, the progressive in action. Make no mistake — the candidate who once said, "Laws have to be backed up with resources and political will. And deep seated cultural codes, religious beliefs and structural biases have to be changed," means to effect those changes one way or the other. As an attorney recently wrote to Archbishop Charles Chaput:
These bigots are actively strategizing how to shape Catholicism not to be Catholic or consistent with Jesus' teachings, but to be the 'religion' they want. They are, at the very core, trying to turn religion to their secular view of right and wrong consistent with their politics. This is fundamentally why the Founders left England and demanded that government not have any voice in religion. Look where we are now. We have political actors trying to orchestrate a coup to destroy Catholic values, and they even analogize their takeover to a coup in the Middle East, which amplifies their bigotry and hatred of the Church. I had hoped I would never see this day — a day like so many dark days in Eastern Europe that led to the death of my [Protestant minister] great-grandfather at the hands of communists who also hated and wanted to destroy religion.
Anti-Catholic bigotry is nothing new, but anti-Catholic bigotry backed by the power of the state is dangerous not only for American Catholics, but Christians of all denominations. Those who remain skeptical of the left's designs on differing opinions need look no further than the politicization of the IRS whose power the Obama administration turned against right-leaning non-profits, or Attorney General Loretta Lynch's own testimony to the Senate Judiciary Committee last March that she was considering taking civil action against those who voice skepticism regarding "climate change," and had, "referred it to the FBI to consider whether or not it meets the criteria for which we could take action." There was a time when the idea of being prosecuted for merely objecting to a given policy was considered crazy talk — the stuff of Castro, Mao, or Stalin, all of whom come to think of it, enjoyed some level of approval on the American left for reasons that are coming into awful focus.
Meanwhile, the basket of undesirables grows larger by the day as the Clinton political machine throws in those it calls "deplorable," defined as such on the basis of the racism, sexism, homophobia, Islamophobia imputed to anyone with the temerity to disagree with the policy prescriptions of Barack Obama or Hillary Clinton. Do you, for example, suspect that the empirical data is correct which shows that an increase in the minimum wage results in higher unemployment? Well then, you are either racist or sexist depending on whether it was Barack Obama or Hillary Clinton who called for such an increase.
Do you, to take another example, look at those parts of Europe that have become ungovernable with the arrival of wave after wave of immigrants from countries whose cultures are antithetical to a civil society and think, "Well gee whiz, maybe it isn't such a good idea to import tens of thousands of these marauding hell raisers to American shores?" If so, too bad. Because, you are now guilty of Islamophobia which grants automatic membership in the ranks of the deplorables. Welcome aboard.
Years ago, the comedian Jeff Foxworthy made famous the phrase, "You might be a redneck if…" It was marvelous fun. "You might be a redneck if you spent more on your pickup truck than on your education," Foxworthy said to laughter and cheers from good natured folks who can take a joke as well as deliver one. But light-hearted ribbing wasn't exactly on the agenda recently when Bill Clinton told an audience in south Florida, "The other guy's base is what I grew up in. I'm basically your standard redneck."
Guest columnist Carl Hastings in the Canadian Free Press had perhaps the best response to Mr. Clinton:
"…Rednecks are polite and respectful of women. The Clintons? Not so much. Redneck are honest. The Clinton's? Not so much. Rednecks are self sufficient. The Clintons? Hillary doesn't even drive. Rednecks financially support the Clintons who have rarely (if ever) gotten hot, dirty, sweaty, bone tired making a living.
In any event, it is worth noting that in a country whose foundational documents declared that all are equal before the law, a political faction has gained prominence, in part, by applying the Marxist habit of dividing our countrymen by ethnic and socio-economic lines, favoring some groups over others and turning them against each other. As I wrote some three years ago:
It is a diabolical dogma that reduces the free man to little more than a laboratory mouse to be prodded in matters large and small, told where and how he may or may not worship his God, compelled to surrender the rewards of his labor to the state for redistribution, and, with the Big Bertha of progressivism now in play, submitting his very life and health to the machinations of a government that strips him of his individuality, shrouding him instead in the drab, rudimentary colors of groups ordered along socioeconomic and ethnic guidelines from which plight the catchprahse, "Yes, we can," echoes ominously in his mind. He is, in a word, owned.
I misspoke when I wrote of a government that shrouds the individual "… in the drab, rudimentary colors of groups…" because we now know from Wikileaks that the preferred term of art employed by Team Clinton to divide our fellow citizens is the term, "food group." How appropriate for those who dedicate themselves to swallowing whole the freedom of those they purport to "serve."
But regardless of the "food group" to which you belong, it all boils down to the proposition that some are organically suited to lord over the lives of others. And if you decline to play along? Too bad. The left will bring the instrumentalities of the state to bear because, ultimately, you're a pawn in either event, a plaything for the experiments of the utopians. This is the hell that awaits if Hillary Clinton is elected this November.
"I imagine they think it is the most socially acceptable politically conservative religion," Clinton Campaign Communications Director Jennifer wrote of Catholics in a recently disclosed email." Excellent point," responded John Halpin, "They can throw around 'Thomistic' thought and 'subsidiarity' and sound sophisticated because no one knows what the hell they're talking about."
Subsidiarity, Mr. Halpin, is defined as: "[A]n organizing principle that matters ought to be handled by the smallest, lowest or least centralized competent authority. Political decisions should be taken at a local level if possible, rather than by a central authority." It's a principle, incidentally, which is in keeping with those of America's Founders, which explains not only why you don't know "what the hell they're talking about," but why you and the corrupt politician you serve should be no where near the White House.