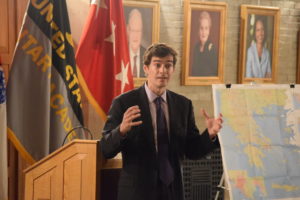 Over the years, I have spent a considerable amount of time in Greece and in the parts of Turkey that once were Greek. I do not know how many times I have taken a bus down to Laconia and Messenia or driven there, but they are numerous. I have visited the site where ancient Lacedaemon was situated over and over again, and I have also hiked on the slopes of Mt. Taygetus and in Messenia on the western side of the mountain with some frequency. But I never had the sense that I was actually in Sparta until the 29th and 30th of September this year — when I visited West Point and gave a lecture there entitled "The Grand Strategy of Sparta."
At noon on the 29th, I flew from the Detroit Airport to Newburgh, New York — where George Washington once faced down a near-mutiny on the part of the Continental Army. There I was picked up by a driver and taken to Hudson House in Cold Spring on the eastern shore of the Hudson River. From there, I could see West Point looming in the distance on the western bank of that great stream. Had I not known better, I would have taken it for a prison.
Late in the afternoon, I dined at Hudson House with my host Hugh Liebert, the author of a fine, new book on Plutarch; with his wife, Rana; and with various other faculty members from West Point — including Eugenia C. Kiesling (whom I once taught), Patrick Campbell, Major John Chambers, and Major David Miller. The latter two were graduates of West Point who had been eventually been recalled to teach in the Department of Social Sciences. If the past is any predictor, these two gentlemen — who distinguished themselves while students at West Point and in postings after their graduation — will go on to plum assignments as aids to leading figures in Washington and on eventually to important commands. This has been the pattern since, shortly after World War II, Brigadier General George A. Lincoln chose to return to West Point as a colonel and turn the social science faculty into the intellectual powerhouse of the US Army.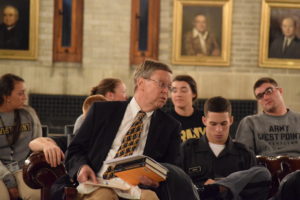 After dinner, I was driven down the Hudson, over a bridge, and back up to West Point — where, from 7-9 pm, I spoke to about 40 cadets and a scattering of faculty members on my chosen subject. This even took place in Taylor Hall — a building with a Gothic feel known colloquially as the Superintendent's Castle — in the Thayer Room, which was lined with photographs of former Presidents, Secretaries of State, and the like who had spoken there after being awarded the Thayer Prize.
It was quite a room. It was quite large; the ceiling was high; the stone was grey. It reminded me of the great reading rooms in the libraries at Yale and Stanford and of the great meeting rooms in Willard Straight Hall at Cornell. Knowing that there was a program in grand strategy at West Point and that many of the students present were participants in the program, I gave a polemical talk — aimed at showing that what was passed off in the academy as foreign-policy Realism was, in fact, surreal and that, in anticipating the conduct of other powers, one must take into account not only their desire for self-preservation and power-maximization but also the imperatives associated with particular regimes. Sparta was my prime example, but I touched on Persia, Athens, Nazi Germany, Churchill's Britain, and present-day Iran in suggesting that, in war, what is at stake is the way of life and the political regime of those at odds.
The cadets were impressive, and they were not shy about asking questions and pushing back. My aim was to provoke and to give them something to chew on in their classes, and I suspect that I succeeded. One faculty member commented after everyone had dispersed that, in intimating that my larger point about political regimes and their articulation of grand strategies in pursuit of regime-preservation and the achievement of regime imperatives is as applicable to today's world as it is to the study of strategy in antiquity, I had drawn them in.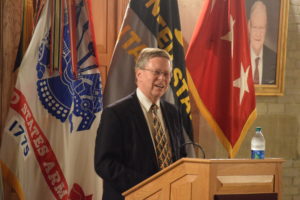 The next morning I returned to West Point for a brief tour. Then, I attended Major Miller's class "An Introduction to American Politics," which was aimed at second-year students. The syllabus was impressive. The students were asked to read all of the right things, and Major Miller drove them through the material in what felt like a forced march. He had to; and, despite considerable sleep deprivation, they were attentive. Mastery of the material was the objective, and their response to his questions suggested to me that they were grimly intent on achieving it.
West Point is not a modern facsimile of ancient Sparta. But the two have this in common. Everyone is dressed in the same fashion. They were all in uniform; and, though the young women are allowed grey skirts, every last damsel that I spied was wearing pants. Hair length is regulated for women as well as for men, and, while in uniform, the former are required to wear their hair up. In practice, they choose to look as much like the young men as possible. The only young women I saw with their hair down were the joggers.
Like the Spartans, the West Pointers eat their meals in common. Like the Spartans, they sleep in barracks. As with the Spartans, their days are strictly regimented. It is a unisex, radically egalitarian world … except where prospective prowess as a warrior is concerned. In the classroom, in drill, on the athletic field, and in every other sphere pertinent to their future employment and deployment, they are ranked. And I was left with the impression that the young women and men of West Point love the challenge. Those who think life in ancient Lacedaemon grim know nothing of the joys associated with life in a military camp.
After sitting in on Major Miller's class, I attended Patrick Campbell's fourth-year class in American Political Development. The subject under discussion was Franklin Delano Roosevelt's "Commonwealth Club Address." I had been silent in Major Miller's class. I was there to observe the forced march. Dr. Campbell was familiar with my three-volume study Republics Ancient and Modern, and so he asked me to talk a bit about the larger subject under consideration — which I did. Readers of Ricochet will be familiar with my argument — "The Twenty-Four Year Itch" — concerning the rhythms of American politics and the upheavals that take place within one political party or another roughly once a generation. I laid this out in some detail, and to my delight the students pushed back, forcing me to defend my argument case by case. This confirmed the suspicion that I had formed while listening to the questions after my public talk that the students at West Point get a fine education and that they learn to think and not just to repeat. I doubt very much that, had I given a similar talk in a political science course at Harvard or Yale, I would have gotten a better-informed response.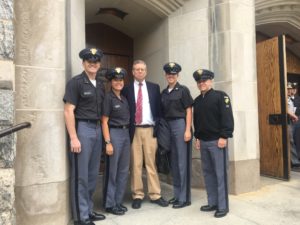 At lunch, I joined Cadets Megan Bryn, Mason Conine, Taylor Endres, and Miranda Bass in the mess. The food was plain and simple; the noise level in the vast cavern where we were eating was quite high; and the students — who were that term doing work in political theory, grand strategy, and advanced international relations — were lively and inquisitive. After lunch, I met with Colonel Suzanne Nielsen, who heads the Department of Social Science, and we did a quick tour of the world abroad. She is a worthy successor of General Lincoln. Then I had coffee in the library with some of Dr. Kiesling's students and later with Lukas Berg, who teaches American Politics, and Hugh Liebert. Again we talked world politics, and at 15:00 a car came to whisk me back to Newburgh, whence I flew back to Detroit.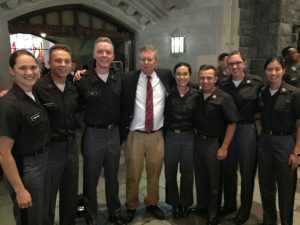 If you ever get the chance, visit West Point. The only obstacle is the security — which is intense. Virtually every building is locked. Instructors get keys only to the buildings where they teach. Students are not allowed to bring back packs into the mess hall, and ordinary outsiders can only go on official tours. I was lucky. I got to see everything.
What impressed me most, I suppose, is the seriousness of the place. Seriousness is not a word that I would use for what is going on most of the time in the humanities and social sciences in most of our universities. There, the weightiness of life is ignored, and frivolity is the norm. Like the Israelis whom I taught in Jerusalem three years ago, the cadets at West Point are apt to have to put their lives on the line. That brute fact has a sobering and exhilarating effect on them. Would that the same spirit were present at Harvard and Yale! As I have intimated in my recent books, if we were a bit more like the ancient Spartans, we would be a lot better off.