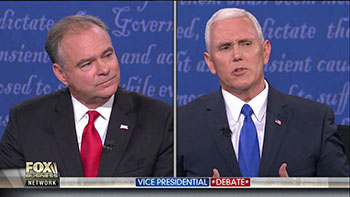 This is a preview from Wednesday morning's The Daily Shot newsletter. Subscribe here free of charge.
All the networks took a break from their wall-to-wall dance and/or singing competitions last night to cover the only thing more boring than a television dance and/or singing competition: a vice-presidential debate. That's right, Sen. Tim Kaine and Gov. Mike Pence met Tuesday night at Longwood University in the town of Farmville, VA. The moderator was Elaine Quijano of CBS News.
So what did you miss when you fell asleep right after the handshake? It was very calm. The candidates were calm. Everybody was seated at a big table for a nice, calm "conversation." Even Twitter was pretty calm. (But the king of calm was Mike Pence. Man, that cat was chill. Nothing fazed him.)
Do you remember how politics used to be calm and therefore boring? That was Tuesday night. Kaine's blindingly white shirt squared off against Pence's blindingly white hair and it was a reminder what it was like to strip away all the high drama and watch two prepared, polished politicians hack away at each other.
Kaine, the guy who smiles more than a dolphin, played the aggressor. He threw Trump quotes at Pence and demanded he defend his boss. (The fact checkers will have their work cut out for them reviewing all the quotes.) He interrupted Pence early and often, which was a smart tactic, because Republicans can't really complain.
Pence's defense was mostly to squint, calmly shake his head, and incredulously claim Kaine was mistaken. (Always with the squinting, that guy.) Kaine's canned lines didn't always land, and more than once Pence called him out on them. ("Did you work a long time on that one?")
So who won? From watching it, it seemed that Pence did. (That was also the early consensus among talking heads.) However, Pence won by refusing to rise to Kaine's bait to defend Trump (which he said he was happy to do, but never got around to). Instead, Pence made what were pretty mainstream conservative arguments, (It was weird to hear a Republican talk like a Republican…) which were divorced from what his boss has been saying for the last 16 months.
This is a preview from Wednesday morning's The Daily Shot newsletter. Subscribe here free of charge.