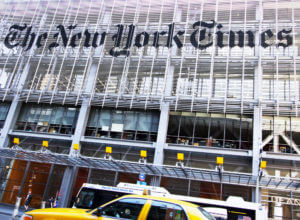 During the primaries, major media didn't dig too deep into Donald Trump's questionable business and financial practices because he brought the clicks and gave headaches to establishment GOP figures. But that all changed once he became the Republican standard bearer, and the hits keep getting worse. Late Saturday night, the New York Times published the details about Trump's 1995 tax returns, information they were mysteriously sent by an anonymous party:
Donald J. Trump declared a $916 million loss on his 1995 income tax returns, a tax deduction so substantial it could have allowed him to legally avoid paying any federal income taxes for up to 18 years, records obtained by The New York Times show.

The 1995 tax records, never before disclosed, reveal the extraordinary tax benefits that Mr. Trump, the Republican presidential nominee, derived from the financial wreckage he left behind in the early 1990s through mismanagement of three Atlantic City casinos, his ill-fated foray into the airline business and his ill-timed purchase of the Plaza Hotel in Manhattan.

Tax experts hired by The Times to analyze Mr. Trump's 1995 records said that tax rules especially advantageous to wealthy filers would have allowed Mr. Trump to use his $916 million loss to cancel out an equivalent amount of taxable income over an 18-year period.
The NYT contacted Jack Mitnick, a CPA who handled Trump's taxes in 1995, and he vouched for the documents' authenticity. The nearly billion-dollar loss gives a plausible explanation for why Trump has refused to release his tax information. However, the forms' anonymous release raises disturbing questions, not only about Trump's business acumen and honesty, but about who accessed these private files and released them to the largest newspaper in the US.
An official Trump campaign response didn't disprove the accuracy of the tax returns, but focused on the media's treatment of him:
The only news here is that the more than 20-year-old alleged tax document was illegally obtained, a further demonstration that the New York Times, like establishment media in general, is an extension of the Clinton Campaign, the Democratic Party and their global special interests. What is happening now with the FBI and DOJ on Hillary Clinton's emails and illegal server, including her many lies and her lies to Congress are worse than what took place in the administration of Richard Nixon – and far more illegal.

Mr. Trump is a highly-skilled businessman who has a fiduciary responsibility to his business, his family and his employees to pay no more tax than legally required. That being said, Mr. Trump has paid hundreds of millions of dollars in property taxes, sales and excise taxes, real estate taxes, city taxes, state taxes, employee taxes and federal taxes, along with very substantial charitable contributions. Mr. Trump knows the tax code far better than anyone who has ever run for President and he is the only one that knows how to fix it.