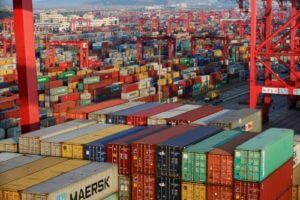 If you think America's fundamental economic story over the past few decades is a narrative of decline due to bad trade deals — especially the North American Free Trade Agreement — then you must completely ignore economic consensus.
Some key paragraphs from the new CBO study on trade deals:
In CBO's view, the consensus among economic studies is that PTAs [preferential trade agreements] have had relatively small positive effects on total U.S. trade (exports plus imports) and, primarily through that channel, on the U.S. economy. The effects have been small because the agreements were mostly between the United States and countries with much smaller economies and because tariffs and other trade barriers were generally low when the agreements took effect (see table below). PTAs have had little effect on the U.S. trade balance (exports minus imports) and have slightly increased flows of foreign direct investment, mostly by encouraging additional U.S. investment in the economies of member countries. As a result, the indirect effects of PTAs on productivity, output, and employment in the United States have also been small and positive. Empirical estimates support that view. But those estimates are uncertain and may be understated, because the effects of nontariff provisions are hard to measure and because issues with data keep researchers from identifying how PTAs affect the service sector. Most economic evidence suggests that the total number of workers directly affected by PTAs has been too small to significantly affect labor market conditions nationwide.

In CBO's view, the consensus among economic studies is that the small increases in total trade that have resulted from PTAs have yielded modest, but generally positive, indirect effects on the U.S. economy, increasing productivity, average wages, output, and consumer spending slightly. Nevertheless, those agreements have not had uniformly positive effects. Because PTAs encourage economic specialization, some workers and sectors have fared better than others. …

Most of that evidence comes from studies of NAFTA, the agreement with the greatest potential to affect U.S. employment. Those studies concluded that NAFTA's effects on the size of the labor market and net changes in total U.S. employment each year have been small. Those findings are consistent with the economic theory that PTAs should have little long-term effect on total employment because all displaced workers would eventually find new employment or would have stopped working anyway. However, according to some estimates, NAFTA contributed to many lost jobs. Conversely, many U.S. workers have had some small benefits as a result of PTAs. By lowering consumer prices (primarily through their effects on prices of imported goods) and increasing the productivity of workers (from greater competition), those agreements have probably increased average real wages for U.S. workers, albeit only slightly. If that slight increase occurred, it would have induced more people to work, increasing the U.S. labor supply to a small degree. To CBO's knowledge, there is no evidence of such an effect on the labor supply, although if it had occurred it would have been small and extremely difficult to detect.

Preferential trade agreements have hurt some U.S. workers (sometimes substantially) and helped others. Workers in low-skilled occupations or in manufacturing industries have typically been harmed the most; those who lost their job usually endured the most substantial hardships. Many of those displaced workers experienced a costly transition to a new job, and most faced lower lifetime earnings as a result of that displacement.70 Other displaced workers could not find a good match in a new job and stopped working. In addition, increased competition resulting from PTAs has stifled wage growth in certain occupations and industries, affecting even those workers who kept their job.
So it's a story of small of small gains with some winners and some losers from these deals. It's hard to reconcile these results with the idea that NAFTA has brought down the American economy. CBO also explains why the US does the deals:
The United States establishes preferential trade agreements for economic and noneconomic reasons. Those agreements enable the United States and its partner countries to realize the economic benefits of increased trade and investment. In addition, the agreements sometimes harmonize laws and regulations which, among other effects, make the costs of operating businesses in other countries more similar to those costs in the United States. An important noneconomic reason for establishing PTAs is to achieve foreign policy goals. Those goals include supporting the economies of U.S. allies and promoting the adoption of preferred domestic policies, such as environmental conservation or stronger workers' rights.
Indeed, as my colleague Claude Barfield has written, "Trade policy stands at the intersection of a nation's diplomatic and security strategies and its broad economic goals." I'm not sure the current presidential campaign reflects that reality.