I'm not sure how much news about Aleppo is filtering through the non-stop election coverage. Although my sense was that Gary Johnson did, indeed, know what Aleppo was (and just flubbed the question through some kind of inattention), that kind of inattention is only possible if the subject just isn't something you think about all that much.
I don't know whether he's typical of American voters. It's not something the next president will be able to ignore, though, that's for sure. Aleppo's now a hellscape reminiscent of the Battle of Stalingrad. Even by the horrifying standards of the Syrian war, the past week's events Aleppo represent a new level of depravity. Russian and Syrian government airstrikes killed more than 300 people, most of them civilians and many of them children; more than 250,000 civilians are trapped. They're under attack by the Syrian military and by thousands of foreign militiamen commanded by Iranian Revolutionary Guards, Hezbollah fighters, and Russian ground troops; and they're under bombardment by heavy Russian and Syrian air power — the most sustained and intense bombardment since the beginning of the war. A genuine Axis of Evil, if anything ever was, has emerged from this. Most of the civilians are, according to the Violations Documentation Center in Syria, being killed by Russians. I don't know how reliable they are, so take this with the usual caveats: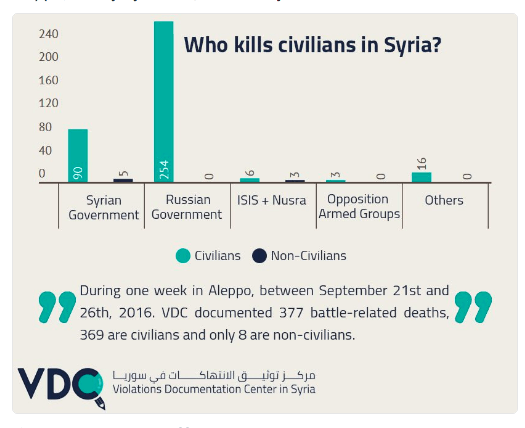 Meanwhile, Putin has formally resurrected the KGB itself:
According to the Russian daily Kommersant, a major new reshuffle of Russia's security agencies is under way that will unite the FSB (the main successor agency to the KGB) with Russia's foreign intelligence service into a new super-agency called the Ministry of State Security — a report that, significantly, wasn't denied by the Kremlin or the FSB itself.

The new agency, which revives the name of Stalin's secret police between 1943 and 1953, will be as large and powerful as the old Soviet KGB, employing as many as 250,000 people.

The creation of the new Ministry of State Security represents a "victory for the party of the Chekists," said Moscow security analyst Tatyana Stanovaya, referring to the first Bolshevik secret police. The important difference is that, at its core, the reshuffle marks Putin's asserting his own personal authority over Russia's security apparatus. …

"On the night of September 18 to 19 … the country went from authoritarian to totalitarian," wrote former liberal Duma deputy Gennady Gudkov on his Facebook page.
And the Ukrainian military is reporting the heaviest day of fighting since the latest attempt at a ceasefire came into effect on September 15.
Richard Cohen at the Washington Post, not exactly known as a Trump booster, is absolutely scathing about the Administration's role in this:
This is not Kerry's failure. It is Obama's. He takes overweening pride in being the anti-George W. Bush. Obama is the president who did not get us into any nonessential wars of the Iraq variety. The consequences for Syria have been dire — perhaps 500,000 dead, 7 million internal refugees, with millions more surging toward Europe like a tsunami of the desperate.

European politics has been upended — Germany's Angela Merkel is in trouble, Britain has bolted from the European Union, and Hungary and Poland are embracing their shameful pasts — but there is yet another casualty of this war, the once-universal perception that the United States would never abide the slaughter of innocents on this scale. Yet, we have. Obama has proclaimed doing nothing as doing something — lives saved, a quagmire avoided. But doing nothing is not nothing. It is a policy of its own, in this case allowing the creation of a true axis of evil: a gleeful, high-kicking chorus line of Russia, Iran and Bashar al-Assad's Syria. They stomp on everything in their path.

Aleppo then is like Guernica, a place of carnage. It's also a symbol of American weakness. The same Putin who mucks around in Syria has filched U.S. emails and barged into the U.S. election. He has kept Crimea and a hunk of Ukraine and may decide tomorrow that the Baltics, once Soviet, need liberating from liberation. He long ago sized up Obama: all brain, no muscle.

All over the world, U.S. power is dismissed. The Philippine president, a volcanic vulgarian, called the president a "son of a whore" and, instead of doing an update of sending in the fleet, Obama canceled a meeting. China constructs synthetic islands in the Pacific Ocean, claiming shipping lanes that no one should own, and every once in a while a U.S. warship cruises close — but not too close. We pretend to have made a point. The Chinese wave and continue building. The North Koreans are developing a nuclear missile to reach Rodeo Drive, and God only knows what the Iranians are up to deep in their tunnels.

Does all this stem from Uncle Sam's bended knee in Syria? Who knows? But U.S. reluctance to act has almost certainly given others resolve.
A question for those of you who plan to vote for Donald Trump. Your logic (I assume) is that Hillary Clinton is associated with Obama's disastrous foreign policy, and should pay the price for this at the ballot box. If this were a normal election, who could disagree? But don't you think that it isn't a normal election? Unlike hapless Gary Johnson, Donald Trump almost certainly has no idea what Aleppo is, and he's shown no desire or ability to learn. You saw it: He arrived at the debate as unprepared to discuss foreign policy as he was at the start of his campaign. And to the extent he has any coherent policy, it's explicitly to make the Obama Administration's foreign policy look interventionist by comparison.
Vladimir Putin not only supports Trump, but is almost certainly actively interfering with an American election with the aim of ushering him into office. Trump, as we saw in the debate, either doesn't know this, or denies it, or doesn't even understand what the relevant words mean:
As far as the cyber, I agree to parts of what Secretary Clinton said. We should be better than anybody else, and perhaps we're not. I don't think anybody knows it was Russia that broke into the DNC. She's saying Russia, Russia, Russia, but I don't — maybe it was. I mean, it could be Russia, but it could also be China. It could also be lots of other people. It also could be somebody sitting on their bed that weighs 400 pounds, okay?

You don't know who broke in to DNC.

But what did we learn with DNC? We learned that Bernie Sanders was taken advantage of by your people, by Debbie Wasserman Schultz. Look what happened to her. But Bernie Sanders was taken advantage of. That's what we learned.

Now, whether that was Russia, whether that was China, whether it was another country, we don't know, because the truth is, under President Obama we've lost control of things that we used to have control over.

We came in with the Internet, we came up with the Internet, and I think Secretary Clinton and myself would agree very much, when you look at what [the Islamic State] is doing with the Internet, they're beating us at our own game. ISIS.

So we have to get very, very tough on cyber and cyber warfare. It is — it is a huge problem. I have a son. He's 10 years old. He has computers. He is so good with these computers, it's unbelievable. The security aspect of cyber is very, very tough. And maybe it's hardly doable.
Did that garbled speech make Trump-supporters here hesitate at all? "I have a son. He's 10 years old. He has computers?" We all know elderly, disoriented people who talk like that. In my experience people who talk like that can't understand these things — it's not that they don't want to, it's that they don't have the cognitive ability. How could Donald Trump possibly understand what people tell him about Russia and Syria, even if he did surround himself with "the best" advisors?
Do you see any sign that "the best" advisors are helping him to understand what he'd confront from his first minute in office? If so, what sign do you see that I don't?