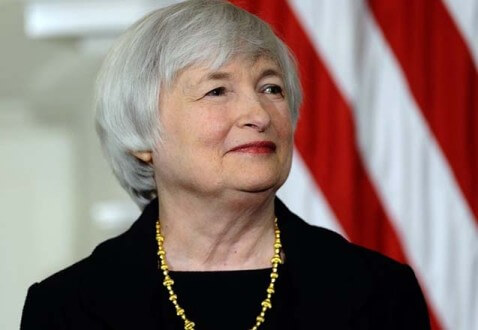 The Federal Reserve meeting ending today has been discussed, chewed on, and predicted by just about everyone with any knowledge of the identity of Ben Bernanke or Janet Yellen. Let's dissect the run-up, and see what they did.
The Washington Post ran a Wonkblog article titled "The Federal Reserve confronts a possibility it never expected: No exit." When Chair Yellen began her post, the author writes, they developed a blueprint for lifting up from the zero boundary of short-term interest rates and reducing the Fed's now-massive balance sheet. The two-year-old strategy has not really been enacted, with only one rate rise since its adoption and no shrinking of the balance sheet. So, says Wonkblog, the Fed must be stuck.
There are of course those who wish the Fed to stay stuck. Former Minneapolis Fed president Naryana Kocherlakota is emblematic of the view that the Fed is stuck because, in short, they are screwed either way they turn.
Yields on Treasury bonds suggest that traders expect inflation to average less than 2 percent five to 10 years from now. As the experience of the Bank of Japan indicates, restoring such confidence is not easy.

The Fed is also falling short of its goal of "maximum" employment. Although the unemployment rate has returned to its 2007 level of 5 percent, the fraction of Americans in their prime working years who have a job remains well below its pre-recession level.

All this argues for the Federal Open Market Committee, the central bank's policy-making arm, to provide added stimulus by cutting interest rates a quarter percentage point at its Sept. 21 meeting.

…Unfortunately, I'm confident that the Fed won't cut rates. Doing so now might require officials to raise rates more rapidly in the future — an outcome that they are, for reasons that are unclear to me, determined to avoid.

So the central bank will either raise rates by a quarter percentage point or do nothing. The latter appears more likely, given that two Fed governors have spoken out in favor of caution. The last time the Fed took an action from which two governors dissented was in 1993. In either case, it will be the wrong move.
Who would those governors be? Clearly Lael Brainerd — an early favorite for Treasury Secretary in a potential Clinton administration — is not down with a rate increase. And Dan Tarullo — another Obama appointee and former Bill Clinton administration official — made noises earlier in the month against a rate hike. Even though at least seven Fed presidents and governors have supported a rate hike, the chances of it happening appeared to be small this morning, particularly after Japan announced this morning they would target a zero rate on their ten-year government bond.
And changing interest rates isn't just something you don't do with dissent — it's seldom done when close to an election. George H.W. Bush long believed that Alan Greenspan (!) cost him the election in 1992 by not cutting interest rates that year. It is why I have long thought the Fed would use September to lay the groundwork for a rate increase in December, but not before.
So what happened? A remarkable ending:
…the Committee decided to maintain the target range for the federal funds rate at 1/4 to 1/2 percent. The Committee judges that the case for an increase in the federal funds rate has strengthened but decided, for the time being, to wait for further evidence of continued progress toward its objectives.

…Voting for the FOMC monetary policy action were: Janet L. Yellen, Chair; William C. Dudley, Vice Chairman; Lael Brainard; James Bullard; Stanley Fischer; Jerome H. Powell; and Daniel K. Tarullo. Voting against the action were: Esther L. George, Loretta J. Mester, and Eric Rosengren, each of whom preferred at this meeting to raise the target range for the federal funds rate to 1/2 to 3/4 percent.
Three dissents! Mester and Rosengren are new, while George has been a dissenter for quite a while. This is a remarkable outcome that usually happens when the FOMC is deeply divided. It happened in 1972, though, when Fed presidents (those heading the district banks, not the governors in DC) argued for tighter policy. It happened again in July 1979, just before Paul Volcker started the process of massively raising interest rates to choke off stagflation (and the double-dip recession of 1980 and 1982.) There may be other times this has happened, but suffice to say it's rather rare, particularly since 1980.
Two other pieces of information that bear pointing out:
If you look at page three of the economic projections of the FOMC you see the "dot plot" of interest rates for end-2016, with only three members of 17 expecting the rates to stay the same as now. This will cause nearly everyone to expect a rate increase in December, though the data-dependency language of the FOMC statement will give them the wiggle room to balk yet again. Still, as BankRate.com's chief financial analyst put it, the Fed is getting antsy to raise rates.
Ms Yellen is a bit prickly over Donald Trump's assertion of the Fed being politically motivated. "The Federal Reserve is not politically compromised," she answered in response to a question. "I have no concern that the Fed is politically motivated and I assure you you will not find any signs of political motivation when the transcripts are released in five years." Of course, five years is a long time, probably past the point where Ms Yellen will be chair. And she would not attach political uncertainty to her observation that business investment is low.
We will ignore the meeting on November 1-2, then, and be back to discuss the rate hike that now appears likely on December 14.