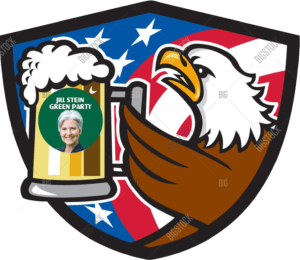 Politics is a dirty game and nobody has to like federal funding of elections to be resigned to the observation that it's unlikely to go away anytime soon. Given this observation, what might we do with it? The virtue of strategic, rather than principled, voting – or rather, the assertion that strategic voting is, in reality, the only form of principled voting – has many champions among the Ricochetti this year. Nonetheless, even if we grant that the odds of one's vote being decisive are large enough in swing states that swing-state voters should feel morally obligated to choose between the two lead candidates (those odds are around one in ten million), many of us live in states so far from swing that they're not even on the playground (our odds are more like one in a billion).
As of this morning, my state has around a 0.2% chance of tipping the election, and is one of 20 states whose voter power index is under 0.1 (a vote in New Hampshire is more than 50 times more likely than mine to decide the election), according to FiveThirtyEight. (If you don't like Nate Silver's methodology, feel free to substitute whichever prediction system you trust most.) Meanwhile, Gary Johnson is polling at around 8 percent nationally. Now, it's common for polling to overestimate the share of votes third-party candidates will get. Nonetheless, if Johnson is polling at 8 percent now, he has a serious chance of crossing the threshold necessary for the Libertarian Party to receive FEC funding, which is 5 percent of the popular vote. Moreover, as @matt.corbett put it in his recent OP,
As a matter of good public choice theory, sitting out or voting third party (or advocating either) is entirely defensible as part of a long-term strategy. The great paradox of voting coalitions is that the least reliable members have the most influence… Influence can only be re-established with credibility, and credibility can only be re-established by action. An election where "your" candidate is openly contemptuous of you and is most likely a loser anyway is the ideal time to protest vote.
The risk of Johnson crossing the FEC threshold is real in 2016, and exists whether you predict Trump or Clinton to win. And while we know the Libertarian Party does attract some folks who'd otherwise vote Democrat, a federally-funded Libertarian Party is more likely to split the Right than anything else. No matter who is elected President/Emperor this November, the struggle against Leftism won't be over, and — given the likelihood of the Right being split — it is very much in our interest to also the Left split as well.
For that reason, I propose a Stein hoist:
If you're not voting Trump, and you're not satisfied with Gary Johnson – and especially if you're satisfied that your state is not in play this time around – have you considered voting Stein instead?
Given the risk of Johnson splitting the Right, it seems only fair to try to split the Left as well by getting the Greens across the FEC threshold, too. Right now, Stein is polling between 2 and 3 percent nationally, so it seems getting the Greens across that threshold in 2016 is rather a long shot. Nonetheless, even getting them closer to that threshold would likely encourage the Greens in subsequent elections, and @jamesofengland – no anti-Trumper he, and someone very well-versed in the horse-race aspects of politics – agrees that, long as the odds are of my vote helping the Greens get across that threshold, they're still likely shorter than the odds of my vote in my state deciding the election between Trump and Clinton.
As a Trump supporter reminded us recently, "Political reality is about probabilities." As several Trump supporters have reminded us repeatedly, stopping the Left is the most important thing this election season, and conservatives should be willing to get our hands dirty to do it – and what gets a conservative's hands dirtier than a Green thumb? The first time I ever voted, in another state, a fellow conservative impressed upon me the strategic advantages of voting Green for a particular race. At the time, I could not bring myself to do it; the whole idea repulsed me. It still repulses me. But, given the state I live in, voting Stein may be the most I can do with my vote to damage the Left.
Now, I reserve the right to change my mind on this. If, come late October, my state is somehow in play again, I'll re-think things. (Although, if that happens, it probably means SMOD has already won.) I'm not trying to persuade Trump supporters to vote Stein instead, even if they live in states dyed the deepest of primary shades. Nor am I saying that those still on the fence about Trump should make up their mind now to not vote for him. I'm just struck by how advantageous it would be for the Greens to get the same FEC funding the LP does, or for the Greens to get FEC funding even if the LP doesn't. This, despite the fact that I loathe both the Greens and FEC funding. But politics is a dirty game.
It's also realistic to acknowledge that at this point no amount of pressure is going to get every anti-Leftist voting Trump. Just as even the most prudish parents (or grandparents) can (and, in my experience, do) advise their kids "If you must have sex before marriage, at least use contraception" while still disapproving of premarital sex, well… I realize voting Stein is not saving one's cherry for Trump, but if the goal is defeating the Left, perhaps Trump supporters might agree that voting Stein the next-best thing.
My friends who have known Trump for decades now as "Mr ED" (and not in that Bob Dole way) cannot be persuaded to vote Trump, for example. It's possible several will vote for Johnson, despite misgivings about Johnson being libertarian enough. Perhaps some can be persuaded to vote Stein, though. And even if they can't be, at least my voting Stein would even things out a little.
As Matt Corbett pointed out in the OP I quoted above, we're all in this together and we don't all have to pursue the same strategy to help each other out.