So for whatever reason, I hang out on Facebook and argue with liberals because take that liberal friends! Any case, today one of the more reasonable ones (a guy who appreciates a chance to argue ideas with people opposing his own) posted this picture: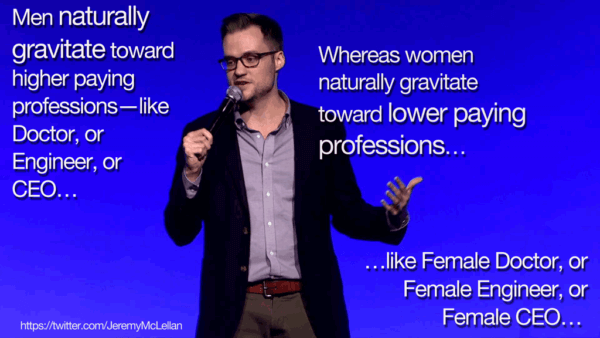 Words ensued. Wage equality is a big issue on the rise right now. Clinton has spoken out in favor of it. Arguing that it doesn't work just gets you sneers of derision from liberal-folk because you suck, bigot. Or something like that. Since many of the typical arguments were showing up, I didn't feel obligated to add other than that this policy would result in less jobs for women.
My friend countered that there's little evidence this would happen. So I noted this will mean less jobs in general for everyone, and women are a part of everyone. His reply was this was an acceptable trade off considering the benefits. After all, it seems to have worked out for Affirmative Action. So me being me, I couldn't let that lie.
"Seems" is a loaded word, and the conclusion from your statement speaks to Frederic Bastiat's Broken Window story. The problem here is that there are trade-offs once you start meddling in the economy, and though you can justify it with how things appear at present because the losses involved are invisible. One person might get a job or promotion, but another won't. A lawsuit might encourage a company to promote or hire certain protected classes of people, but it might also discourage them from hiring or promoting anyone at all until absolutely necessary. Is the loss smaller than the gain? There's no way to tell. Sociological experimentation lacks active ways to compare. We don't have a parallel universe to observe what happens when District Manager Schrödinger is trying to fill a position.

And here we run into the basic conceit of these policies: That a third, outside party has better judgment about how to run a business than the actual business owner. In this case, we've taken statistics that focus only on one output, wage and salary comparisons between the sexes, and assumed that there is only one input that has any consequence: sex. But these comparison tables beg the question. They separate the sexes and assume that any disparity exists only because of this ultimately arbitrary grouping. They ignore or dismiss as inconsequential any other inputs.

And the problem is, there's as many varied inputs as there are individuals. If we were to take two individuals of similar pay rate in my office, you'd get two entirely different pictures of why they are paid that rate. Likewise take two people of similar experience and seniority and you'd get two different stories of why they are paid differently. It is almost arrogant for a third party to look in and say, "Well this person is paid less because you don't like his race/sex/curly hair/dashing good looks." (I'm the last by the way.) This is precisely what such legislation and regulation does, and shifts the burden of proof the employer to prove otherwise — guilty until proven innocent.

Moreover, these comparison tables rely on a false premise that such disparity is not only unfair, but systemic. There has to be some unspoken agreement somehow that all businesses, big and small, would agree to such disparities — at least on average. It defies self-interested reason even. The only way such disparities in the past have been able to be enforced just about anywhere is to encode it in the law, putting the force of government behind it. Otherwise there's almost always someone who can figure out there's more to gain in bucking the system than to go along with it.

This is a short-sighted policy that has good intentions but ignores any possible trade-offs or long-term consequences. Moreover, it removes the right of two individuals to negotiate a contract to their satisfaction, placing a third party with their own agenda forcing decisions in a way they approve. It's going to cause problems.
Essentially the part of the pay-gap argument that drives me nuts is that it ignores anything at all about the individuals involved. The employee's contributions, achievements, and abilities are ignored. The Employer's needs, ability to pay, and company vision is ignored. It's all distilled away until only one thing remains: gender (or biological sex because words no longer mean anything). This is the essential fallacy Progressives hold to: that an individual's accomplishments and needs are inconsequential to the collective they belong to.
People will argue that if you take a man and a woman with the exact same employment history, skills, talents, and abilities, the man will obviously be paid more because misogyny. But this is a spherical chicken of uniform density argument: IT's a hypothetical that can't happen and only exists for exposition alone. In reality, you will never see such a pair that their only difference will be their biological sex. It's impossible as each individual's human experience will vary from person to person.
Progressives want you to believe that not only does this highly improbably situation exist, but it exists en masse on a frequent basis such that only intervention from a third party will fix things. But of course, with Progressives it's never ultimately about fixing things. It's about giving more power to the State.