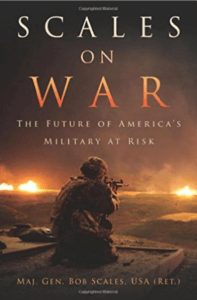 I commend to you this interview with Major General (Retired) Robert Scales, on his new book Scales on War: The Future of America's Military At Risk. The interview is good; Scales is perceptive, tough, and smart, and you ignore his input at your peril.
These are our nation's warriors. Their job is one that requires them to leave the wire every day with the intention of finding, closing with, and killing the enemy. They do battle with their foes close in and at the small unit level. These engagements should be one-sided fights, with the odds weighted in favor of American infantrymen and special operators. Tragically, this is not the case.
More:
The fact that the Army has even managed to maintain the level of proficiency it has is a miracle, but that's how armies break. They break internally; they break from the bottom up, and once they break they're irreparable for upwards of a decade. […] The only challenges are, number one, the insensitivity and the lack of concern for close-combat soldiers who form the tip of the spear in a volunteer force. The only danger of the all-volunteer Army is that we're going to run out of, or exhaust, those who do the killing, but that's not an institutional problem. It's a problem of priorities and concern. There's no downside in wars in this era to having a professional force.
Scales also addresses the moral and strategic necessity to avoid fair fights and I wholeheartedly agree with the sentiment. Consider a personal vignette from my own days back in the wire:
I was running off to check in at the OPCEN (operations center) while my team sergeant finalized our recovery/refit from the last mission.
"Hey, I'm running up the hill to check in and get the gouge, so I can start shacking up the plan for our next fight."
"Hold on, sir." The team sergeant deftly swiped the can of Copenhagen out of my hand with a waggle of his eyebrows. He packed in a (three finger, Blue Falcon) dip. "Just remember, I don't want you planning for us to get into a fight. I want you planning for us to commit murder. You picking up what I'm puttin' down, sir?"
"Copy, Master Sergeant."