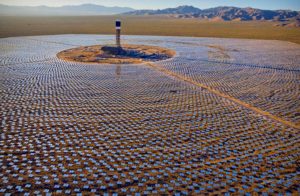 A lot has been made of California's government-funded embrace of so-called green energy. Driving from the Arizona border to LA, you'll be hypnotized by hundreds of whirring windmills littering Coachella Valley and distracted by the blindingly bright light generated by vast new solar arrays.
A bit north in the Mojave Desert lies the $2.2 billion Ivanpah Solar Power Facility, wedged into the public land between the Mojave National Preserve, Mesquite Wilderness, and Stateline Wilderness. In its first year, it produced just 40 percent of the promised energy, greatly improved in its second year, then was knocked offline after a misalignment of solar panels caused the central collector to burst into flames.
But it's not just expensive equipment getting fried. Birds mistake the panels' reflection for water, fly a bit too low, and they burst into flames as well. And the site takes up so much land that the delicate desert ecosystem suffers, blading away plants and kicking tortoises and other critters out of their habitat.
These effects are making several honest environmentalists change their tune on the building of new solar power facilities. Jacques Leslie, an environmental journalist "concerned about the immense environmental and social consequences of humanity's heedless, headlong embrace of development," is raising alarms about a proposed plant in the Mojave:
To learn what most endangers national parks, on the occasion this month of the National Park Service's 100th birthday, look no farther than Mojave National Preserve, a vast swath of exquisite desert panoramas halfway between Los Angeles and Las Vegas. These days, national parks struggle with all sorts of urgent threats, such as climate change and deteriorating services and infrastructure as a result of underfunding, but Mojave's biggest menace isn't what's happening inside the preserve, it's what increasingly surrounds it.

Three industrial-scale solar farms adjacent to the preserve are already in operation, the Interior Department has approved a fourth, and a wind farm proposal is getting serious consideration. One of the solar farms, Ivanpah, made news recently for frying birds and setting itself on fire.

Soda Mountain, the solar project approved for construction on Bureau of Land Management land next to the Mojave preserve, would be the largest industrial site within 100 miles. It would isolate and possibly doom a portion of the desert's depleted population of bighorn sheep, and like the other energy projects, it would be visible from the preserve. By generating enough renewable electricity for 86,000 homes, the project would address one environmental problem, climate change, while creating others: It would show that an energy project can be renewable without being green.
I'm not against solar, wind, and other renewable energy sources in the slightest; the more options, the better. But environmentalists like Leslie are learning the hard truth taught by Thomas Sowell: "There are no solutions; there are only trade-offs." Oil is cheap and plentiful, but creates significant pollution. Hydroelectric doesn't create pollution, but should we be stopping up rivers and creating inland seas like Lake Mead? Nuclear is effective and releases only steam, but what do you do with the waste?
Despite being sold as a cure-all by politicians, these trade-offs also exist with renewable energy sources. Windmills are inefficient, they Cuisinart birds, and barely break even economically due to high maintenance costs. Solar arrays are similarly inefficient, require extensive mining to build panels, take up massive amounts of land, and ignite anything that flies into their path.
But since environmentally conscious voters don't see belching smokestacks, they assume trade-offs don't exist. There are no magic energy sources that will heal the planet. There are only trade-offs.