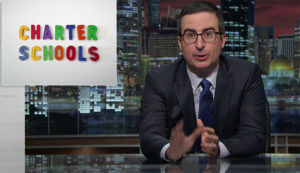 We all know John Oliver's shtick. Each Sunday he goes on HBO to inveigh against some progressive bogeyman — DC lobbyists, big bankers, Donald Drumpf, etc. — replete with out-of-context clips, snarky rebuttals, and lots of F-bombs. And the left-leaning press heralds his brilliance with viral videos insisting he "destroyed," "eviscerated," and "disemboweled" his quarry. But last Sunday, he took a break from snarking on the rich and powerful to focus on a new target: kids who attend charter schools.
On the most recent episode of "Last Week Tonight," Oliver took on the 6,000 charter schools in the US and everyone involved with them. (Content warning on that link, natch. When he thinks he's losing the studio audience, Oliver says a curse word which makes them giggle.) By attacking this popular K-12 option, he isn't just hitting the few bad operators in the segment, but is setting his sights on the parents, teachers, and students who've decided that charter schools are their best option.
Charter schools are public schools that are run by private entities instead of by the government. In exchange for their charter, the state holds them to accountability standards, which, if not met, will result in closure or takeover by the government. Minnesota opened the first charter schools 24 years ago, and the institution has now spread to 43 states and the District of Columbia. Despite their expansion, only about 3 million students are enrolled in charter schools, or less than 6 percent of the K-12 population.
My own state of Arizona enacted the option in the '90s, and now has charters offering a wide array of specialized education models. There are classical prep schools, traditional schools, STEM- and art-centered options, and many more. My daughters attended a conventional public school through their elementary years, but by junior high had moved on to charter schools, since mom and dad weren't happy with the government-run schools in our ZIP code.
Wealthy parents have been able to choose their kids' school forever, but middle-income and lower-income families have only recently gained that ability. According to the National Alliance for Public Charter Schools, 76 percent of US charter school students are non­white, and 39 percent of students are eligible for free or reduced­ price lunch. This presents a massive opportunity for cash-strapped families to educate their children as least as well as the rich families living on the other side of town.
Oliver starts his "evisceration" with a half-hearted disclaimer: "Critics argue charters overstate their successes, siphon off talented students, and divert precious resources within a school district. Now for this piece … we're going to set aside whether or not charter schools are a good idea in principle." He then proceeds to single out a handful of the worst-run schools while zealously avoiding the thousands of successes.
Here's a bad charter school in Florida. And look at this jerk in Ohio! He wants the viewer to extrapolate these nightmare scenarios (all of which were discovered by the state and punished accordingly) into an indictment of all 6,000 schools. His argument, if you can call it that, is basically, "Here's a bad charter school, therefore all charter schools are bad." If he was truly interested in not taking a side on whether the model is good or bad, he would have spent at least as much time promoting the good examples.
Oliver also could have rattled off a list of scandals embroiling government-run schools, but his show only lasts 30 minutes. Instead he wants to impugn the inspiring teachers, involved parents, and dedicated students who make up the charter school community.
A multi-millionaire celebrity like John Oliver can send his child to any school he wants. I'm disappointed that he doesn't want you to have that choice.