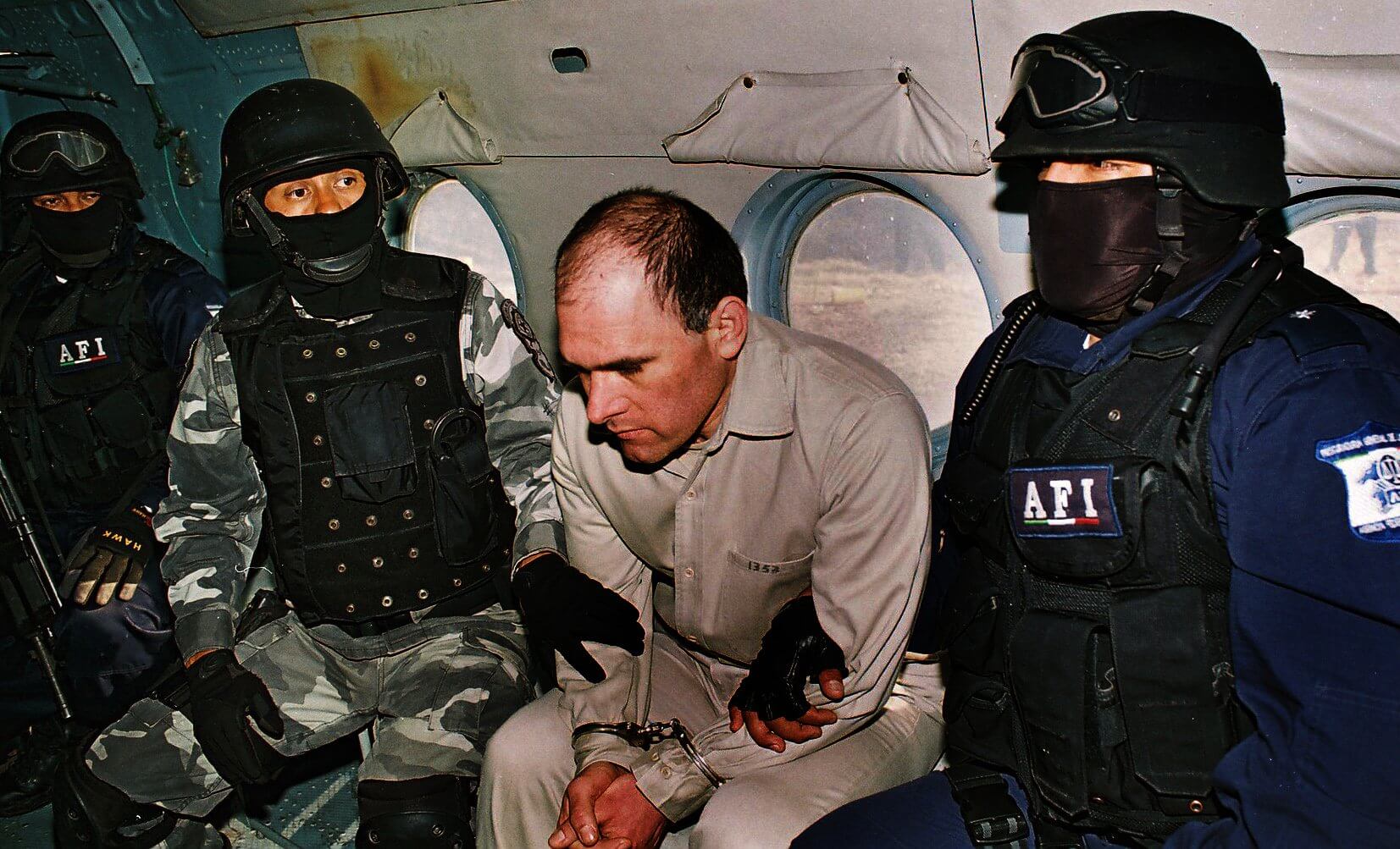 Let me say at the outset that I'm dubious. But Don Winslow makes an interesting case in El Chapo and the Secret History of the Heroin Crisis:
If you wonder why America is in the grips of a heroin epidemic that kills two hundred people a week, take a hard look at the legalization of pot, which destroyed the profits of the Mexican cartels. How did they respond to a major loss in revenue? Like any company, they created an irresistible new product and flooded the market. The scariest part: this might not have happened with El Chapo in charge.
He argues that the Sinaloa Cartel — whose flagship product had been weed — found itself suddenly unable to compete against a superior American product with dramatically lower transport and security costs. "Once-vast fields in Durango now lie fallow." This of course was supposed to be a selling point of decriminalization: It would put the cartels out of business. Except that it didn't. Instead of taking up gainful employment as insurance adjustors or chartered accountants, they analyzed the US market and saw an unfilled niche. A growing number of Americans were addicted to expensive prescription opioids:
They increased the production of Mexican heroin by almost 70 percent, and also raised the purity level, bringing in Colombian cooks to create "cinnamon" heroin as strong as the East Asian product. They had been selling a product that was about 46 percent pure, now they improved it to 90 percent.

Their third move was classic market economics—they dropped the price. A kilo of heroin went for as much as $200,000 in New York City a few years ago, cost $80,000 in 2013, and now has dropped to around $50,000. More of a better product for less money: You can't beat it.

At the same time, American drug and law-enforcement officials, concerned about the dramatic surge in overdose deaths from pharmaceutical opioids (165,000 from 1999 to 2014), cracked down on both legal and illegal distribution, opening the door for Mexican heroin, which sold for five to ten bucks a dose.
With consequences we all know — 125 deaths a day, more than five an hour, a fatality level that matches the deaths from AIDS at the height of the epidemic.
Many journalists, including Winslow, believe the Mexican government wound up supporting the Sinaloa Cartel during the worst years of the Cartel Wars on the grounds that someone had to win for there to be even a modicum of stability. The Sinaloa crew was, at least, averse to killing civilians, which couldn't be said of their rivals. When Guzmán was recaptured in 2014, Winslow predicted that like Iraq after the fall of Saddam Hussein, Mexico would now be plunged into blood feuds in a chaotic power struggle:
I reminded them that in the power vacuum that followed Saddam Hussein's capture and subsequent execution, Iraq splintered into sectarian violence, Shiite against Sunni. ISIS came into being, overran Iraqi and Syrian cities, and launched a reign of terror.

Look, I shed no tears for either Hussein or Guzmán. Both were killers and torturers. But the fact is that the horrific violence of Guzmán's war of conquest had largely abated by 2014, precisely because he had won the war (with at least the passive assistance of the Mexican and U. S. governments) and established what's come to be called the Pax Sinaloa.
The cartels, he says, control somewhere between 8 and 12 percent of the Mexican economy. The Mexican economy is dependent on the drug trade. He doesn't buy the story about El Chapo escaping his maximum security prison through a mile-long tunnel, by the way:
For the record, Guzmán did not go out that tunnel on a motorcycle. Steve McQueen escapes on motorcycles. My money says that Guzmán didn't go into that tunnel at all; anyone who can afford to pay $50 million in bribes and finance the excavation of a mile-long tunnel can also afford not to use it.

Gentle reader, the man is worth $1 billion. He was thinking about buying the Chelsea Football Club. He went out the front door. … Guzmán didn't escape; he was let out so that he could try to reestablish order.
At roughly the same time, Fentanyl enters the scene. For narcos, it's got huge advantages over heroin. It's made in a lab, so you don't need poppy fields. You don't need to hire people to tend and harvest the crop. It's incredibly powerful, so you can smuggle more per courrier.
But it's the profits that will make fentanyl the new crack cocaine, which created the enormous wealth of the Mexican cartels in the eighties and nineties. A kilo of fentanyl can be stepped on sixteen to twenty-four times to create an astounding return on investment of $1.3 million per kilo, compared with $271,000 per kilo of heroin.

No wonder the DEA estimates that the importation of fentanyl from Mexico is up by 65 percent from 2014.
Fentanyl is now mixed with heroin to increase its potency. Unwitting heroin users die from taking a same-sized dose. Doctors and cops don't realize they need a much stronger dose of Narcan to revive someone who's taken an overdose. And it's even more addictive than heroin: Once you've tried it, you don't go back. The combination of lab-produced fentanyl and the fracturing of the Sinaloa Cartel "is a catastrophe for law enforcement and American society as a whole but an absolute boon for the narcos seeking to supplant the old order." The profits ensure that up-and-coming cartels can afford to pay their fighters.
The rest of the article's a great read — starring Sean Penn, a ravishing telenovela star named Kate, and a monkey — but if you're strapped for time, short version is Guzmán winds up back in jail. And nothing changes.
The Los Angeles Times estimates that two thirds of Mexican drug lords have been either killed or imprisoned. And what's the result? Drugs are more plentiful, more potent, and cheaper than ever. Deaths from overdoses are at an all-time high. Violence in Mexico, once declining, is starting to rise again. Just last week, I looked at photographs of the bodies of four people stuffed into a car trunk in Tijuana. The bodies showed signs of torture. …

… Someone will replace El Chapo, just as he replaced his predecessors. My bet's on El Mencho, but it really doesn't matter. That's the lesson we seem to have to learn over and over and over again, world without end, amen. Guzmán was right: "If there was no consumption, there would be no sales." I'm always amazed that progressive young millennials will picket a grocery chain for not buying fair-trade coffee but will go home and do drugs that are brought to them by the killers, torturers, and sadists of the cartels. …

As long as the U. S. and Europe continue to buy billions of dollars' worth of drugs a year while at the same time spending billions to intercept them, we will create an endless succession of Chapos and Menchos.

An entire economy is based on drug prohibition and punishment, something to the tune of $50 billion a year, more than double the estimated $22 billion we spend on heroin.
I'm not persuaded that this wouldn't have happened absent the decriminalization of pot, are you? If it had remained profitable to sell weed, I reckon these guys would have sold weed and opioids. If you argue as Winslow does that this is an entirely demand-driven industry, it doesn't make sense to think that the cartels only have the wit, resources, or manpower to sell one drug at a time.
But it's easy to persuade me that so long as there's a multi-billion market for drugs in the US and Europe, someone will supply it. And easy to persuade me that the war on drugs has resulted in social catastrophe for the US and Mexico — probably more of a catastrophe than total decriminalization could ever be. Almost half the federal prison population is in the pen for a drug-related offense. The US has about five percent of the world's population, but a quarter of its prison population — a grievous shame in a country that prides itself in being the land of the free. Locking up drug offenders ensures that families are destroyed, children fatherless, and the curse of underclass life passed to a new generation.
And for Mexico, it's been far worse. In 2014, researcher Molly Molloy estimated the human toll of the previous six years, and found that as many as 130,000 people or more had been killed, 27,000 were missing, and an untold number buried in mass graves.
"The overwhelming majority of the deaths are people shot down on the street, in their homes or workplaces, on playgrounds, etc. In my reading of the daily accounts of the killings, it is clear that most of the victims are ordinary people, exhibiting nothing to indicate they are employed in the lucrative drug business," Molloy wrote. …

Amid all the killing, Molloy told NCR, she has seen no evidence the flow of drugs from Mexico has decreased, which prompts her to ask, "So if this is a drug war, who is winning, and what were all those dead people killed for?"
Thoughts?