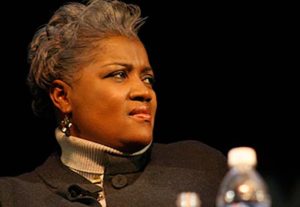 The WikiLeaks email scandal that embroiled the Democrats just before their convention caused DNC Chair Debbie Wasserman Schultz to step down. Now it appears that hers was only the first of several heads to roll. The DNC's CEO Amy Dacey resigned in disgrace earlier today, along with two lieutenants. From Politico:
Also out are Communications Director Luis Miranda and Chief Financial Officer Brad Marshall. Marshall has been heavily criticized after a mass hack of DNC emails revealed he had suggested questioning Sen. Bernie Sanders' religion during his primary contest with Hillary Clinton.

The departures were formally announced in a Tuesday afternoon memo from new DNC head Donna Brazile, but news of Dacey's resignation broke earlier in the day, before many people in the building had been alerted to her departure.

And other senior aides have been expecting the ax to fall on them too, and there's a chill around the offices just off Capitol Hill as staffers wait for more resignations or firings.

Brazile also announced a plan for a transition team to prepare for the general election and for a new, permanent DNC chair.

"Tom McMahon, who served as Executive Director under then-Chair Howard Dean, and who led the party's efforts to develop and operationalize the 50-State Strategy, will lead the transition team," she wrote.

Brazile, who took over from Wasserman Schultz as interim chair, has been in the office since Monday, beginning the process of rebuilding. Meanwhile, press operations have been largely outsourced to the firm SKDKnickerbocker, longtime consultants for the DNC, according to Democratic officials inside and outside the building.
Will these moves help to right the Democratic ship as it sails toward November, or will the chaos just create more problems for the troubled Clinton campaign?