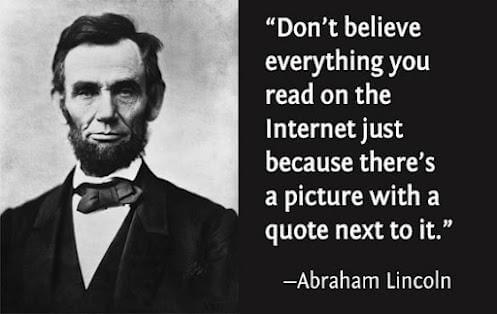 Around my door at the middle school I teach at, I have posted pictures of various historical figures along with inspirational quotations. Included among these is the one you see to the left. I included it both as a humorous touch, and as genuinely good advice.
I was reminded of this image today when I narrowly avoided falling for another false quote. I have seen the Trump meme below the fold pop up multiple times on the internet: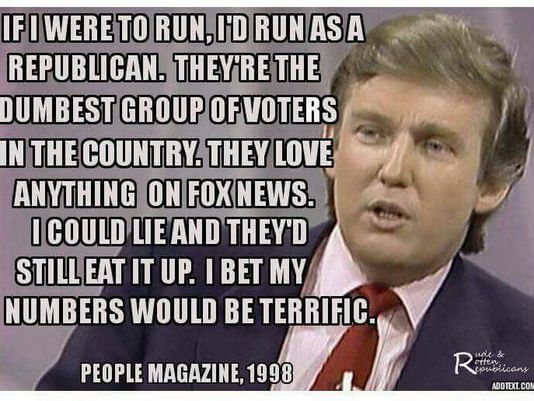 I was leaning towards believing the quote, and considered bringing it up on Ricochet, as I never saw it discussed in our frequent arguments over the Donald. Fortunately, I saved myself some embarrassment by sticking to my policy of always double-checking quotes I've seen online.
Well, the explanation for why I've never seen this quote discussed in conservative circles is simple: It's 100 percent horse manure. There is no evidence that Trump ever said this in any interview.
But what truly disturbed me in researching this was how many commenters on the fact-checker sites were convinced that they had seen Trump say this. Of course, none of them could actually provide video links, but they all swore they'd seen it (I even saw one commenter claim they'd seen the video just "this morning"), and that all the clips must have been taken down.
Now, barring the possibility that a massive pro-Trump conspiracy has scrubbed all evidence of this off the Internet, the simpler explanation is that these people are mistaken and have convinced themselves that — not only did they see the meme — but they actually saw video and now refuse to accept proof to the contrary. (I suppose they could be liars, but I think they're genuinely sincere).
So, once again, my faith in humanity and popular enfranchisement is taken down a notch.
On reflection, though, I admit that there is one fact about which I refuse to concede my memory as being false, despite what the publishers may say. It regards to the Berenstein Bears. You remember the Berenstein Bears, don't you? Popular children's picture book that's been around since the 60's. Well, withing the past couple of years I learned that, supposedly, that lovable bear family's last name is not spelled B-E-R-E-N-S-T-E-I-N, but instead is spelled B-E-R-E-N-S-T-A-I-N. Take a look!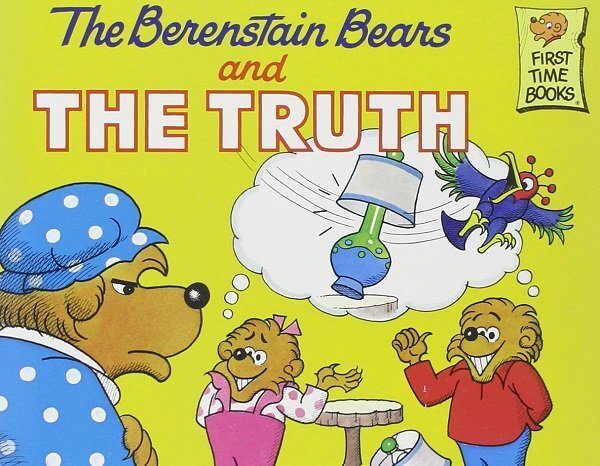 Does not the sight of that spelling cause dissonance among your synapses? Does not your brain rebel at this bizarre configuration of letters?
I distinctly remember reading "BERENSTEIN Bears" as a kid. And I'm not the only one. Online many people have gathered and discussed this creepy disconnect between the title we see on the books now and our own childhood memories. One popular theory, which I am subscribing to, is that we are remembering the spelling from an alternate reality/parallel dimension. There's also the possibility that, in the late 1990s, somebody went back in time and changed the spelling. Or that Random House publishers have switched out all copies of the books with ones with the distorted spelling in an attempt to… I don't know… summon Cthulu? I'm gonna stick with the alternate realities explanation for now.
How about you? Have you ever had the experience of coming across people remembering things that never happened? Or do you have vivid memories that apparently are false or erroneous?
And are there any popular memes/quotes you've noticed passed around the internet that you know are bupkis? I have many times been disappointed to find that cool conservative quotes attributed to Founding Fathers are often apocryphal, like the one below: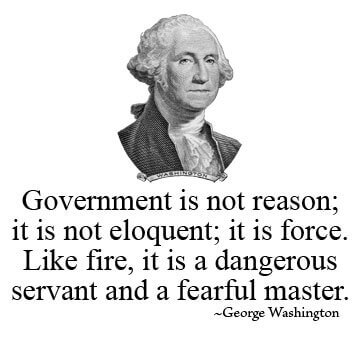 Awesome words. I highly agree with whoever wrote them. Too bad there's no evidence that it was actually Washington, though.