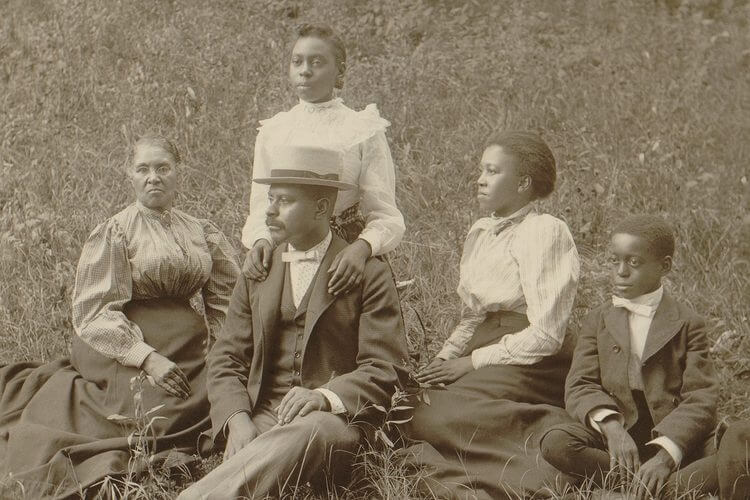 There was a time when the rate of crimes committed by blacks was within two percentage points as those committed by whites. And both were below 15 percent. There was a time when the murder rate among blacks was almost identical to that of whites and they were both below 14 percent. Likewise, there was a time when the percentage of children born out of wedlock among blacks was almost identical to that of whites. And they were both under 16 percent.
During this entire time (roughly 90 years), blacks really did have to be aware of targeting by some law enforcement. It was standard police procedure in towns large and small in every corner of the nation to have "dragnets" where several likely suspects were just rounded up and questioned with the hope of pinning it on one of them regardless of color. Real lynching of blacks took place all over the United States. Jim Crow and segregation laws were in place in every state.
But during the entire period the black family stayed just as intact as the white family and most were led by men who followed moral codes, worked with energy and honesty and believed in independence. Those Doubting Thomases among you need only to read Fredrick Douglass's "Self-Made Men" speech (hopefully again and again) and the commencement address delivered this year by Justice Clarence Thomas at Hillsdale College in which he describes his raising in the rural, Jim Crow south by a principled, strong grandfather.
From 1940 to 1960, poverty among blacks dropped by almost 40 percent. It did not drop again until the Reagan years when it dropped by over 20 percent.
In 1950, the out-of-wedlock percentage among blacks stood at 14 percent. In 1963, it was 23 percent after only about five years of the increasing "welfare state" targeting minorities. But despite the warning by even some liberal voices, the welfare state received a giant boost in the mid-60s with Johnson's War on Poverty and Great Society programs. Today, the out of wedlock rate among blacks stands between 72 and 74 percent, depending on the numbers you chose to believe.
The numbers prove over and over again that crime and violence rates are tied to families and values, not poverty or race.
Thomas Sowell, who is to be read deeply by anyone seriously interested race relations either here and any other part of world, shows the almost exact numbers in crime rates among those poverty groups targeted by British welfare programs since WWII. Except those groups are white.
Crime and violence are not a by-product of race or poverty. They are not a part of "black culture" or "inter-city" culture. There are not a part of leftover heritage of a slavery a century and half in the past. None of this was true for the pre-1950s generations who stood far closer to not just the past but the sting of genuine racism. No claim could be more insulting, racist or self-serving. They are the by-product of eroding social and individual values.
The black family survived 200 years of American slavery and a century of Jim Crow. It could not survive a decade of modern liberalism. Today, only 17 percent of black teens reach the age of 17 with biological parents married to each other. No state in the nation can reach a 30 percent rate.
Since the beginning of the so-called War on Poverty, the United States has spent $22 trillion on poverty and redistribution programs and the poverty rate is identical to what it was when we started. The drops in poverty have come during periods of economic growth fueled by tax cuts, less regulation, and individual incentive.
Liberalism might promote division but all segments of society are affected. The out of wedlock birth rate among whites has more than tripled during the same period. "White crime" is just as common as "black crime", just not as news worthy to an agenda driven administration or media. Police actually kill more whites than blacks in raw numbers, and in relation to their percentage of violent crimes.
Abortion has taken more lives of all shades than centuries of crime or law enforcement. Somewhere in the neighborhood of 55 million American babies of all colors have been "disposed" of since Roe v. Wade. For those who value black lives, consider that in New York City, more black babies are aborted than born since 2012. I would remind all that the title of Justice Thomas' commencement address was Freedom and Obligation. Fulfillment of obligation and responsibility is an absolute necessity in a free society, for a truly free man.
The drumbeat of police targeting has increased to a roar during the last seven years as the social state here has grown to almost irreversible heights. This is during a time when 30 of the 50 major city police forces are headed by black chiefs and the chief law enforcement officer (supposedly) of the nation (Attorney General) has been black. It is a time when the number of officers killed has jumped while number of suspects has actually declined.
Those who want solid, verified numbers relating to crime of all colors can easily access the work of exacting professionals like Heather MacDonald, Larry Elder, John Lott, Thomas Sowell, and Walter E. Williams. It is a sad commentary on the atmosphere fostered by the power seeking left that I should even mention that most of that list are black, as if they gives more credit to real, provable numbers.
The Left's agenda is opposed to the very fiber of the American ideal. That is why division and the erosion of traditional social mores are critical to its expansion. The concept of national health care has been a goal for over a 100 years but it was rejected repeatedly by the people from Teddy Roosevelt to Bill Clinton. But it will always be a leftist goal because it involves control of one of the most fundamental factors in a human's life. Read Karl Marx.
For leftist programs to be embraced, social values have to be torn down. Once again, read Karl Marx. Read Saul Alinsky.
The enemy of the left's agenda is "middle class" values. Peel them away layer by layer, focus on grievances instead of principles, demand change without explaining results and you can install the left's "utopia."
The truth is that black lives are under-valued… by the left. So are white lives, brown lives, red lives, yellow lives and polka-dotted lives. When their usefulness is over to the Left and they are safely dependent, they will be discarded for another. In fact, if they pay attention they will know they already have been.
The social ills, real and imagined, that are protested so loudly are the direct result of leftist policies of dependence, period. Independent individuals with real choices, subject to the rewards and results of their own decisions, are the curse of the Left. They are also the long-range and certain hope for people of all hues. They are the divine intention for all men.
Human lives are always devalued by centralized control and dependency; always have been. Those same lives reach toward a fuller and more purposeful existence through the practiced liberty that the Creator intended for them. Lasting unity between all men results from liberty. Division and resentment always result from dependency, a major step in tyranny.
The answer does not just lay in the words of the Founders but also in those who have shown us all how. The words of Douglass and Thomas have to resound more to us than those of the dividers who race to the spotlight and microphone today. And then we will have to live them.
From the Enlightenment to now, wise men (and women) have known, understood, that the life of a people's liberty is not determined by the strength of any central government but by their love of that liberty and the moral strength of their civil society.