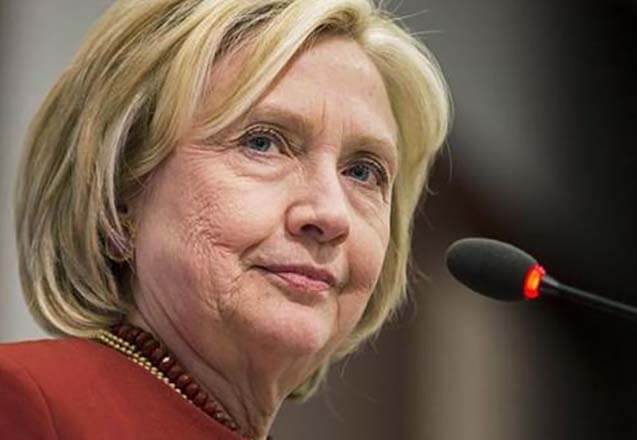 America is a banana republic, but without bananas — only the peels.
When FBI Director James Comey announced Tuesday morning that he won't pursue criminal charges against Hillary Clinton's "extremely careless" handling of classified emails, he reinforced a truth most Americans feel in their bones. Well connected Americans are no longer subject to the laws of the land and can do however they please.
John Adams called for "a government of laws, and not of men," but today's decision has officially reversed this quaint republican ideal. Hillary Clinton can repeatedly compromise national security and aggressively cover it up, yet still be cleared of any legal repercussions in a live press conference.
Traitor Edward Snowden is hiding out in Russia for compromising state secrets. Democratic nominee Hillary is favored to be our next President. Chelsea Manning is three years into a 35-year prison sentence for leaking classified government documents. Hillary Clinton is holding campaign rallies with Barack Obama. Petty Officer 1st Class Kristian Saucier is awaiting a sentence of up to 30 years for taking a few snapshots on a US Navy sub. Hillary is choosing furniture for the Oval Office.
When I was a student in the Navy Nuclear Power Program, one of my classmates decided to take a couple basic engineering textbooks to his off-base house to study. Since they were related to a sensitive military program, the books were marked "confidential," the lowest classification level available. Once the violation was discovered, he saw his home raided, was immediately removed from the program, tossed into the brig, and prosecuted. Mishandling classified material is a deadly serious matter, even if the material focuses on diodes and resistors instead of troop movements and intelligence gathering. Or at least it used to be.
The AP fact-checked Comey's endorsement of the Clinton cover-up and the results are downright ugly.
CLINTON: "I did not email any classified material to anyone on my email. There is no classified material." News conference, March 2015.

THE FACTS: Actually, the FBI identified at least 113 emails that passed through Clinton's server and contained materials that were classified at the time they were sent, including some that were Top Secret and referred to a highly classified special access program, Comey said….

CLINTON: "I never received nor sent any material that was marked classified." NBC interview, July 2016.

THE FACTS: Clinton has separately clung to her rationale that there were no classification markings on her emails that would have warned her and others not to transmit the sensitive material. But the private system did, in fact, handle emails that bore markings indicating they contained classified information, Comey said….

CLINTON: "I responded right away and provided all my emails that could possibly be work related" to the State Department. News conference, March 2015.

THE FACTS: Not so, the FBI found….

CLINTON: "I thought it would be easier to carry just one device for my work and for personal emails instead of two." News conference, March 2015.

THE FACTS: This reasoning for using private email both for public business and private correspondence didn't hold up in the investigation. Clinton "used numerous mobile devices to view and send email" using her personal account, Comey said. He also said Clinton had used different servers.

CLINTON: "It was on property guarded by the Secret Service, and there were no security breaches. … The use of that server, which started with my husband, certainly proved to be effective and secure." News conference, March 2015.

CLINTON campaign website: "There is no evidence there was ever a breach."

THE FACTS: The campaign website claimed "no evidence" of a breach, a less categorical statement than Clinton herself made last year, when she said there was no breach. The FBI did not uncover a breach but made clear that that possibility cannot be ruled out.

"We assess it is possible that hostile actors gained access to Secretary Clinton's personal email account," Comey said….

CLINTON: "I opted for convenience to use my personal email account, which was allowed by the State Department." News conference, March 2015.

THE FACTS: Comey did not address Clinton's reason for using a private server instead of a government one, but he highlighted the perils in routing sensitive information through a home server.
In other words, Comey repeatedly noted that Hillary violated the rules and covered it up, yet he still won't recommend prosecution. But to ensure that mere American citizens don't get any ideas, he added the following:
To be clear, this is not to suggest that in similar circumstances, a person who engaged in this activity would face no consequences. To the contrary, those individuals are often subject to security or administrative sanctions. But that is not what we are deciding now.
A government of men, and not of laws.