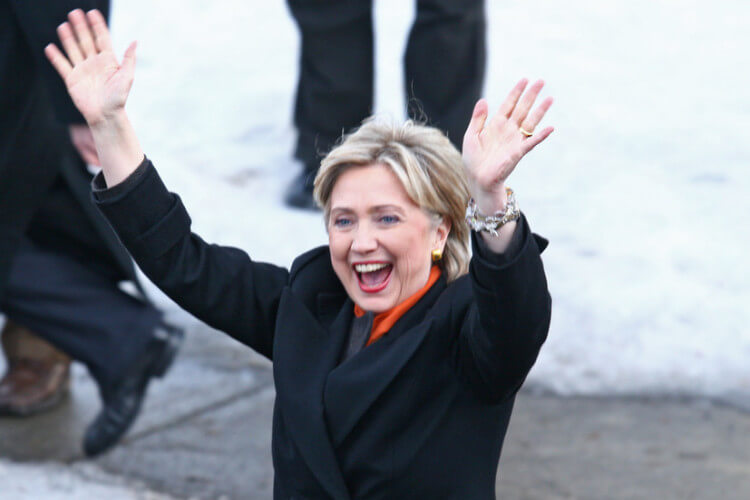 Hillary Clinton delivered a major speech earlier this week, focused on Donald Trump's credibility on economic issues. She warned that his policies and brash leadership would result in major economic problems. "Just like he shouldn't have his finger on the [nuclear] button, he shouldn't have his hands on our economy," she said. Clinton is right and correctly identified Trump's economic strategy as potentially disastrous. Ricochet contributor James Pethokoukis recently wrote about Moody's analysis of Trump's plan, which predicts Trump's high tariffs will trigger a recession lasting longer than the Great Recession. Taking all of Trump's policies into consideration, Moody's also forecasts large deficits, government borrowing, and labor shortages to contribute to the economic slump. A heavy handed protectionist agenda punishes businesses and consumers alike through high taxes, constrained trade, and restricted access to consumer goods. Ironically, the ostensibly nationalistic economic plan would be bad for American business and for the American people. Trump should not have his hands on the economy.
And neither, of course, should Clinton. Implementation of just one of her centrally-planned proposals – transitioning the entire supply of US residential electricity to solar energy – would be enough to send the economy into ruin. The plan would cost untold billions of dollars, money that neither the government nor the private sector has for an inferior energy technology. Worse than the financial cost, it would push the entire country onto an intermittent and unreliable energy source, such as solar, resulting in regular, widespread blackouts all across America. The ensuing economic disruptions would be so great it would be nearly impossible to quantify. Suffice it to say, every aspect of modern life — personal, professional, and everything in between — depends on access to reliable sources of electricity and energy. Economic policy that jeopardizes the existence of 21st century life as we know it is beyond absurd, it is horrifying.
What Clinton fails to realize is that it is not Trump's much-criticized business failures or bankruptcies that would make him dangerous to run the economy, it is the idea that the economies should be "run" at all. Both Clinton and Trump would be dangers to America's prosperity because they both seek to control it, in one form or another.
Alex Epstein, Director of the Center for Industrial Progress and author of The Moral Case for Fossil Fuels, passionately debunked the merit of central planning during a recent appearance on the Adam Carolla podcast. While discussing political obstacles to progress, Carolla — a practical, libertarian-minded comedian — surmised that a system that gave economic control to an oligarchy of highly intelligent decision makers would make our society better off.
Epstein pushed back on this idealized notion of benevolent economic control:
That's the worst idea imaginable… that's basically the premise of socialism. Let's go back thirty years and let's say we want the best form of digital technology. Let's take the top ten recognized best minds in digital technology in that time and give them authority to make decisions on what our phones would look like and what our computers would look like. What the hell would they have come up with? Nothing resembling what we have now.

The best way, the only way to get the most innovation is to have a free and competitive market… We need to get the government out of this. That's not some simple minded thing. That's what allows for the most sophistication. Instead of having ten random people who presume to know the future, you have millions of smart people competing and consumers decide."
If the past thirty years of digital technology investment and development were decided by an authoritative committee of experts would we have laptops, iPhones, or smart TVs? How about the Internet? The free market is by no means perfect, but economic progress is a product of experimentation and risk-taking happening on a small scale, millions of times over. Neither bureaucratic councils nor presidents can accomplish that through mandate, no matter how smart they are.
The beauty of free economies is that they do not need politicians to dictate orders, apply red tape, or pick winners or losers. Absent government micromanagement, free people take better care of themselves than any government agency could. Historically speaking, individuals freely pursuing their own self interests have produced the strongest economies and nations in the world, most notably the United States of America.
The hand we want on the economy to ensure that there are more jobs, production, growth, and an improved standard of living belongs to no politician, but is The Invisible Hand, Adam Smith's metaphor for the counter-intuitive spontaneous order found in free markets.
Clinton and Trump, however, should keep their hands to themselves.