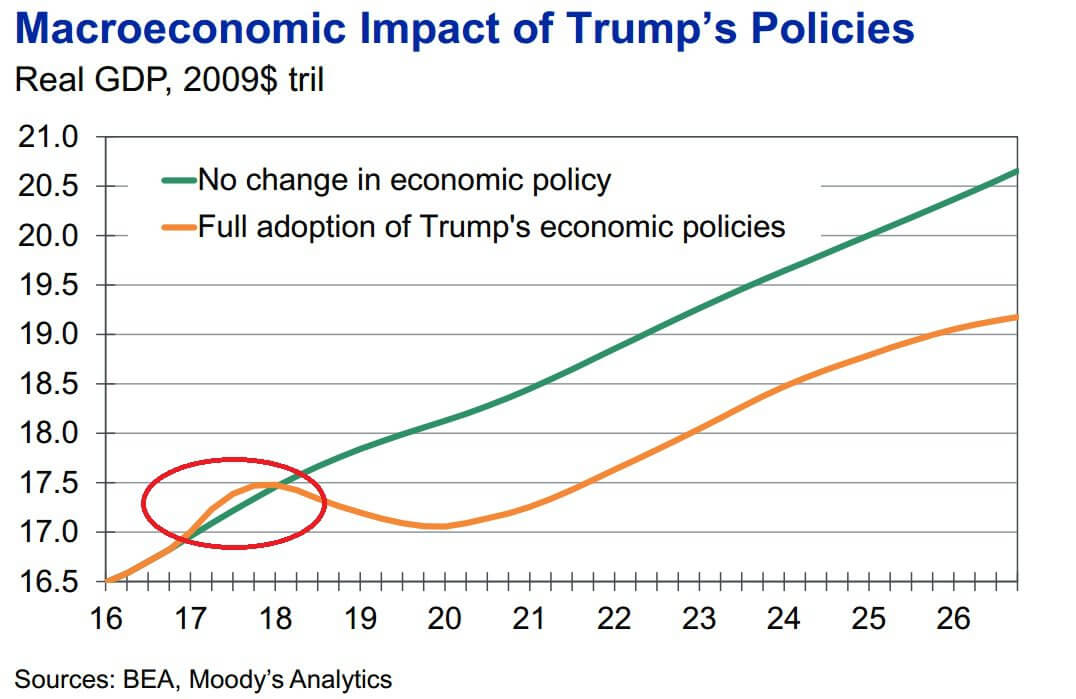 The above chart sums up a new Moody's Analytics analysis of Donald Trump's economic plan as is (the version that has excited the GOP's supply-side wing): tax cuts, immigration, trade policy, and all.
Well, 2017 looks OK! (I circled it in red.) Nearly 4% GDP growth, which would be the first year of 3% growth or higher since 2005, and the best year since 3.8% growth in 2004. Moody's thinks Trump's "large tax cuts and bigger deficits actually support stronger consumer spending and economic growth" in a dose of mega-stimulus.
But then "the negative impacts of the higher interest rates caused by the large deficits take hold." Recall that even dynamic scores of the Trump tax cuts find $1 trillion a year in budget deficits.
More from Moody's:
The increased government borrowing causes interest rates to increase, crowding out private sector activities such as business investment, housing, and consumer spending on vehicles and other durables. … The economy will suffer a recession that begins in early 2018 and extends into 2020. During this downturn, real GDP will decline peak to trough by close to 2.4%. This would be an unusually lengthy recession—even longer than the Great Recession—although the severity of the decline in economic activity would be more consistent with a typical recession suffered since World War II. Employment will continue to decline and unemployment will rise into the next presidential term, with the unemployment rate peaking at 7.4% in summer 2021.
Of course, Trump doesn't talk about taxes nearly as much as he does about immigration and trade. Let me focus on the latter since I have written so much about that lately:
The large increase in tariffs on Chinese and Mexican imports supported by Mr. Trump further exacerbates inflation pressures. The U.S. imports nearly $500 billion in goods a year from China, and another almost $300 billion from Mexico, accounting for approximately 35% of total U.S. non-petroleum goods imports. Outside of Canada, no other country comes close as a source of imports. Slapping a 45% tariff on Chinese imports and 35% on non-petroleum Mexican imports thus increases overall goods import prices by approximately 15%. This in turn lifts overall U.S. consumer prices by almost 3% at its peak six quarters after import prices increase, according to the Moody's Analytics model.
The inflationary effect of the tariff hikes are heightened since they are assumed to occur in late 2017 and early 2018 when the economy is operating above full employment. U.S. importers will quickly look for other sources to replace the more expensive Chinese and Mexican imports, but this will take time. Manufacturers in Southeast Asia would be most likely to step in, but it will not be easy for them to ramp up production sufficiently, at least not quickly. It is also unlikely that global manufacturers would expand their operations in the U.S., at least not for a while. Given the extreme uncertainty that would be created by the tariffs, including questions regarding how long they would remain in place, on top of the long lead times involved in developing greenfield manufacturing facilities in the U.S., manufacturers would likely be very cautious and move slowly.
Adding to the economic fallout from the hike in U.S. tariffs is the response by China and Mexico. They would most likely retaliate with in-kind tariffs on U.S. imports. This would be a big hit to U.S. exports, as we ship well over $100 billion in products a year to China, and almost $250 billion to Mexico, accounting for approximately one-fourth of total U.S. goods exports. Canada is the largest destination for U.S. goods exports, followed by Mexico and then China. The value of the U.S. dollar also rises, as global investors are attracted to higher U.S. short-term interest rates due to the more aggressive Fed, and the extraordinary global uncertainty created by the trade war between the U.S. and its largest trading partners.
The U.S. economy is on shaky ground, but the global economy is in even worse shape, making the U.S. seem like a safe haven for scared global investors. A similar dynamic occurred during the recent financial crisis and Great Recession. The hit to U.S. exports from the higher Chinese and Mexican tariffs and stronger U.S. dollar is significant.
At the peak of the impact in 2019, U.S. real exports are reduced by nearly $85 billion, according to the Moody's Analytics model. U.S. trade with the rest of the world will shrink as a result of Mr. Trump's tariffs, and could decline further if the candidate's seeming skepticism of past U.S. trade deals translates into no future deals.
Now Moody's also offers a couple of alternative scenarios: Trump-lite and with lots of congressional compromise. But in any of these scenarios, "the U.S. economy will be more isolated and diminished," Moody's concludes.
Of course, Moody's could be wrong. Its assumptions could be wrong. For instance: Moody's assumes an economy at full employment, so there would be no slack to hire workers after his mass deportation. There are also assumptions about Fed policy, interest rates, wealth effects, and how different income groups would react to tax cuts. Lots of moving parts here. It will be interesting to see if Team Trump releases its own data-driven analysis showing a markedly different result.