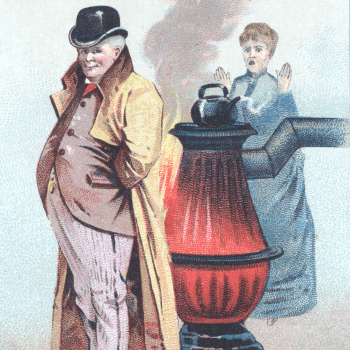 Over the years, I have assembled a short list of political aphorisms and I have been ruthless in my consideration of what merits inclusion. So ruthless that, in twenty-odd years, my list stood at a mere two entries. After years of advocacy, however, I realized that a specific point merits inclusion. My list now stands:
Marxists lie.
Never create a martyr.
Some people need to touch the stove.
In reference to this new, third aphorism, there is a saying: "A smart man learns from his mistakes, but a wise man learns from other people's mistakes." The unspoken corollary is that a fool never learns. Which brings me to supporters of Senator Bernie Sanders.
As I see it, there are six types of Democrats:
Marxist Globalists seeking absolute power and the total destruction of the United States (George Soros, President Obama).
Crony Globalist Opportunists seeking to enrich themselves off of the carcass of the United States (the Clintons).
Theoretical Marxist True-Believers (Sanders, some university professors).
Brown Shirts (social justice warriors, violent protesters, some more university professors).
Disgruntled Malcontents (The default Democrat, most of the remaining university professors).
Utopian Pollyannas (Millennial Sanders supporters).
The first two types are dedicated criminals who are beyond reform. The next two are fundamentalist ideologues who are also beyond reform. The last two types are — to varying degrees — possibly open to reform, but only after they touch the stove first.
"The stove," of course, is my metaphor for communism. The wise man looks at the collapse of Venezuela, the generational squalor of Cuba, the Kafkaesque mandates of the European Union, and understands which political actions should be taken and which should be avoided. The merely smart man and the fool do not and must first experience the horror. They must first — despite the loudest and most sincere entreaties — jam their hands, full force, onto the hot stove that every wise man knows will brutally disfigure them. Only then will the smart man learn (the fool never will).
However, the problem is that when the Democrats finally get their way — i.e., if the weak, beta Republican Establishment lets them get their way — then we will all touch the stove, whether we want to or not. This leaves wiser men to ask: Is there a way to escape our probable fate or at least a strategy to survive it? I have my own answer to that question: Yes, but it will not be pleasant.
For over a generation, the Democrats have made villains of the Republicans, and the Republican Establishment has done nothing. As a result, the Democrats now take it as an article of faith that the Republicans are not just wrong, but evil. There is no longer any argument we could bring to convince them otherwise, as they are no longer listening. And it is not possible for someone who does not listen to be wise. We can only hope that , when they do finally touch the stove, they are smart enough to learn.
Until then, we can give them a taste of the inevitable consequences of their choices: We can shun them. In shunning them, some of our fellow citizens might be smart enough to learn before they touch the stove. In shunning them, we might get a head start in forming refusenik communities to weather their Marxist storm.
For one hundred years, this miserable theory of Marxism has been tried and, for one hundred years, this miserable theory has failed. In its wake, it's pulled the wise, the smart, and the foolish alike through rampant famine, mass murder, generational compulsory servitude, the imprisonment of artists, the disappearance of dissenters, and unspeakable terror. I see this theory for what it is — a hot stove not to be touched — and I am quite willing to say to those who malevolently or pollyannishly insist that I touch it that they are no longer welcome at my table.