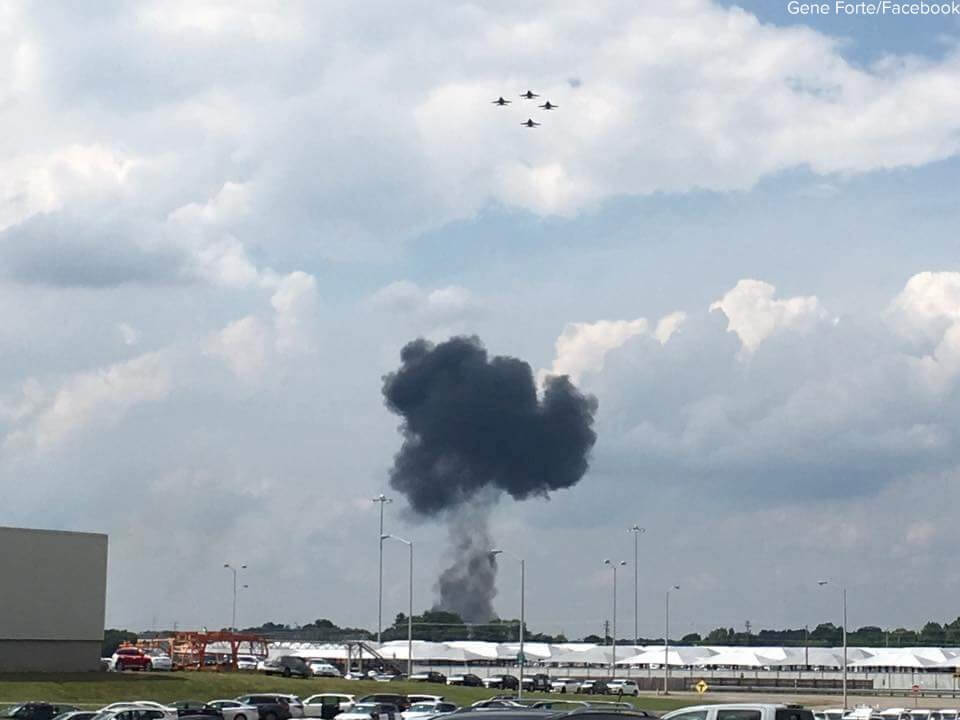 An F-16 jet from the US Air Force's elite Thunderbirds group crashed during a flyover for the Air Force Academy's graduation ceremony in Colorado.
The pilot managed to eject safely before the crash and was unharmed, Air Combat Command confirmed, adding that the pilot steered to an unpopulated area before ejecting.

The pilot was rescued by local first responders, Master Sgt. Chrissy Best, Thunderbirds spokeswoman, told The Air Force Times.

The Thunderbirds' website lists Maj. Alex Turner as pilot of the jet.

…President Obama, in town to deliver the commencement address at the Air Force Academy, visited with the pilot and thanked him for his service to the country, ABC News was reporting.
Two hours later, the Navy's Blue Angels lost a jet, but the pilot was not as fortunate as Maj. Turner.
A U.S. Navy Blue Angels jet crashed just after takeoff for a practice flight in Smyrna, Tenn., and the pilot perished, U.S. Navy officials said.

…In Tennessee, Blue Angels fans expressed condolences and concerns on the team's Facebook page.

"Prayers for the loss the Angels face today," fan Katie Bella wrote. "God bless all of you and thank you all for your service to this country."

"My heart is broken for your loss," wrote fan Rachel Long-Distelrath. "God bless the Blue Angels."
Later in the day, the US Army suffered an even greater loss of life.
At least three soldiers were killed Thursday at Foot Hood in Texas when their truck overturned in a creek, according to the Army.

Rescue crews remained on the scene late Thursday afternoon. Six soldiers remained unaccounted for. Three other soldiers were rescued and taken to a local hospital where they were reported in stable condition.

…Abbott, the Texas governor, released a statement offering the state's help to the Fort Hood community "as they deal with this tragedy," saying "Texas will forever remain grateful for their sacrifices."
As I noted on Memorial Day, serving in the military is always dangerous, even far from the battlefield. May God bless those lost, those injured, and all of their families.