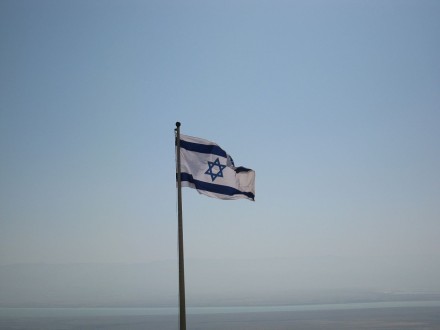 Growing up, my South African father used to remind us American kids that "There are only two types of people in the world: Jews and anti-semites." This used to upset us terribly. It's patently false, we would think. Our experience shows our society to be tolerant and kind. Where in the United States is friendlier and more welcoming than suburban Atlanta? Of course, the specter of Leo Frank's lynching always hung like a shadow in the backs of our minds. But that was a long time ago. Surely, that old hatred is dead.
But it's starting to look like dad was right after all. From Islamists, to progressive Europe, to the dregs of the Alt-Right on Twitter, we Jews are surrounded by a resurgent tide of anti-Semitism.Which leads to the question my progressive neighbor likes to constantly ask: "Why do they hate us?"
When it comes to explaining Jew hatred, the safest course of action is probably to declare it an uncaused historical constant. After all, what can be the reason for a hatred that has spanned millenia, civilizations, classes, religions, and practically every other boundary that divides man from man?
This is not to say, of course, that all men or even all societies hate Jews. Rather, anti-semitism remains latent until there arrives an excuse to hate someone. It could be that your country is impoverished after a disastrous treaty at Versailles, or that you are terrified of counterrevolutionary activity, or that jihad must be waged somewhere.
But what, one wonders, is the underlying structure of the emergent American anti-Semitism that Claire Berlinski wrote about on Friday? Every politically-involved Jew has noticed it by now: the absolute, almost flippant hatred of Jews that so pervades Twitter users with certain red caps in their profile pictures. We have watched Milo Yiannopoulos explain away their behavior as kids trolling. We have read the invitation for Ben Shapiro's newborn son to join his entire family in the gas chambers. Why?
However, this new anti-Semitism among Republican voters is not as sudden or mysterious as it appears to be. It can be easily understood if we take into account the political climate, the nature of the "Trump Revolution," and the prevailing conception of tolerance that has supposedly been the Western bulwark against anti-semitism since WWII.
Here's the first hint: In between the holocaust memes and the talk of shekels on Twitter, there is usually an accusation that runs along the lines of "putting Israel/Zionism before the United States." Now, accusations of Jews having split allegiances are as old as Jews are; they are even in the Bible. But these claims tie into a central principle of the Trump campaign that has so vivified all these anti-semites: The idea that until now, under the progressive regime, America has always been a secondary concern of our ruling class. For the Left, leftism always comes first, and the country comes second. Trump, however, promises to Make America Great Again.
It happens to be that this claim is true.
Leftism is a universalist philosophy. In pursuit of government-mandated utopia, the needs of any individual nation come second. The Left thinks that the natural state of the human being is one of harmony with others, and that only our societal and cultural failings stand in the way of peace and love between all men. The country is essentially a construct (like gender) that stands between all of us uniting in harmony. This is why President Obama constantly apologizes to the entire world; after all, shouldn't our shared humanity transcend tribal needs?
All it takes is one savvy businessman to realize just how grating, unnatural, and suicidal universalism is. And then there is the reaction: 2016.
So,this is the first piece of the reactionary anti-semitic puzzle. Trump's followers are nationalists who want to put to bed the universalist notion of being a human being first — and an American, or a man, or a family member — second. At a deep level, they feel that the differences that divide us are real and can be ignored only at our own peril. But what does all of this have to do with anti-semitism?
The second piece of the puzzle has to do with the way Jews have dealt with the Holocaust. As Daniel Greenfield writes, there were two Jewish responses to the modern Jewish calamity: "Never Again," and "Teach Tolerance." The former was nationalist, the latter, universalist. Some Jews after the Holocaust said, "We are not the same as everyone else, and our experience has shown us we cannot trust the world to accept us. We will form our own country, where there will never be a Holocaust." Other Jews said, "We are human beings like all others, and the only way to prevent another Holocaust is to educate people to be tolerant of other human beings."
The first group said that the crime of Hitler was Jew hatred and Jew genocide; the second group said that Hitler's main crime was being a nationalist, of putting German identity before his humanity. While the "never again" group sought peace through strength, the "teach tolerance" crowd asserted that strength and tribalism only further perpetuated the false notion of divisions between people.
Among American Jews, "teach tolerance" prevailed. The Jews became, after the war and long before the civil rights movement, the very first modern beneficiaries of leftist tolerance. We made sure the Holocaust got put in all the school books and that anti-semitism slowly became verboten in American life, not because Jews were different than everyone else and respected, but because we were the same as everyone else. Support of Israel was possible only through cognitive dissonance, viewing the country as a sort of humanitarian project that embodied all the "good" parts of the United States and acted as a de facto extension of US leftism in the middle east.
Not long afterward, African Americans joined us in the fight to make sure everyone else declared us the same as everyone else. Soon after came homosexuals, illegal immigrants, the mentally handicapped, transexuals, etc. You know how this story goes.
Throughout this process, there have always been nationalist or tribal voices. Malcolm X is an obvious one. Rabbi Meir Kahane is another. These men endeavored to bring the American public around to the idea that, in fact, Jews are not African Americans, Whites are not Jews, and that there is more to being a Zionist than believing in democracy. They thought that our tribal and national identities are undeniable fact and must be dealt with as such. But since that upset the fundamental principle of leftism, that we are all human beings first, they were always viewed as radicals by the majority of Americans.
Until, perhaps, now.
On both the Left (Black Lives Matter) and the Right (the "white genocide" crowd) we have seen a sudden uptick in nationalistic, tribal rhetoric. It is almost as if a large swath of America woke up one morning and realized that love is not, in fact, all you need. To whit: many African Americans have been the beneficiaries of leftist "tolerance" for decades, and their culture has been left in ruin and their people impoverished. They decided, quite logically, that their own interests should come before the universal leftist interests. Almost simultaneously, some number of white people realized that, for decades, they have been told they are the oppressor and made to scrape and bow in the name of the same universalist goal (only through reparations will the societal rift be mended), and if the nominal beneficiaries of those efforts reject its benefits, why should they continue to pay in? They, too, begin to play the game of racial tribalism. The actual liberal (if any remain) is aghast at such roadblocks to universalist utopia, but everyone else is so busy suddenly rediscovering their own identity that they haven't noticed.
Thus, we see the two pieces of the reactionary anti-semitism joined. The Trump movement — or, at least parts of it — has inspired others to abandon universalism in the name of nationalism (so they suddenly see the United States and Israel as separate entities), while there is already a cultural shift away from tolerance to tribalism (so Jews are suddenly unmasked as not being true Germans Americans).
The anti-semites on Twitter are equal-opportunity tribalists. They ask, "Why is the special dispensation for Jews any different than the politically correct forced tolerance of other minorities that have been forced down our throats for years?"
And the answer is, it's not.
You see, the conservative answer to this anti-semitism should be to encourage it. You're right, Twitter anti-semites. You have been educated in a false paradigm. People are not, in fact, all the same. The United States should come first. Your cultural identity should be your primary concern, before the financial or emotional needs of other groups' members. But this does not need to result in racism or anti-semitism. You see, back before the liberal regime and the inception of the universalist lie, there were actually groups of people who were different from one another, yet lived side-by-side in peace. Once upon a time, humanity was focused not on the ridiculous utopian ideal of homogeneity, but the idea of true tolerance, of being able to respect someone different than you without feeling the need to destroy them.
You, Twitter anti-semite, don't know any of that. You think that with the fall of liberal universalist tolerance, all must revert back to hatred and violence and vying for power. Decades of liberal thought have taught you that it is either universalism or chaos.
It is time to break the spell. It is time to learn how to be both American and human, that you and I can live in one nation, under God, in peace and prosperity.