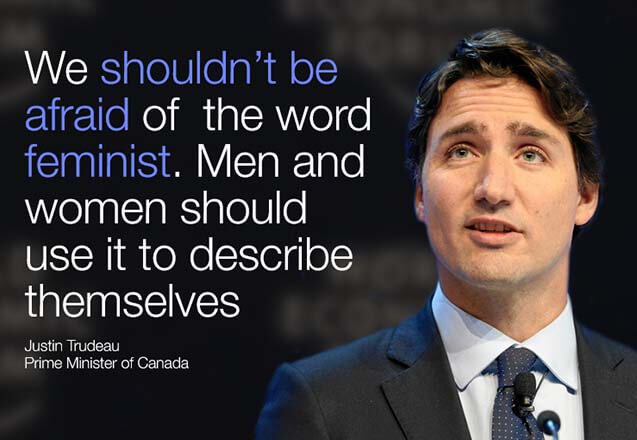 Wednesday afternoon, self-described feminist and progressive hero Justin Trudeau was caught on camera grabbing an opposition whip on the wrist and elbowing a female legislator in her chest. All on the floor of Canada's House of Commons. You can see the incident at about the 50-second mark of this video.
Prime Minister Justin Trudeau was accused of "manhandling" Opposition Whip Gord Brown and elbowing NDP MP Ruth Ellen Brosseau in the House of Commons as MPs gathered for a vote on the government's assisted-dying bill Wednesday afternoon.

In video from the House, Trudeau is seen walking toward Brown in a crowd of MPs in the Commons' aisle, taking his arm in an apparent effort to move Brown towards his seat.

MPs were just about to vote on time allocation for bill C-14, the government's physician-assisted dying legislation.

The prime minister later said he felt Brown was talking too slowly ahead of the vote.

The prime minister then crossed the floor and engaged in a loud and apparently heated conversation with NDP Leader Tom Mulcair.

NDP House Leader Peter Julian accused Trudeau of "manhandling" Brown, as MPs on all sides of the House shouted and Speaker Geoff Regan struggled to regain order in the House.

An emotional Brosseau said later in the House that she had been "elbowed in the chest by the prime minister," bringing Trudeau to his feet once again to "apologize unreservedly."

Brosseau said she was so upset from the incident that she had to leave the chamber, subsequently missing the vote.
A colleague of Brosseau's, MP Nikki Ashton, didn't exactly accept the apology.
"I am ashamed to be a witness to the person who holds the highest position in our country do such an act," she said. "I want to say that for all of us who witnessed this, this was deeply traumatic, what I will say, if we apply a gendered lens, it is very important that young women in this space feel safe to come here and work here. He made us feel unsafe and we're deeply troubled by the conduct of the prime minister of this country."
That's the third-wave feminist version of high crimes and misdemeanors. Viewing the video, the incident is more Corey Lewandowski than Taiwan Parliament, but it might take the shine off of global progressives' favorite new leader.