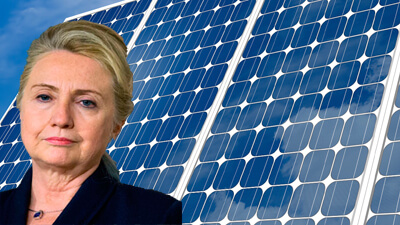 On Hillary Clinton's campaign website, she calls for the creation of 500 million new solar panels to "power every home in America." Voicing a strong preference for solar may win over the hearts of some environmentally conscious voters, but it should not win over their minds. A proposal to comprehensively retool the nation's energy systems to solar power ignores a couple of very basic, yet critically important, complications.
First, every home in America is already powered. The country does not need to undergo a massive, redundant, and expensive overhaul to duplicate what has already been accomplished. Second and more importantly, this plan, if you can call it that, hinges on a physical impossibility. Solar panels cannot power homes. At least not in any way people in the industrialized world would consider acceptable. Solar power is unreliable, intermittent, and inflexible. This means solar panels are intrinsically incapable of handling the country's home energy needs.
Energy is consumed on demand, without advance warning or notice. When anyone flicks on a light switch in their home, the unthinking expectation is that their lights will automatically turn on. That taken-for-granted miracle of convenience and standard of living is made possible through a steady and uninterrupted access to electrical energy. To ensure people always have electricity when they want to use it, power plants must use fuel sources that can continually power electrical generators. In practice, these fuel sources are limited to coal, natural gas, oil, nuclear, and hydro, and according to the Energy Information Agency those sources combine to generate 92 percent of America's electricity in 2015.
On the other hand, renewable energy sources, like wind and solar, cannot produce power on demand. Windmills and solar panels produce energy literally as the wind blows and sun shines. Because of this intermittency, renewable energy, as it is widely known, is unreliable energy. Alex Epstein, author of The Moral Case for Fossil Fuels, coined the term "unreliables" to replace "renewables," as it is a much more accurate description of what they offer to energy consumers. This is not to say that solar panels serve no purpose, but we all use electricity throughout each and every day, not just when the sun is being cooperative. Imagine depending solely on solar panels for your home electricity – your access to this critical resource could be cut off by something as simple and commonplace as cloudy skies. In your homes, you cannot afford to have all your lights and appliances shut off just because it's overcast outside.
If you think this is an oversimplified review of solar energy, it actually gets worse as you consider more details.
Daily kilowatt consumption follows a predictable pattern of highs and lows over a full day, but the amount consumed at any given moment in any given region is in constant flux. Solar, unlike traditional fuel sources for electrical energy, cannot be adjusted to meet the moment-by-moment changes in energy consumption. Even when the sun does come out and solar panels start creating electricity, there is no assurance that whatever energy produced will match whatever energy is being consumed. Solar energy cannot be ramped up or dialed down to match demand. We are stuck with whatever the weather gives us.
Worse than this inflexibility, the very nature of the rotation of the Earth guarantees that solar panels will not generate electricity when it is needed most. People need energy 24 hours a day, but in their homes specifically, they need it most when the sun isn't shining. Home electricity consumption peaks in the early morning before people leave for work and school and again in the evening when they return home. The bulk of home energy consumption happens when the sun is not shining and peak solar production occurs when it is needed least. The graph below, created by an Australian solar energy broker, illustrates this inversion between home energy demand and solar production.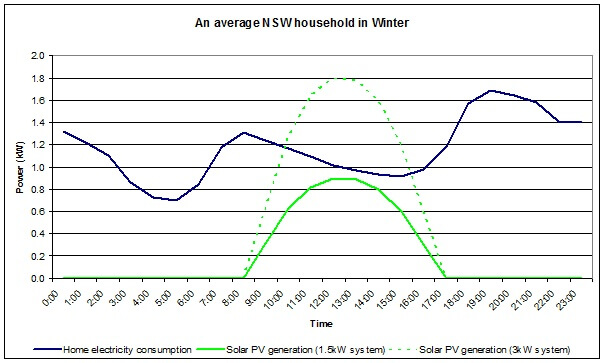 If you consider your own daily routines, you will likely see why this is. The average working American wakes up and starts using electricity before the sun is up. In the dark or dimly lit morning hours, people turn on lights, pull food out of the refrigerator (which has been using energy throughout the darkness of the night), use their stoves or microwaves to make breakfast, and groom themselves with any number of bathroom appliances. During the daylight hours, when solar has the greatest potential to generate power, home electricity consumption drops off because most people have gone to work or school for the day. When they return home, as the sun is setting and solar production falls off, they turn on all the lights again, use their stoves or ovens to make dinner, turn on their TVs, and use their computers to read the latest on Ricochet.
Building 500 million new solar panels could, in theory, expand solar capacity enough to handle all the daytime home electrical demand, but the true capacity for unreliable energy sources is always zero. Clinton could subsidize the solar panel portfolio to be 100 times more than what is needed, but on a sufficiently overcast day, let alone at night, they would all be for naught. A solar panel sitting in the dark cannot turn your lights on. No matter how heavily the government invests in solar, reliable and controllable sources (fossil fuels, nuclear, hydro) will always be needed to maintain steady and affordable access to energy.