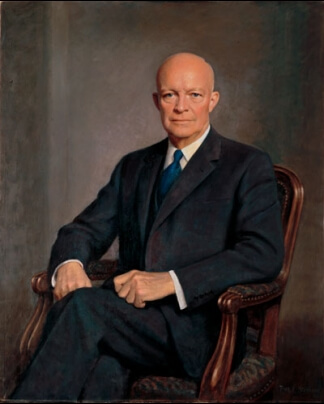 With the unexpected direction this election cycle has taken, I've found myself repeatedly asking "What kind of president do the American public/Republican primary voters/Tea Partiers/Trump supporters really want?" Whenever we compare contemporary presidential candidates to historical figures, we tend to refer back to a short list of 20th century figures: Wilson, FDR, Nixon, Reagan, Clinton. But one name is conspicuously absent, a name associated with both the period of fastest growth and the most popular presidency of the 20th century: Dwight Eisenhower.
From the perspective of today's politics, it's hard to see how someone like Ike could even exist: A fairly non-partisan leader who was genuinely pragmatic; A supporter of the New Deal and public works projects who, nonetheless, didn't want to cram the government down every throat; A staunch Cold Warrior who still warned against military excesses; And, of course, a man willing to use his executive power to deploy the US military into an matter of social politics. Indeed, the period of his presidency is constantly cited by members of all ideologies as the benchmark of American success and the American Dream. But if Eisenhower was such a success, why do we rarely ever mention him anymore, while we invoke Reagan's name more frequently than the Lord's at church?
I think part of the blame falls on Reagan himself. From an intellectual perspective, Reagan aligned himself closely and conspicuously with William F. Buckley and National Review, which — I have been told — was created during the 1950s partly as a counter-reaction to Ike's affinity for big government. But here's the essay question: Was Reagan more like Goldwater or more like Eisenhower?
My strong sense is that Reagan talked like Goldwater but acted much more like Eisenhower in many respects (at least, on issues where the two latter figures differed). And I think this paradox has carried forth into modern-day conservatism. For example, the Tea Party's stated goals were largely of a libertarianish, Goldwater nature, but many self-described Tea Partiers are now supporting Trump, who is most certaintly not cut from Goldwater's cloth.
So, while the talking classes on the Right have enjoyed slandering Eisenhower for decades, I wonder whether the common man has remained closer to Eisenhower in their personal political preferences.
Is it possible that a large fraction of the Republican base has been rallying behind Goldwater-style slogans for years, but has actually been pining for an Eisenhower-type figure? That might explain why so many on the Right, and in the working class, feel so disenchanted by the intellectual wing of conservatism, and are rallying behind Trump. And might an Eisenhower-like figure be precisely the type of president the disaffected working class has been pining for: Not a dictator-like strongman, not a let's-double-the-size-of-government liberal, not a libertarian-style conservative, not a fire-breathing xenophobe, but a moderate, centrist, semi-strong man who puts country and results first?
Follow-up question: Would that type of president even be possible today, or at any time in American history except after WWII?