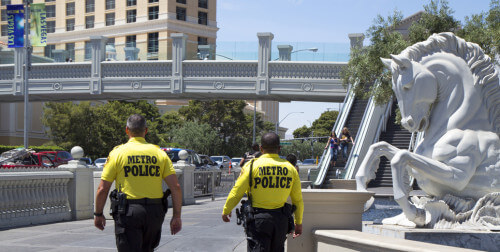 On November 4, 2014, California voters passed Proposition 47. You can read all about it here, but the main points are that it downgrades some (drug-related) felonies to misdemeanors and lets thousands out of California's prisons and jails. Liberals who decry mass incarceration and those who fight the "Prison-Industrial Complex" were, of course, thrilled.
To be fair, some of support behind efforts like Prop 47 is bi-partisan:
"Releasing some nonviolent offenders is the smart thing to do," said Newt Gingrich, a 2012 GOP presidential candidate, explaining the conservative perspective.

"We cannot incarcerate our way out of a drug problem," said Sen. Rand Paul (R-Ky.), explaining the libertarian perspective.

"It is abundantly clear that America needs a new strategy," President Obama had said, in a speech about the failures of mass incarceration
Now, the question for President Barack Obama and all who support initiatives like Prop 47, is "What happens next?"
One year after Prop 47 passed, the Los Angeles Times published an article titled "Unintended consequences of Prop. 47 pose challenge for criminal justice system" that extensively covered the pros and cons of Prop 47. Some examples:
Pro:
Lenore Anderson, executive director of Californians for Safety and Justice and an author of the measure, said courts and law enforcement agencies need to adjust to the new landscape by innovating — for example, by funneling offenders into treatment before they even see a judge.

Misdemeanors, which can carry one-year sentences, can be used in the same carrot-and-stick way as felonies, she said.

"Proposition 47 is working," Anderson said. "It's reducing the state prison population, it's giving people second chances and it's saving state money that has never been saved before."
Con:
Los Angeles County Sheriff Jim McDonnell is among the law enforcement officials who believe that Proposition 47 has led to more crime while forcing fewer addicts into treatment.

"We've removed the disincentive, but we haven't created a meaningful incentive," McDonnell said in an interview last week. "We're putting the people we're trying to help in a position where we can't help them."
The article continues:
Sheriff's deputies are sometimes passing up narcotics arrests altogether, since it can take hours to book a suspect they believe is unlikely to incur much of a penalty. Narcotics arrests by sheriff's deputies are down 30% from a year ago, despite McDonnell's orders to his deputies to keep making arrests.

At the same time, areas of Los Angeles County patrolled by the Sheriff's Department have seen property crime climb nearly 8% from last year. Auto thefts alone are up over 20%. Sheriff's officials say there is a link between drug and property crimes as some addicts steal to support their habits.

Statewide, property crime has increased in nine of California's 10 largest cities this year, a Times review found. Violent crime has increased in all 10.
That was from 2015. This year, you can add another sheriff who thinks Prop 47 is the cause for a spike in crime. In Las Vegas. Las Vegas, Nevada.
On March 31st, The Las Vegas Sun wrote "Sheriff Links Las Vegas Crime Hike to California Law to Reduce Prison Crowding:"
Depopulation in California jails and gang members moving to the Las Vegas Valley might be contributing to the rise in violent crime, according to Metro Police Sheriff Joseph Lombardo.

There's a "plethora" of reasons why the valley might be experiencing a hike, Lombardo said during an editorial meeting with the Las Vegas Sun, but Metro has had an increase of interactions with California gang members during arrests and investigations.

"That influx is directly related to, I believe, the depopulation of the prison system in California," he said.

This can be traced back to Proposition 47, a California ballot initiative turned into law November 2014, Lombardo said.
The article goes on to say:
In Southern Nevada, violent crime in Metro Police's jurisdiction is up about 22 percent so far this year, according to stats provided by the department.

From Jan. 1 to Saturday, Metro investigated 37 homicides, a 68 percent increase compared to the same time last year.

Investigations involving sexual assault, robberies and assault with a deadly weapon are also each up about 20 percent.

To combat the increase, Metro in a "violent crime initiative" has tasked its plainclothes detectives to suit up and patrol the streets on two-week deployment cycles, Lombardo said.

This means that at any time there is an influx of about 70 detectives on the streets, creating an omnipresence that has showed results, according to Lombardo.

Though the data might be "short-lived," Lombardo said, homicides and robberies decreased since the initiative's inception about two weeks ago.
On April 26th, the Las Vegas Review-Journal wrote that "Spike in Fatal Shootings Over Past Weekend in Las Vegas Valley Spells Troubling Trend:"
Sherri Ficklin's 24-year-old nephew was shot dead just after midnight Sunday — one of five fatal shootings the valley saw last weekend.

But as she gathered with friends and family Sunday night to mourn Javarrious Eequinn Brown, they couldn't even grieve in peace; a few shooters ignited the vigil in gunfire as the group lit candles near Pecos Road and Washington Avenue, sending people running and promptly ending the event.

The level of violence Ficklin experienced was echoed throughout the valley this past weekend, which marked a 100 percent increase in homicides compared with that time last year. As of Saturday, Las Vegas police were investigating 56 homicides, compared with 28 as of the same date a year ago.

The most violent of incidents last weekend happened early Saturday at the Hollywood Recreation Center, just a block away from Harney Middle School. The center exploded in 50 rounds of gunfire after a fight about 3:30 a.m., and police said the aftermath left 15-year-old Barboza dead, four others injured from either stab or gunshot wounds, and one juvenile arrested.

Almost everyone involved was a teenager, police said.
On Wednesday morning, Sheriff Joe Lombardo held a press conference to address the recent spike in violent crime and to reassure a frightened Las Vegas that his department was doing all they could do to combat the crime wave. Reporters at the press conference noted that Lombardo his remarks that much of the crime can be traced back to California and Prop 47.
Lombardo has reached out to former sheriffs, officials in LA about issue.

— Rachel Crosby (@rachelacrosby) April 27, 2016
Cause? Prison depopulation, per Lombardo. Again mentioning Cali individuals committing crimes in Vegas (pertaining to drugs, gangs)

— Rachel Crosby (@rachelacrosby) April 27, 2016
.@Sheriff_LVMPD attributes de-population of prison system across the country; spec. addresses California. https://t.co/unl1DYeJ7Q

— FOX5 Las Vegas (@FOX5Vegas) April 27, 2016
.@Sheriff_LVMPD: California misdemeanor inmates doing only 1/5 of time behind bars. https://t.co/unl1DYeJ7Q

— FOX5 Las Vegas (@FOX5Vegas) April 27, 2016
.@Sheriff_LVMPD: Significant increase in contact with people with prior residence in CA/penal system. https://t.co/unl1DYeJ7Q

— FOX5 Las Vegas (@FOX5Vegas) April 27, 2016
Las Vegas is certainly not alone in suffering the effects of a weak California justice system, but its suffering is severe, unfair, and completely unnecessary. There are arguments for releasing some low-level offenders from jails, but Prop 47 let way too many genuine hard cases out of prison and put them back on the street.
Las Vegas is one of America's biggest travel destinations, and for good reason. It's an amazing city, filled with experiences unmatched anywhere else in the world. But because of its predominant industry, the city is magnet for attracting criminals from all over the United States.
Lately, however, California's magnet has proved even stronger, attracting many former prisoners who've brought violent crime with them. One can only hope that Sheriff Joe Lombardo and his team can find ways to fight back and protect Las Vegas from this scourge.
In the meantime, everyone needs to reevaluate measures like Prop 47 and other efforts to reduce prison populations. If governments are going to release people, they better make damn sure it's the right people, the lowest-level offenders. No one can stop all recidivism, but it's apparent that more can be done to at least try.