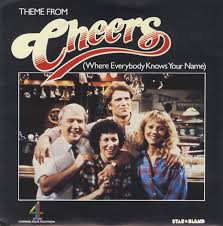 When we ask people, "What makes for a good bar?" the most common answer we receive is, "A place where people know your name, you know, like Cheers." Rob Long may be pleased to hear that it's not just Boomers who say this, but even Millennials often refer to the sitcom classic to describe their ideal watering hole.
As I've mentioned here before, my wife and I are taking this year to go to a church and a bar in every state. Every time we go into a bar, we ask people two questions, "What makes for a good bar?" and "Whether you go to church or not, what do you think would make for a good church?"
As one would expect, we receive a variety of answers to these questions.
Some answers to the bar question:
"You want someplace with cute birds, like you see around here." (Yes, a guy in Florida, not a Brit, referred to women as "birds.")
"I want a place with cheap, deep draws so I can get drunk fast."
"I just want a lot of TVs so I can watch a lot of games."
But again, the most common answer we get from people is that they're looking for community. Sometimes they do find that in a bar.
In a bar in Rock Hill, SC, we met a young couple (young to us, they were in their late 20s or early 30s), named Ginny and Chris. I asked them our questions, and Ginny apologized in advance for her husband's speech since he had suffered a stroke. After his stroke, without their knowledge, their friends got together at McHale's, that very bar, and talked about what they could do to help Ginny and Chris.
The group organized a day of music and raffles — straight out Public Television-type fundraising. They raised $10,000 to help with the couple's medical expenses, but that wasn't the end of care for the couple. Ginny said that whenever she came to McHale's after that, not only the staff but other customers whom she didn't know would ask how Chris was doing. Now, Chris is back enjoying the McHale's community himself.
After people answer "community" to the question of what makes for a good bar, they often give the same answer for what makes a good church. They'll express the idea in different words sometimes ("A place where I'll be welcomed and not judged," for example). On this trip we have seen great examples of churches striving to build community. A pastor in Nashville, TN, said, "We're looking to be hospital for sinners rather than a museum of saints."
There are a lot of people out there in search of community — which, of course, is the genius of Ricochet. On other parts of the internet, there are people looking to bring Proverbs 1:11 to life, "If they say, 'Come along with us; let's lie in wait for innocent blood, let's ambush some harmless soul.'" (Probably the best description of Twitter I've ever seen.) Ricochet is one place on the web where people are looking to encourage and support each other.
So, a few questions:
Have you found community in a bar? (Norm?)
Have you found community in a church?
Have you found community here at Ricochet?
Where else have you found community?