After years, Judicial Watch (a great organization by the way) was finally able to access records of then Secretary Clinton during the Benghazi Attack. Last month, their FOIA request secured this record of a phone call by Clinton the day after the attack. "S" is Secretary Clinton. In a call to then-Egyptian Prime Minister Hisham Kandil she said that the deadly terrorist attack on the US compound the day before "had nothing to do with the film."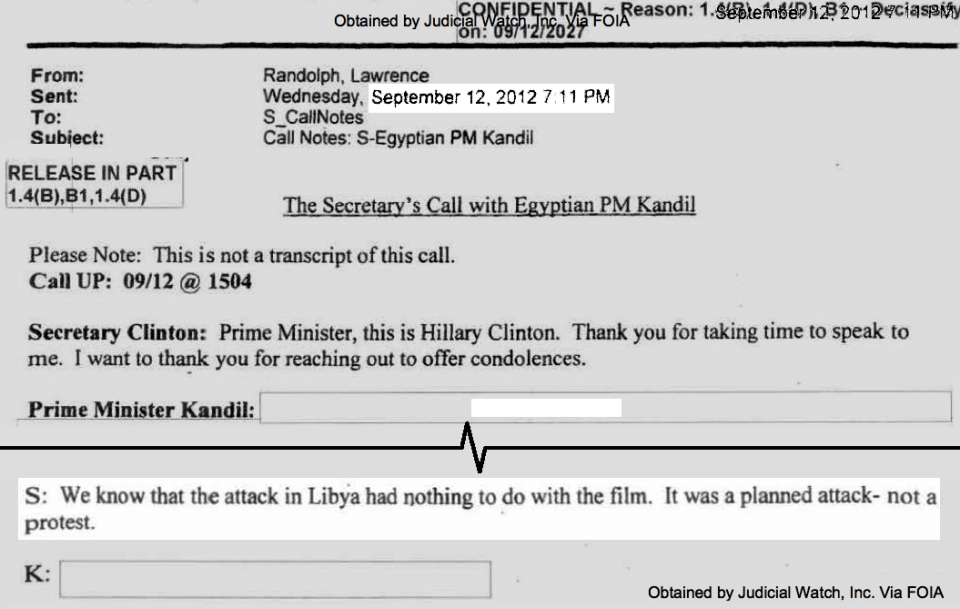 On the prior evening (September 11) Mrs. Clinton issued an official State Department press statement, approved by the White House, placing the blame for the attack on an Internet video:
Some have sought to justify this vicious behavior as a response to inflammatory material posted on the Internet. The United States deplores any intentional effort to denigrate the religious beliefs of others. Our commitment to religious tolerance goes back to the very beginning of our nation. But let me be clear: There is never any justification for violent acts of this kind.
The 2012 presidental election was but two months away … Clinton lied. The White House lied.