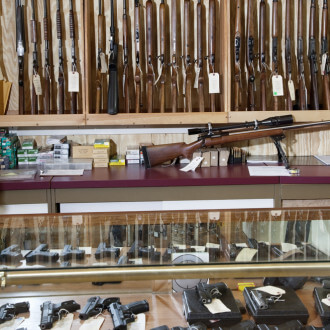 It's been interesting to see Ricochet's firearms owners come out of the woodwork and talk about the guns they own and safely enjoy, and it's been even more interesting to see others who are interested in owning a gun ask questions of our members about what gun might be best for them. These days, I usually recommend a compact 9mm pistol as a first gun, but then the question arises, "Ok, what do I buy after that?"
That's a tough question to answer, because there are so many different ways to enjoy firearms. I'm partial to practical shooting myself, such as IDPA, USPSA and 3gun, and friends of mine really enjoy dressing up in their finest cowboy duds and going out to a Single Action Shooting Society match. Then there's all the shotgun sports, like trap, skeet, and sporting clays, or maybe the precision of traditional bullseye events like High Power Rifle is your kind of thing. There's also silhouette shooting, benchrest, quick draw, and the list goes on and on and on. Suffice to say there's probably a sport out there for anything that has a trigger and goes "Bang!" With all of these ways to enjoy owning a gun, what are some of the guns besides a pistol that you should have in your household armory?
The Second Gun
After you buy a defensive pistol, I recommend a rifle chambered in .22 Long Rifle (LR) as a second gun, usually a Ruger 10/22, Marlin 60 or a CZ 455 if you want a bolt-action gun. These rifles are inexpensive to purchase, inexpensive to shoot, and all are great to practice with. There are few things more enjoyable than spending a lazy Sunday afternoon with a .22 rifle in your hands and a bunch of tin cans down range, and .22LR ammo is finally in-stock at most gun stores after years of being in short supply. In addition, a .22 rifle is a great way to learn the fundamentals of marksmanship such as breath control, sight picture and trigger squeeze without having to worry about spending large amounts of money on ammunition.
The Third Gun
I usually recommend America's Rifle, the AR-15, for a third gun. Why? Because you will never, ever run out of things to do with it. Designed by an aircraft engineer to be modular, the AR-15 is infinitely changeable and adaptable. However, this flexibility presents a problem for first-time AR buyers as there is a bewildering mix of calibers, barrel lengths, features, and manufacturers to choose from. In general, I recommend starting with quality manufacturer like Colt, FNH, or Stag Arms. These manufacturers have all been around for a long time and have a reputation for well-built rifles; look to purchase something in the $800 to $1000 range. Features I look for in a beginner's AR-15 are a collapsible stock to accommodate shooters of different builds, a 16″ barrel for lightness and compactness, and a flat-top receiver to allow for future expansion. Keep in mind, though, when you buy an AR you are buying the beginning of your journey with your rifle, not the end. Practically everything about the gun you take home with you today from the store can eventually be changed, such as the trigger, barrel, optics, stock, even the caliber of the rifle itself. This flexibility makes the AR suitable for a variety of uses. They are excellent home defense rifles, they're perfect for hunting varmints and other small game, they dominate the precision rifle matches at Camp Perry, and are a key element to 3 Gun, America's fastest-growing shooting sport. Plus, because the .223 round they shoot is accurate and has low recoil, they're a lot of fun to take to the range for plinking and target practice.
Fourth Gun
I'd look to getting a 12 gauge shotgun, probably a pump-action model like the venerable Mossberg 500 or Remington 870 as your fourth gun. If you purchase a model of those guns that accepts different barrels and magazine tubes, you can configure your shotgun for a wide variety of firearms-related activities. With the right combination of barrel and magazine, you'll be able to hunt for waterfowl, participate in 3 Gun, or setup your gun for home defense. Though you can shoot trap, skeet, or sporting clays with pump-action gun, I know from experience you'll be at a disadvantage if you do. Nevertheless, you can still have fun at a match, even if you don't win.
Five Guns And Beyond
There are so many options to choose from beyond this. If you're finding you're not carrying your pistol because it's too big, consider getting something smaller, lighter and easier to carry like a pocket .380. If the AR-15 doesn't cut it for you because of the limited range and power of the .223 round, look at getting a rifle in a larger caliber like .308 Winchester. Eventually, once you reach eight guns, you'll have enough to participate in any shooting sport or shooting activity out there, and you'll have laid the foundation of a legacy of self-protection and self-reliance to pass on your children.