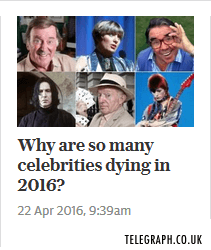 With the death of Prince, Friday's London Telegraph echoes our own James Lileks in asking about the plethora of celebrity deaths in 2016. Are people really dying off at a faster rate? Or has the bar for celebrity status been so lowered that more people are written about, Tweeted about and generally gossiped about than ever before?
I favor the latter theory above everything else. With the rise of the Internet and social media, we have given birth to new classifications of "stars." Forbes now runs a list of the richest YouTube Stars. People whose passing may not have even merited much more than filler on the agate type pages 20 years ago now get links on Drudge Report and hundreds of comments on TMZ.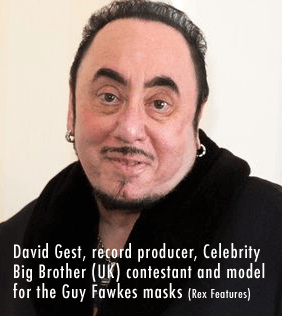 David Gest, whose primary claim to fame seems to be that he was Liza Minnelli's abused fourth husband generated 600 comments on TMZ when he passed on April 12.
Beyond the business celebrity of The Donald, there's "reality" television. At one time the aforementioned Mr. Gest had, not one, not two, but three programs on prime-time British TV at once. Here in the States all one has to do is look at the current lineup on "Dancing with the Stars" to understand just how much luster the word "star" has lost.
Finally, a word or two on the subject of our perceptions. Once you get north of 50 one becomes achingly (and I mean achingly) aware of one's own mortality. We become a little bit more cognizant of the passing of others.
Then there is the nature of the era of those now passing. Fame, fortune, and temptation took its toll on the stars of mass media throughout the 20th Century but the rock 'n' roll era brought a level of self abuse never before seen. These people were abusing their bodies way before they were famous. A little help to get you up in the morning (Okay, afternoon), a little help to bring you back down at night, and maybe a little something to round off the edges during the day. Even when they found sobriety in their 40s the damage had been done. Now, as they reach their 60s and 70s, they're dropping like flies.
Most of us, of course, will die in anonymity. There will be no AP wire copy. ("Mr. X, who Photoshopped under the name EJ Hill, passed this morning after a brief illness. Hundreds that camped out in a quiet vigil on his front lawn sobbed openly and rended their garments when news of his passing was announced," will not be running on any front page anywhere near you — ever.) But may we all be remembered for how we lived and what we created in this life than for how we died or what we destroyed.