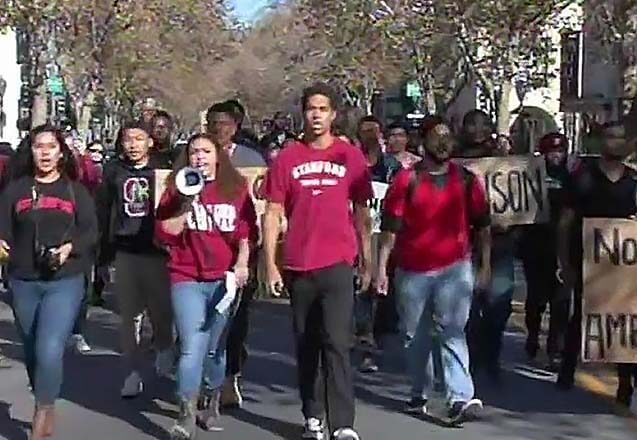 Two months have passed since Stanford University's celebrated student body voted six-to-one against reinstituting a required Western civilization course in its academic curriculum, generating a flurry of commentaries about the majority's ideological orientation.
Critics didn't have to look far, as an editorial in The Stanford Daily outlined the views of those on the six side of the equation pretty well. After introducing an excerpt from Rudyard Kipling's The White Man's Burden for sneering purposes, the op-ed launched into a scathing attack on Western civilization, peppered with phrases that undoubtedly would have kindled smiles by Marx, Lenin, or Stalin, along with perhaps a few tears of approbation.
Thus, for instance, Africa's execrable backwardness was the result of Western "colonialism, occupation, and capitalism as driving forces in the creation of poverty." Of course, understanding this requires students to "think critically," and not be "[spoon-fed] platitudes from the Western colonial canon." Stanford students need courses that will "force" everyone to face the "realities of these histories" of Western dominance. For this reason and others, the university needs to hire "more queer and trans faculty, indigenous faculty, and faculty of color." After all, they're the ones who have had first hand experience with the exploitations in question and are thus best equipped to mentor American students.
The essay's conclusion is worth quoting more fully: "A Western Civilizations series would explicitly entrench the idea that the purpose of education is neither to critically question oppression, nor even to critically deal with the problems of our time. Rather, a Western Civ requirement would necessitate that our education be centered on upholding white supremacy, capitalism and colonialism, and all other oppressive systems that flow from Western civilizations; that our education be framed as a tool to carrying out our burden to reform the rest of the world in our own, imperfect, acutely deplorable image."
Which is a lot of split infinitives spiced by a sprinkling of "criticals" heaped onto a clutch of "critical thinkings" called for throughout the essay. Fair enough, one could suppose; then how about a little "critical thinking" applied to the op-ed itself? Naturally, one cannot develop an argument within the limited confines of a short essay, but at least a few observations can be made. One of which is this: the essay is saturated with intellectually fashionable clichés excoriating "our own, imperfect, acutely deplorable" civilization, a practice well documented by Jonah Goldberg's witty and informative The Tyranny of Clichés.
Several additional observations are worth making here, the first of which is hardly new, because the contempt that many in American academia have for the United States has been part of our culture for at least the past two generations. Second, many academicians who loathe their country demonstrate an astonishing dearth of critical thinking, especially since they luxuriate in circumstances that could only be produced by a system they yearn to destroy. Or so they say, because if America-haters, such as the writers of the Stanford essay and those who agree with them, don't really mean it, then it's time for the lesson that flinging around clichés bereft of serious thinking has serious consequences. In fact, some of the consequences are hideous beyond belief.
No one understood this better than Hannah Arendt, famous for her brilliant study of totalitarianism and reflections on moral issues, and especially for her treatment of Eichmann in Jerusalem. This stunning book gave birth to "the banality of evil," an expression that has haunted serious minds ever since and launched a scholarly industry exploring its implications. Arendt pointed out that her first impression of "man in the glass booth" was that he was "quite ordinary, commonplace, and neither demonic nor monstrous." Hardly a view one would expect about one of history's most notorious mass murderers in the Third Reich.
She went on to remark that "…the only specific characteristic one could detect in his past… was something entirely negative: it was not stupidity but a curious, quite authentic inability to think." (Emphasis added.) Arendt goes on to make some extraordinary observations about this irredeemably evil man: "When confronted with situations for which such routine procedures did not exist, he was helpless, and his cliché-ridden language produced on the stand, as it had evidently done in his official life, a kind of macabre comedy." Indeed, Eichmann's "macabre comedy" of clichés came from a man who, like Kurtz in Heart of Darkness, "was hollow at the core." It is Arendt, again, who has the most penetrating conclusion: "…the more superficial someone is, the more likely will he be to yield to evil. An indication of such superficiality is the use of clichés, and Eichmann … was a perfect example."
So where does this leave us? Does the comparison made here imply that many American college students represent hordes of Eichmanns-in-waiting? For the majority, of course not; for many of them, maybe; but for all of them, the dangers of not thinking past clichés represents a sort of ever-ticking sociological time-bomb for the country that so many of them profess to hate. College students are saturated with a blizzard of cliché-infected buzzwords — colonialism, imperialism, racism, classism, homophobia, Islamophobia, sexism, white supremacy, micro-aggressions, ableism, ageism, social justice, check-your-privilege — leading many to conclude that all one has to do is to hurl the word at an antagonist to shut down the argument.
Indeed, the repetition of these hackneyed epithets resemble the bleating sheep in Animal Farm — "Four legs good, two legs bad!" — a refrain sufficient to squelch dissent whenever desired. In fact, the hordes of Bernie Sanders supporters among millennials is testament not only to their astonishing ignorance about socialism, but also to their failure to think beyond clichés, about, for instance, "income inequality," or "the rich not paying their fair share," or calls for a "political revolution." Where are the arguments supporting these terms? What are the consequences of enacting policies implied by such expressions? Where else have such policies been tried, and what have been the results?
We conclude with a sickening and now familiar example of how far this process has gone in America, at a facility that practices "sexual and reproductive health and justice." In 2015 Holly O'Donnell, a former employee for the company StemExpress, was asked by a Planned Parenthood facility to assist in removing organs from recently aborted babies. She stated, "they weren't looking for a compassionate individual at all," and that as a phlebotomist, she could "draw quick … They wanted someone who could get the numbers up." She did as instructed, and ended up blacking out during the process, which apparently was not an uncommon reaction among those doing "such work," O'Donnell was informed while lying in a hospital bed.
This description is from the Center for Medical Progress: "'I want to see something kind of cool,'" O'Donnell says her supervisor asked her. 'And she just taps the heart, and it starts beating. And I'm sitting here and I'm looking at this fetus, and its heart is beating, and I don't know what to think.'" (Emphasis added.) She didn't know what to think, she says. Perhaps it was because, for the first time, the horror masquerading as "sexual and reproductive health and justice" — the beating heart of an aborted baby — left her so stunned that, in her own words, she didn't "know what to think."
Neither did Adolf Eichmann.