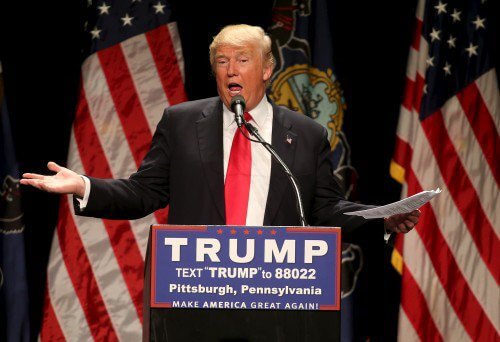 In a Pittsburgh speech yesterday, Donald Trump illustrated what I call "nostalgia economics." Trump, according to Politico, "vowed to bring back Pittsburgh's once-thriving steel and coal industries at a rally here on Wednesday night." Just as he has vowed to reverse decades of globalization and automation to "bring back" manufacturing jobs from Asia. But, as Politico's Ben Shreckinger points out, Trump's depiction of Pittsburgh might be outdated:
And his economic message may feel a bit anachronistic in a city that prides itself on its decades-long recovery from the collapse of the steel industry, which is no longer the major employer here. Pittsburgh's dynamic mayor, William Peduto — a new-school Democrat who held a rally with Hillary Clinton here last week — has sought to make the city a laboratory for urban reinvention by luring tech companies and boosting its university-powered research sector. After years of decline, the economy has begun adding jobs again, albeit slowly, and unemployment rate is just under the national average.

Pittsburgh is now a leader in the emerging robotics industry, which Trump did not mention on Wednesday. Google opened a major research office in the city in 2006, housed in a former Nabisco factory. And Uber, the ride-sharing company, last year poached dozens of robotics engineers from Carnegie Mellon University to open a center to research self-driving cars. In February, Uber announced it is acquiring a former locomotive roundhouse along the Monongahela River — where the LTV Coke Works long ago belched out the kind of toxic smoke that once earned the city the description "hell with the lid off" — to serve as a proving ground for its new vehicles.

And the region's largest employer is now the behemoth UPMC health system — not struggling U.S. Steel, which announced on April 6 it is cutting a quarter of its North American workforce. Trump's Pittsburgh rally also came the day that Peabody Energy, the largest private coal company in the world, declared bankruptcy, buffeted by competition from natural gas and cratering demand for coal in Asia.
And in comparison to real-estate developer Trump's message of nostalgia for the American and Pittsburgh economy of the 1950s and 1960s, check out this bit of advice for Pittsburgh from a recent speech by tech investor Paul Graham:
When I got here a couple days ago, I could feel the difference. I lived here from 1968 to 1984. I didn't realize it at the time, but during that whole period the city was in free fall. On top of the flight to the suburbs that happened everywhere, the steel and nuclear businesses were both dying. Boy are things different now. It's not just that downtown seems a lot more prosperous. There is an energy here that was not here when I was a kid.

When I was a kid, this was a place young people left. Now it's a place that attracts them.

What does that have to do with startups? Because startups are made of people, and the average age of the people in a typical startup is right in that 25 to 29 bracket.

I've seen how powerful it is for a city to have those people. Five years ago they shifted the center of gravity of Silicon Valley from the peninsula to San Francisco. Google and Facebook are on the peninsula, but the next generation of big winners are all in SF. The reason the center of gravity shifted was the talent war, for programmers especially. Most 25 to 29 year olds want to live in the city, not down in the boring suburbs. So whether they like it or not, founders know they have to be in the city. I know multiple founders who would have preferred to live down in the Valley proper, but who made themselves move to SF because they knew otherwise they'd lose the talent war. So being a magnet for people in their twenties is a very promising thing to be. It's hard to imagine a place becoming a startup hub without also being that. …

This is not a fast path to becoming a startup hub. But it is at least a path, which is something few other cities have. And it's not as if you have to make painful sacrifices in the meantime. Think about what I've suggested you should do. Encourage local restaurants, save old buildings, take advantage of density, make CMU the best, promote tolerance. These are the things that make Pittsburgh good to live in now. All I'm saying is that you should do even more of them.