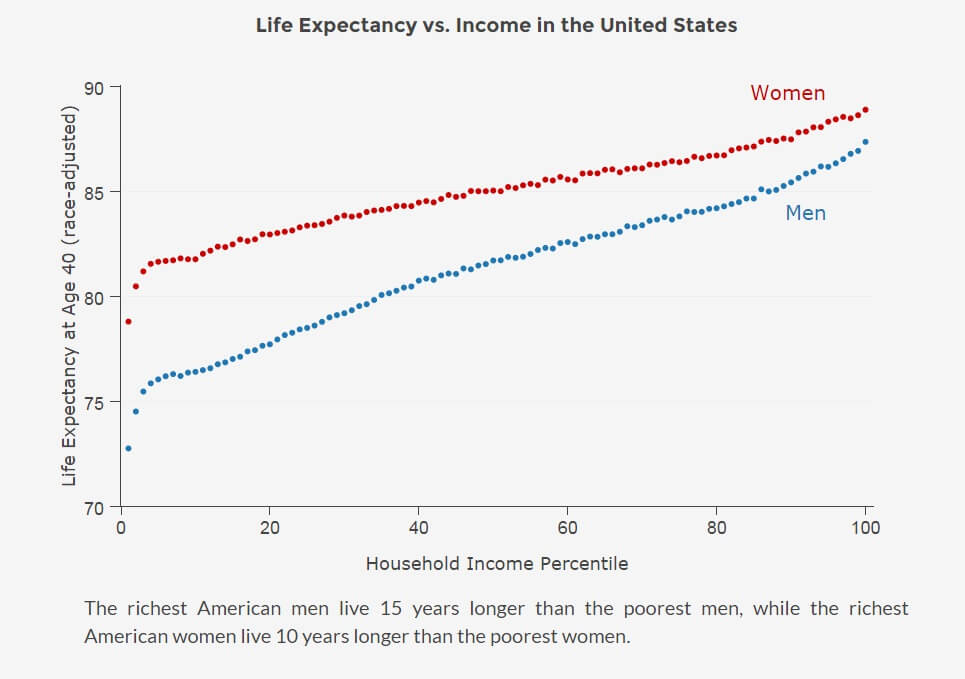 So there's a major new study out that looks at health inequality. Among the findings are that (a) the very rich live a lot longer than the very poor, and (b) geography matters. From the Health Inequality Project:
The richest American men live 15 years longer than the poorest men, while the richest American women live 10 years longer than the poorest women. The gaps between the rich and the poor are growing rapidly over time. The richest Americans have gained approximately 3 years in longevity since 2000, but the poorest Americans have experienced no gains. … Life expectancy varies substantially across cities, especially for low-income people. For the poorest Americans, life expectancies are 6 years higher in New York than in Detroit. For the richest Americans, the difference is less than 1 year.
But health inequality is one thing, income inequality another. And the relationship might not be what many might automatically assume:
Correlational analysis of the differences in life expectancy across geographic areas did not provide strong support for 4 leading explanations for socioeconomic differences in longevity: differences in access to medical care (as measured by health insurance coverage and proxies for the quality and quantity of primary care), environmental differences (as measured by residential segregation), adverse effects of inequality (as measured by Gini indices), and labor market conditions (as measured by unemployment rates).

Rather, most of the variation in life expectancy across areas was related to differences in health behaviors, including smoking, obesity, and exercise. Individuals in the lowest income quartile have more healthful behaviors and live longer in areas with more immigrants, higher home prices, and more college graduates.
Indeed, San Francisco and New York are high inequality cities. Anyway, there is a lot going on here, and I still need to dig down further in the paper. But let me end with this policy bit from the paper:
There are many potential explanations for why low-income individuals who live in affluent, highly educated cities live longer. Such areas may have public policies that improve health (eg, smoking bans) or greater funding for public services, consistent with the higher levels of local government expenditures in these areas. Low-income individuals who live in high-income areas may also be influenced by living in the vicinity of other individuals who behave in healthier ways. Alternatively, the low-income population in such cities might have different characteristics, consistent with the larger share of immigrants in these areas. Testing between these theories is a key area for future research.

The small area variation in the association between life expectancy and income suggests that reducing gaps in longevity may require local policy responses. For example, health professionals could make targeted efforts to improve health among low-income populations in cities, such as Las Vegas, Nevada; Tulsa, Oklahoma; and Oklahoma City, Oklahoma. The strong association between geographic variation in life expectancy and health behaviors suggests that policy interventions should focus on changing health behaviors among low-income individuals. Tax policies and other local public policies may play a role in inducing such changes. The publicly available data at www.healthinequality.org provide a way to monitor local progress.

The findings also have implications for social insurance programs. The differences in life expectancy by income imply that the Social Security program is less redistributive than implied by its progressive benefit structure. Men and women in the top 1% of the income distribution can expect to claim Social Security and Medicare for 11.8 and 8.3 more years than men and women in the bottom 1% of the income distribution. Some have proposed indexing the age of eligibility for Medicare and full Social Security benefits to increases in life expectancy. The differences in the increases in life expectancy across income groups and areas suggest that such a policy would have to be conditioned on income and location to maintain current levels of redistribution.
First, this suggests new or higher taxes on cigarettes and sugary foods and beverages or various prohibitions. Hmm. Second, think local — along with health interventions, maybe housing policy, too? Third, my colleague Andrew Biggs has been proposing Social Security reform that would increase benefits for the bottom third of retirees. He notes that "as a result of their short work histories, nearly one-fifth of the poorest quintile of retirees fail to even qualify for Social Security, and nearly one-third of those who do qualify receive a benefit below the poverty line."