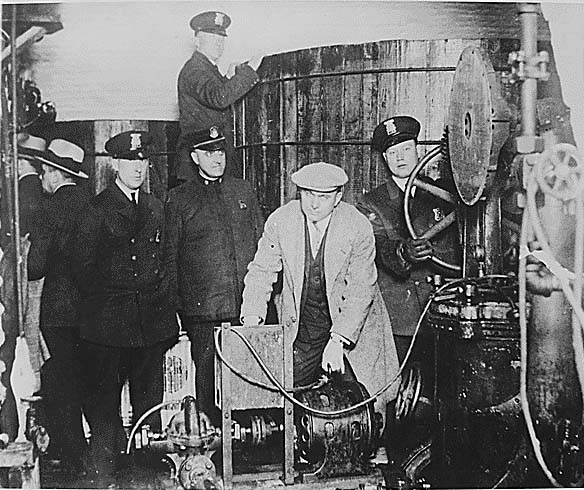 Megan McArdle has an excellent post describing one of the best consequentialist arguments for ending the war on drugs:
… I consider the reduction of violent crime to be the main benefit. Deprived of the ability to enforce contracts through the relatively peaceful legal process used by other markets, black markets are accompanied by high levels of violence: Gangs fight for territory, enforce business agreements and try to defer defections. The more profitable the black market is, the more incentive there is to use violence to protect your profits, which may be one reason that the introduction of crack cocaine was accompanied by such a huge increase in violent crime. Legalizing drugs cuts into the profits and gives industry players legal means to settle their disputes, so in theory, this should reduce the prevalence, and the brutality, of violent gangs.
I find the logic of this nearly unassailable. Just as there's no inherent reason why the alcohol trade should be violent, there's little inherent reason why the market for other intoxicants should be. Give people the opportunity to work within the confines of the law — and to enjoy its protections — and the worst sorts of behavior become unnecessary. Deny them those confines and protections, and we quickly descend into a petty Hobbesianism that drives out all the nice guys and rewards the worst.
So, once we end the war on drugs, people will give up on the violence and criminality, dust-off their guitars, and debate whether to play "Doctor Robert" or"Tomorrow Never Knows" with the latest offering of legal bud, right? And with modern Prohibition over, I can finally use Rob Long's contacts to pitch my idea for a pot-themed remake of The Thin Man starring James Franco and Anna Kendrick (which would totally work; heck, the sequels are already written).
Well, probably not, says McArdle:
[W]e should be modest about how much the end of Prohibition achieved. Because the Mafia did not simply disappear along with the source of its biggest profits. Instead, like any business, it sat back, took stock, and opened up new lines of business. Labor racketeering, gambling, extortion — these things might once have been sidelines, but they became the main show.

In other words, policy outcomes have a lot of path dependence. The Mafia was not created by Prohibition; it seems to have been an outgrowth of post-feudal Sicily, and it made its way to America along with Sicilian immigrants. But the advent of Prohibition greatly increased their profits and power, and by the time Prohibition ended, they were far too big and well-organized to simply slip softly and silently away into the night.
In other words, we're not only likely to see a persistence of crime (though probably at a less-violent level) we'll see some of the smarter drug lords corrupt other things that aren't currently so bad. And that's just looking at the drug trade and leaving aside effects of drug legalization on consumption (also likely a mixed bag).
I'd still take the bargain, but ending the war on drugs will be no panacea.