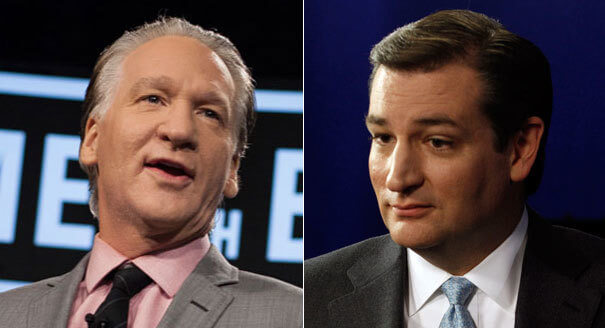 When given the choice between a President Donald Trump and President Ted Cruz, Comedian Bill Maher says the choice is easy — he would pick Cruz. On the HBO show "Real Time with Bill Maher," he first took a dig at the current Democratic frontrunner, Hillary Clinton. He said she is not a sure thing because "You need a fall back between suicide and Canada."
He told the audience he feels for Republicans who had a field of 17 candidates and are now left with a choice between "Mussolini and Joe McCarthy." The comedian went on to point out the subtle differences between the two but said in the end better to choose Ted than dead.
"There are actual job requirements. It's not like Mardi Gras parade king. Do I think President Trump would actually disappear people? No, but I can't rule it out. With him, I can't rule anything out. What does he do on day one, send Megyn Kelly to Guantanamo Bay? Or me? He's already sued me. The president signs off on a kill list every day, and sends out the drones, and I like going outside. So, yes, Ted Cruz will be our worst president, but Donald Trump, might well be our last. Which is why I say better Ted than dead."
Interesting enough, Maher has had a change of heart. Back in January he said, "Ted Cruz is scarier than Donald Trump," noting Trump says somethings a liberal can love.