Prologue
Suppose that we find no radio messages traveling through space, transmitted by extraterrestrial civilizations for our enlightenment. Suppose that we fail to find traces of life anywhere outside our own planet. What then would be the minimum modifications that would have to be imposed upon terrestrial life to enable us to make good nature's lack? Now that genetic engineering is rapidly becoming a practical proposition, it is not absurd to think of redesigning terrestrial creatures so as to make them viable in space or on other celestial bodies. — Freeman Dyson
Introduction
Jack Sarfatti has been exploring a generalisation of David Bohm's[4] ontological interpretation of quantum mechanics, extended so a particle is not just guided by the quantum potential, but, in turn, through backactivity, modifies the quantum potential field. Backactivity introduces nonlinearity into the evolution of the wave function, much like the bidirectional nonlinear interaction of spacetime and matter-energy in general relativity.
The effects of backactivity are negligible in interactions at the atomic scale; divergences from the predictions of conventional quantum mechanics would be manifest only in systems where quantum coherence occurs at the mesoscopic and macroscopic scale. Sarfatti suggests that this post-quantum backactivity may be involved in various phenomena as follows:
Postulates
1. Life in general, and consciousness in particular, depends upon a backactivity-mediated feedback loop operating on macroscopic quantum structures in the cell. Roger Penrose[15] and Stuart Hameroff have suggested the microtubule as the site of this quantum system, but it may be elsewhere.
Life, through homeostasis, maintains the far-from-equilibrium quantum machinery necessary for its own existence. Rocks aren't alive because they have no structures which prevent thermal decoherence of the wave function.
There is, then, an élan vital, and it consists of backactivity operating in macromolecular quantum systems assembled within the cell.
2. Backactivity is the missing puzzle-piece needed to unify quantum mechanics and general relativity. Linear quantum mechanics operating in a background spacetime cannot possibly describe the effects of spacetime curvature due to mass-energy or curvature acting on itself. Macroscopic quantum systems employing backactivity may produce strong spacetime curvature or interactions with the zero-point vacuum energy not predicted by orthodox quantum mechanics or general relativity. Per item (1) above, a "macroscopic quantum system employing backactivity" is, necessarily, alive.
3. Development of a comprehensive and consistent post-quantum theory incorporating backactivity may, then, permit development of technologies impossible without such effects, for example:
Communication across spacelike-separated intervals.
Faster-than-light travel with an Alcubierre-like "warp drive"[1] without the need for exotic, negative energy, matter.
Access to the zero-point energy of the vacuum.
If Haisch, Rueda, and Puthoff's suggestion[11] that interaction with the zero-point energy is the source of inertia (as opposed to the Mach/Einstein view that it is caused by the dragging of inertial frames by distant galaxies), then technologies employing backactivity might be able to modify inertia.
I don't know whether these suggestions are correct—nobody does at present, but there's nothing in any of them which seems inaccessible to experiment in the relatively near future. Let's assume calculations are done, predictions are made, experiments are performed, and the experimenters win the Nobel prize, shafting the theorists once again—that backactivity is shown to exist and indeed both accounts for life and permits the unification of quantum mechanics and general relativity.
Deductions
So given that, how far does a little deduction get us in answering some of the most puzzling aspects of the UFO phenomenon? Pretty far. I'll explore the issue in a question and answer format, addressing a number of the enigmas posed by the body of UFO reports[10] amassed over the decades.
Why do people report such a bewildering variety of objects?
Because they're living, space-dwelling creatures. Consider the range of creatures which inhabit the Earth's oceans. The ocean of space is immeasurably more vast and deeper than any planetary ocean.
How do they get here?
By using macroscopic coherent quantum systems and backactivity to extract energy from the vacuum and manipulate spacetime to travel faster than light without violating special or general relativity.
What are they doing here?
Mating and/or spawning: they are amphibious. Having evolved from originally planet-bound life, they need the environment of the Earth (matter / gravitational field / etc.) to reproduce, just as toads and other amphibians must return to the water to bear their young.
Why do so many reports involve multiple objects, changing shapes, objects merging and splitting, and large objects emitting a number of small ones, often different in appearance? That doesn't sound like a spaceship to me.
Indeed it doesn't. But it sounds precisely like the courtship, mating, and reproduction behaviour observed in a multitude of terrestrial species. Many species have one or more juvenile forms with different morphology than the adult.
Why do their actions appear so pointless and seemingly random?
Because they (or the vast majority of them) aren't intelligent. Hermit crabs, starfish, and sea urchins don't show much evidence for intelligence either as they go about their business making little crabs, starfish, and sea urchins.
Why do so many reports come from lone observers in places like Hogwallow, Alabama at 3 A.M., as opposed to, say, above the Transamerica Pyramid during the San Francisco evening commute?
Because, like many terrestrial species, they prefer secluded surroundings to mate and bear their young. Ten or twenty F-16 interceptors buzzing around can get anybody out of the mood. Besides, large cities cover a minuscule fraction of the Earth's surface, so even if the objects appear totally at random, most will still be in isolated regions.
How do they perform those impossible maneuvers? Wouldn't any physical object be torn apart by such accelerations?
The same post-quantum effects which provide energy and propulsion permit control over inertia. As you bend spacetime in the direction of travel, you create a locally flat region (or whatever acceleration you prefer) around the ship. (Or perhaps an interaction with the zero-point energy permits suppressing some or all of the inertia.)
What with thousands of well-documented reports by highly credible witnesses of intrusion into airspace in countries around the globe, how can their respective Air Forces be uninterested in the phenomenon?
Statements on the UFO phenomenon by the military in Canada, Britain, the United States, Australia, and a number of other countries have indicated that "investigation has discovered no evidence that UFOs pose any potential threat to national security". An interesting turn of phrase, that. The navies of these countries do not occupy themselves investigating sightings of dolphins, seals, and tuna intruding into their territorial waters, either. Why? Because those ocean lifeforms equally pose no threat to national security.
Then if governments have learned enough about UFOs to determine they pose no threat, why has the information been withheld from the general public?
Because propellant free, faster than light, vacuum energy powered travel, and control over inertia would each, by itself, be a discovery with strategic implications dwarfing anything in the modern era. Research would, then, be conducted in secret precisely as nuclear weapons research has been. The research projects have gotten nowhere because, (1) The creatures may die if they don't return to their natural vacuum environment (for example, the vacuum energy release may not work in the Earth's gravitational field, so they have to operate on reserves ["energy fat"] while procreating). Once the animal dies, its mechanisms decohere and cease to function. and/or (2) Without a theoretical understanding of post-quantum backactivity and its consequences, understanding how the energy production and propulsion operate is as hopeless as trying to understand the mechanisms of terrestrial life without any knowledge of chemistry. Thus, research projects are conducted in the strictest secrecy, but since little or no progress is being made in understanding the underlying theory, they are restricted to taxonomy and gross anatomy, resulting in a very small project which is more likely to remain secret over a long period of time.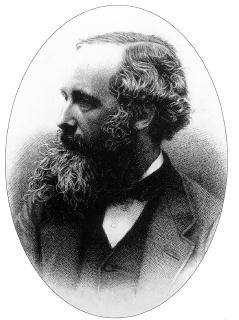 Maxwell's Silicon Hammer. Sherman, set the WABAC machine to the year 1865, destination Aberdeen, Scotland. Today we're going to visit the physicist James Clerk Maxwell, who in 1864 published his famous equations upon which all of classical electrodynamics is founded. We'll present Professor Maxwell with a gift both to thank him for his legacy to our century and to help him in his work: a simple four-function present-day pocket calculator. In case he should be inclined to figure out how it works, or worry about it breaking, we'll give him a bag of a hundred more, still in the blister pack. Maxwell would instantly understand the operation of the calculator, but even if he devoted his formidable intellect and the effort of all his students at Marischal College and later at the Cavendish Laboratory at Cambridge for the rest of his life trying to figure out how it worked, he would die in 1879 having made little genuine progress.
He would rapidly identify the microprocessor as the site where the unexplained phenomena were going on. Extracting the silicon chip from its epoxy potting and examining it under a microscope, its mix of regular and tangled structure would suggest it operated in a manner similar to Babbage's proposed calculating engines, and detailed microscopic examination would reveal components corresponding to Babbage's Mill, Store, and Barrel. Chemical analysis of the chip would reveal it to have a substrate of silicon, purer than any produced in contemporary laboratories, with structure near the surface composed of similarly ultra-pure aluminium, tungsten, and silicon oxides. Mid-nineteenth century chemical analysis would fail to detect the dopant substances in the silicon which formed the active components. Even if they were detected, their function would be a mystery, as understanding the quantum behaviour of electrons in solids would first require the elaboration of quantum mechanics, which would not happen until the 1920s. Any attempt to build such a device would fail because contemporary materials technology could not grow silicon crystals free of defects at the millimetre scale—in other words, a macroscopic object exhibiting spatial coherence. Nor, without quantum mechanics, would be there any reason to suspect a flawless crystal was necessary.
No amount of reverse engineering these Unexplainable Calculating Objects would get anywhere until the quantum theory which explains how their components function was elaborated. Analysis of material recovered from UFOs, if in fact such exists, may similarly require a post-quantum theory to understand its operation.
What about all these reports of dinky grey aliens, abductions, and the like? Sperm whales don't go around abducting people and performing medical experiments on them!
Don't forget Jonah! But seriously, if you lend credence to the UFO occupant and abduction reports[5], isn't it possible the aliens are passengers on rather than builders of the craft? For most of history, humans have relied upon a variety of not-terribly-intelligent animals for transportation, taking what was found in nature and adapting it to the task by selective breeding and crude technology (the wheel and horse collar, for instance). Since the effects harnessed by UFOs can only be produced by living organisms, why bother constructing an artificial life mechanism when you can simply breed existing creatures for appropriate characteristics (like a horse—big enough to pull the load and dumb enough to obey your orders)? It's also possible the inhabitants do not understand how the creatures operate: you don't have to understand how a horse works, no less how to build one, in order to saddle up and ride.
This creates a testable proposition: one should observe less variety among the craft reported in occupant and abduction cases than that seen in the body of UFO reports as a whole. Only a few species have been domesticated by humans for transportation as opposed to the variety of all forms of life on Earth.
If these creatures are coming and going hither and yon all the time, why haven't our space probes detected them?
As I wrote this document in 1997, a vigourous and contentious debate was underway among astronomers and atmospheric scientists as to whether multitudes of house-sized snowball comets impact the Earth every day, depositing water vapour in the upper atmosphere. Satellite evidence and recent measurements of water in the upper atmosphere suggest they do, yet the absence of impacts recorded by seismometers placed on the Moon by Apollo astronauts argue otherwise. No matter how you look at it, something the size of a house slamming into the upper atmosphere at dozens of kilometres a second is a far less subtle event than the occasional mating set of space animals gently descending into the atmosphere to conceive and bear their progeny. We design our sensors to detect phenomena we expect to observe: nobody imagined there were such things as gamma ray bursts before they were discovered by Vela satellites built to detect nuclear explosions. Perhaps theoretical investigation of the electromagnetic consequences of backactivity might suggest a detectable signature which sensors could be designed to detect.
And a few more puzzles…
How did life get started on Earth so soon after the end of the accretion of the planet, shortly after the last ocean-vapourising impact?
Life did not originate on the Earth. As suggested by Crick, Orgel[6,7], Hoyle, Wickramsinghe[12], and many others, life originated elsewhere in the universe in a very different and simpler form than we observe on Earth. The form of life we see on Earth is the product of evolution from, or deliberate design by, a precursor lifeform (or sequence of forms) with a drastically lower irreducible complexity than terrestrial life. Prokaryotic life arrived on Earth shortly after its atmosphere became suitable for UFO animal reproduction, introduced by endosymbionts. (In other words, E. coli in saucer turds.) Note that this accomplishes the same diffusion of life throughout the universe as suggested by Crick and Orgel in "Directed Panspermia"[7] without requiring a deliberate program conducted by an intelligent species.
A testable prediction of this is that all evidence of life found beyond the Earth, whether in SNCs from Mars, carbonaceous chondrite meteorites, type C asteroids, comets, or interstellar granules, will have identical low-level molecular structure, even where that structure is arbitrary from the chemical standpoint.
Why did it take so long to evolve eukaryotic cells, and how did the Cambrian explosion manage to invent every current body plan and component in just an instant of geological time?
Biochemical life is a highly effective mechanism for reliably transmitting information and recombining variants among a set of options into new, unique phenotypes. It's not at all clear how, given the limited arena of a single planetary biosphere, one can generate sufficient new information to explain the diversity one observes among species on Earth.
Broadening the arena from the Earth to the Universe may provide sufficient additional orders of magnitude to render the apparently implausible effectively inevitable. The most common form of life, prokaryotic cells, were seeded on Earth shortly after it solidified, and prospered. Only after they and their progeny had transformed the biosphere from a reducing to an oxidising environment could introduction of an advanced cell trigger the explosion of diversity apparent in the fossil record.
Viewed at the molecular level, even the simplest forms of life on Earth seem impossible to have been the products of spontaneous self-assembly through random chemical reactions. How can this apparent evidence for design[3] in the low-level biochemical architecture of life be reconciled with its origin from random physical processes?
When pondering questions of Origins, we should feel free to entertain the possibility of creation without invoking a Creator. Dyson[8], Tipler[16], Moravec[14], and others have suggested that human life may eventually design (create) its successor, adapted to life in a universe to which our biochemistry is unsuited, or simply better, by design, than our product-of-evolution selves. If we're willing to consider the possibility of descendants we create, able to live in an eternally expanding universe[8] or flourishing at Planck-time intervals before the Big Crunch[16], why not ancestors? Why be so arrogant as to presume we are the first in the chain of creation? Might a pan-universal civilisation, before inflation blew the universe into discrete, slowly-merging horizon bubbles, have planted the seeds which would, tens of millions of years later, launched carbon-based biological life on its journey toward present-day complexity?
This has testable consequences: if our brains were the product of a microprocessor designer, we should be able, by reverse engineering, to discern the stylistic idioms of that designer, much as one observes when comparing Motorola and Intel microprocessors. If our biochemistry were designed, we should see the same kind of evidence for design in the genomes of terrestrial life, if not an explicit signature as envisaged in my science fiction story, "We'll Return, After this Message", then more subtle clues apparent from analysing an ensemble of genomes to determine the characteristics of the common ancestor.
Seventeenth Century Postscript
As all regions below are replenished with living creatures, (not only the Earth with Beasts, and Sea with Fishes and the air with Fowls and Insects, but also standing waters, vineger, the bodies and blood of Animals and other juices with innumerable living creatures too small to be seen without the help of magnifying glasses) so may the heavens above be replenished with beings whose nature we do not understand. He that shall well consider the strange and wonderful nature of life and the frame of Animals, will think nothing beyond the possibility of nature, nothing too hard for the omnipotent power of God. And as the Planets remain in their orbs, so may any other bodies subsist at any distance from the earth, and much more may beings, who have a sufficient power of self motion, move whether they will, place themselves where they will, and continue in any regions of the heavens whatever, there to enjoy the society of one another, and by their messengers or Angels to rule the earth and convers with the remotest regions. Thus may the whole heavens or any part thereof whatever be the habitation of the Blessed, and at the same time the earth be subject to their dominion. And to have thus the liberty and dominion of the whole heavens and the choice of the happiest places for abode seems a greater happiness then to be confined to any one place whatever. — Isaac Newton, unpublished manuscript, quoted in Frank E. Manuel's The Religion of Isaac Newton[13].
References
Alcubierre, M. "The Warp Drive: Hyper-fast Travel within General Relativity". Classical and Quantum Gravity 11, L73 (1994).
Barrow, John D., and Frank J. Tipler. The Anthropic Cosmological Principle. Oxford: Oxford University Press, 1988. ISBN 978-0-19-282147-8.
Behe, Michael J. Darwin's Black Box. New York: The Free Press, 1996. ISBN 978-0-684-82754-4.
Bohm, D. and B.J. Hiley. The Undivided Universe. London: Routledge, 1993. ISBN 978-0-415-12185-9.
Bryan, C.D.B. Close Encounters of the Fourth Kind: Alien Abduction, UFOs, and the Conference at M.I.T. New York: Knopf, 1995. ISBN 978-0-679-42975-3.
Crick, F.H.C. Life Itself. New York: Simon and Schuster, 1981. ISBN 978-0-671-25563-3.
Crick, F.H.C, and L.E. Orgel. "Directed Panspermia". Icarus 19, 344 (1973).
Dyson, Freeman. "Time without End: Physics and Biology in an Open Universe". Reviews of Modern Physics 51, 447 (1979).
Dyson, Freeman. Infinite in All Directions. New York: Harper & Row, 1988. ISBN 978-0-06-039081-5.
Good, Timothy. Above Top Secret. New York: Morrow, 1988. ISBN 0-688-09202-0.
Haisch, B., A. Rueda, and H.E. Puthoff. "Inertia as a Zero-Point Field Lorentz Force". Physical Review A 49, 678 (1994).
Hoyle, Sir Fred, and Chandra Wickramsinghe. Evolution from Space. New York: Simon & Schuster, 1981. ISBN 978-0-671-49263-2.
Manuel, Frank E. The Religion of Isaac Newton. Oxford: Clarendon Press, 1974. ISBN 978-0-19-826640-2.
Moravec, Hans. Mind Children. Cambridge, Massachusetts: Harvard University Press, 1988. ISBN 978-0-674-57618-6.
Penrose, Roger. Shadows of the Mind. Oxford: Oxford University Press, 1994. ISBN 978-0-19-853978-10.
Tipler, Frank J. The Physics of Immortality. New York: Doubleday, 1994. ISBN 978-0-385-46798-8.
Note
This essay was originally published on my fourmilab.ch Web site in August of 1997. It was subsequently cited by Whitley Strieber in his 1998 book, Confirmation. At the time of its original publication, the "small snowball comet" hypothesis was a matter of active controversy. Since then, the preponderance of evidence seems to suggest that they do not exist, at least in the quantity suggested then. I have rewritten the paragraph which mentions them to reflect that it refers to a controversy of that epoch.