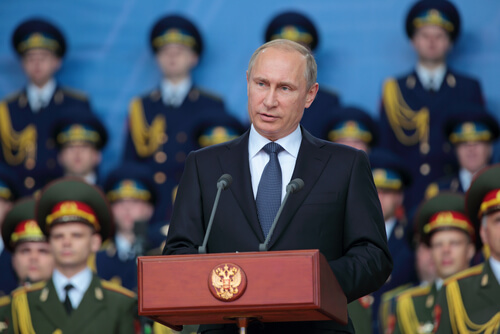 Claire has started two excellent discussions here and here about the causes of war. I look forward to reading her argument in subsequent posts. But I also wanted to throw out my anticipatory two cents on the subject without being constrained by commenters' 250-word limit. In the case of The Big One – China – the causes of war, if there is to be one, will be the same structural ones identified by Thucydides 2,500 years ago. Like Athens and Sparta, this is a paradigmatic case of rising and declining powers clashing. But in the case of lesser conflicts, one can never overestimate the role of ordinary human stupidity and inability to grasp the perfectly predictable consequences of foolish actions.
Consider the current situation in Europe. In April 2008, NATO held a summit in Bucharest, Romania. At the end of this summit — as is the custom for these kinds of things — NATO issued a lengthy declaration. Paragraph 23 of this declaration states, in full (emphasis added):
NATO welcomes Ukraine's and Georgia's Euro-Atlantic aspirations for membership in NATO. We agreed today that these countries will become members of NATO.  Both nations have made valuable contributions to Alliance operations. We welcome the democratic reforms in Ukraine and Georgia and look forward to free and fair parliamentary elections in Georgia in May. MAP is the next step for Ukraine and Georgia on their direct way to membership [MAP stands for Membership Acton Plan, a concrete roadmap for NATO membership]. Today we make clear that we support these countries' applications for MAP.  Therefore we will now begin a period of intensive engagement with both at a high political level to address the questions still outstanding pertaining to their MAP applications. We have asked Foreign Ministers to make a first assessment of progress at their December 2008 meeting. Foreign Ministers have the authority to decide on the MAP applications of Ukraine and Georgia.
The most charitable thing that can be said about this is that NATO did not do Georgia and Ukraine any favors with this statement.
Before I am accused of being a Putinista troll, let me say that I am not a fan of the man. I hold no brief for him or for Russia's imperial interests. Many Russians see themselves as an imperial people and feel cheated out of what they regard as their natural God-given right to lord over their lesser neighbors. I have no sympathy for this point of view. I have close relatives in eastern Ukraine, directly northwest of the war zone in the Donets/Donbass, who are strongly anti-Russian, which is typical of many (if not most) Russian-speaking Ukrainians. I may feel some connection with Russian culture, but I have zero sentimentality about the Russian state. Or the Ukrainian state, for that matter. If I am sentimental about any particular place, it's dear old Chicago.
That said, what on earth was NATO thinking?
I have to admit that I was not aware of the Bucharest Declaration until very recently, and I feel pretty foolish for it. I knew that NATO had been playing footsie with Ukraine and Georgia for some time, but when I saw the above text in black and white I did a double take. Here is NATO in April 2008 unambiguously telling Russia that Georgia and Ukraine will become members of the alliance, full stop.
Even to an armchair strategist like me, it's perfectly obvious that this outcome is completely unacceptable from the Russian point of view. But even if the NATO heads of state were not bright enough to figure this out on their own, the Russians warned NATO repeatedly that bringing Georgia and Ukraine into the alliance was unacceptable. NATO ignored these warnings and went full steam ahead with their plans anyway.
Ukraine and Georgia are not some peripheral backwaters of marginal interest to Moscow. Never mind that Kiev is the cradle of Russian civilization; that Ukraine has been at the core of the Russian Empire since the mid-17th century; that Georgians and Ukrainians have played prominent roles in Russian government and military affairs since before the Napoleonic period. Forget all that sentimental stuff. Consider only the strategic importance of these countries. Ukrainian and Georgian ports dominate the Black Sea. Without them, the Black Sea, becomes a NATO lake and Russia loses its secure access to the Mediterranean. Access to warm water ports in the Black and Baltic Seas has been a central Russian strategic objective since the days of Peter and Catherine. To lose command of these commercially important bodies of water — for which Russia has fought numerous wars — would set the country back strategically by 300 years. More to the point, advancing NATO's frontier beyond the Dnepr River, to a distance less than 350 miles from Moscow, would nullify Russia's strategic depth, the one historic advantage it has always enjoyed against invasion.
Keep in mind also that the Bucharest Declaration was not made in response to Russian aggression. It was made before the war in the Donbass; before the annexation of Crimea; and shortly before the Russo-Georgian war, for which it served as a direct trigger.
Also let's remember what NATO membership would have entailed in concrete terms. Article 5 of the North Atlantic Treaty would require the United States, France, the UK, the Germans, and all the other members, to go to war with Russia – a nuclear superpower – to defend Georgia and Ukraine against Russian aggression. This commitment may have required the pre-positioning of NATO equipment and/or forces, including, conceivably, German forces, not too far from the totally undefensible Russo-Ukrainian border, in places like Dnepropetrovsk, Kerch, Sevastopol, Kharkov, Cherkassy, the Dnepr Line. These names may not mean anything to Americans, but they mean quite a lot to the Russians.
What part of this made sense to NATO leadership? Just how exactly did NATO expect Russia to react? How would the United States react in similar circumstances?
Actually, on that last question, we don't have to guess. Does anybody remember the Monroe Doctrine? The United States does not like it when possibly hostile foreign powers muck about in its back yard. In 1962, we nearly got into a global thermonuclear war in defense of this principle. Why should we be surprised when a Russian leader – any Russian leader – feels the same way about his back yard? Does anybody remember the Zimmermann Telegram? The United States actually went to war against Imperial Germany because the latter offered the American Southwest to Mexico as a prize for joining the Central Powers in an alliance. This is not too far off from what NATO was doing out in the open with the Bucharest Declaration.
It was perfectly obvious that Putin was never going to let Ukraine and Georgia join NATO. What Putin did in response to the Bucharest Declaration was completely predictable. First he broke up Georgia by orchestrating the secession of Abkhazia, Georgia's coastal province. Then he made sure that Ukraine had a government compliant with his wishes. When that government was tossed out in 2014 and replaced by a pro-Western one, Putin made it quite clear that he preferred to ruin Ukraine, rather than allow it to resume its pro-NATO course. Which he did.
Let me repeat what I said in another discussion. Any stable and serious security architecture in Europe must take into account two basic facts: 1) Russia has legitimate security interests along its border with the West, and most especially where its historic heartland is concerned; and 2) An insecure, angry Russia is in no one's interest.
Unfortunately, neither the Europeans nor the United States have a foreign policy establishment that understands how great power politics works. What the NATO heads of state must have been thinking — if you want to call it that — goes something like this: "We are super-sophisticated members of a fancy, post-modern dining club called NATO. We enjoy getting together in nice hotels in elegant capitals, drinking fine wine, and talking about peace, partnership, prosperity, post-nationalism, cooperation, inclusiveness, multiculturalism, rainbows, unicorns, and other nice things, and issuing declarations about them. A general war in Europe is unthinkable. The laws of great power politics have been repealed. Those laws are 19th century thinking. This is the 21st century." Unfortunately they forgot to CC Vladimir Putin on this memo.
And why should Putin trust that NATO's intentions are benign? From his point of view, NATO is not particularly trustworthy. People forget that the original gentleman's agreement struck by Bush/Baker and Gorbachev in 1990 was that NATO would absorb East Germany and the Soviets would withdraw from Eastern Europe in exchange for a promise that the borders of NATO would not advance any further east. This understanding was broken repeatedly and now NATO's easternmost frontier lies 84 miles from St. Petersburg.
It's frustrating that any of this should be news to conservatives. Aren't we the ones with the tragic vision of humanity? Aren't we supposed to be the steely-eyed realists who believe in eternal truths about the human condition? Yet the Bucharest Declaration, made on George W. Bush's watch, is the work of postmodern utopian fantasists.
I'm not much comforted by the hope that our next president will understand any of these things any better than Bush, let alone our current president. Hillary Clinton can't even be bothered to look up how to say "Reset Button" in Russian. As for Donald Trump, he seems set to be invading other countries until the day he is replaced by President Chelsea Clinton in 2021.
If President Trump's Secretary of State — Kanye West? Caitlyn Jenner? That guy from The Bachelor? — were to put me in charge of his or her policy planning staff, I would advise him or her as follows: cut a deal with Putin. Make Ukraine and the rest of the former Soviet states strictly neutral and strictly independent. We need the Russians for the coalition that we are about to start building to contain the Chinese. We have the same basic interests as them. Why are we alienating them? To what purpose?
But it's probably too late for that. That deal should have been cut in 2001. Now NATO expansion is dead and we have nothing left to offer Putin for his good behavior.