I've undertaken the unhappy task of arguing that the probability of the outbreak of a major war in the next president's term or terms is greater than it has been since the end of the Cold War, and greater than at many points during the Cold War.
An interesting argument ensued at the tail end of the comments on my Trump–>Armagedon post. Beginning at comment 88, Joseph Kulisics and Chuck Walla debated whether it was possible to disambiguate my predictions about the probability of this kind of event from my unfounded opinion.
This, roughly, was my answer (I've rewritten it to make it clearer):
I in no way believe I can predict the future well enough to offer a formal proof that Trump–>Armageddon. I'm responding to Genferei's request that I sketch out scenarios under which this might happen without leaving out steps, handwaving, amateur psychology, or appeals to authority.

Predicting the behavior of dynamical systems is very tricky, and prone to modelling and initial-condition errors. I make no claim of an ability to predict the future of international relations to a degree of accuracy that would satisfy the standards of a climate scientist, no less a physicist. Nor do I wish to dress up "my opinion" in purely ornamental mathematics.
Leave all claims about Trump aside for the moment.
The first part of the task is to satisfy readers that no matter who is elected, the likelihood of major war is greater than it has been since the end of the Cold War, and greater than at many points during the Cold War. And to do so in a way that's an improvement on "unfounded opinion."
First question: Do you think anyone has an unusually good record of making generally reliable predictions about when war is apt to break out and why? Many have tried, that's for sure. Volume upon volume has been written by international relations theorists who have tried to find patterns in the history of warfare that might suggest how better to predict wars. We've discussed, for example, Graham Allison's work on China and the Thucydides trap at length here.
For another example, my father recently wrote what amounts to an extended review of Stephen Pinker's book, The Better Angels of Our Nature, Pinker, as you probably know, Whiggishly argued that the world is getting more peaceful by the day. My father didn't think much of Pinker's skill as a historian.
If you read it, you'll understand the question I'd put to Joseph Kulisics: Does he believe wars have causes, or do they just break out, as Lewis Fry Richardson proposed, following a Poisson distribution?
I suspect they have causes. I think they're more likely to break out under — roughly — these circumstances: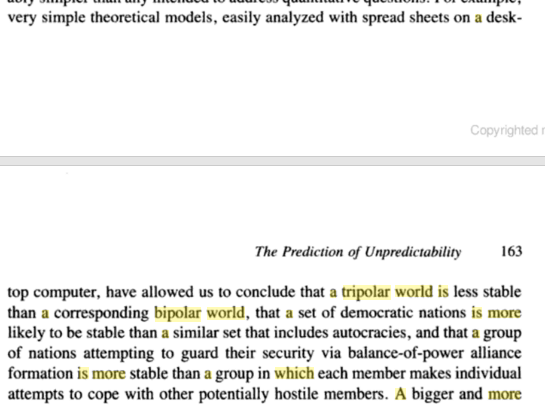 Would you agree that such a model could be empirically tested? If not, then perhaps you're defining the question as unanswerable.
But assume it can be, and that it's a generally reliable heuristic. If I could demonstrate that to your satisfaction, would you agree that my first paragraph isn't an unfounded opinion, but a reasoned one?