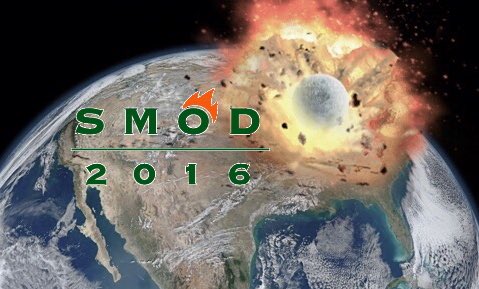 Yesterday Genferei made a request:
Claire: Try to write a scenario where Trump causes Armageddon. Don't leave out any steps or resort to hand-waving or amateur psychology or appeals to authority. Don't forget there are a squillion hangers-on, advisers and career civil servants and/or soldiers involved. Perhaps you'll convince us. The "I don't know but it feels scary" isn't convincing me.
Great question, and exactly why I love Ricochet: Sooner or later, someone's going to point out exactly where your argument's a little vague or flabby, and you'll either tighten up your argument or change your mind, both or which are good outcomes.
It's going to take me a couple of weeks to make this case, because I want to do this carefully. I don't want to write a book in a single post, then come back to see all the tl;drs at the end. So here are the the argument I'll make in the coming weeks, not necessarily exactly in this order:
I'll argue that a nuclear war, even a limited one, would be a catastrophe for the United States, as would a major global war like the First or Second World War. I'll also note that we now face a number of other, very serious, national security threats.
I'll argue that the probability of the outbreak of such a war in the next president's term or terms is greater than it has been since the end of the Cold War, and greater than at many points during the Cold War. I believe the probability will be unusually high no matter who's elected president. My argument will be based on fairly standard and widely-accepted theories about why wars among great powers break out.
To draw analogies that may be relevant, I'll look at the origins of previous great-power conflicts, particularly the First and Second World Wars, but also at other unusually catastrophic and costly wars that broke out among powers akin to the United States and its present-day competitors. (I'll also explain why I think they're relevantly similar.)
I may also consider the risk of civil war, and why it might be slightly higher under Trump than other presidents, although I still think it's quite unlikely.
I'll describe in some detail the nuclear near-misses of the Cold War, some of which may still be unknown to all of you, and more of which, I'd assume, are unknown to all of us. I'll see if we can draw relevant conclusions about why these near-misses didn't become misses. (Tangential: Why do we call it a "near-miss?" Surely we mean a "near-launch?" Anyone know?) I'll argue that because we've been very lucky from 1945 to the present, we tend to underestimate the risk and see such a war as impossible. I'll argue that it's not.
I'll make the argument that in matters of foreign policy and war, the US president is far less constrained by institutional checks and balances than he is in matters of domestic policy. Moreover, the powers of the executive during wartime were markedly enlarged after September 11, and few of these powers have been withdrawn.
I'll ask how many advisors, staffers, bureaucrats, hangers-on, advisers, or DoD officials truly have the power to interfere with the commander-in-chief should he make a decision they think unwise. I'll ask, for example, "How many steps does it take to launch a nuclear weapon?" (fewer than you'd think), and ask as well what we know, historically speaking, about the willingness of soldiers to follow illegal or unwise orders. I'll try to come up with an estimate — based on what we know of similar situations in the past — of the likelihood that his bad judgment would be questioned or his orders disobeyed in an ambiguous situation that's widely and plausibly perceived as a great threat.
I'll walk you through several plausible scenarios in which the president would have to make very quick decisions in response to an emergency, scenarios in which the making the wrong decision would be catastrophic.
I'll sketch out what the president might do using several hypothetical versions of Donald Trump, all based on things he's said during the campaign or my observations of him in "The Apprentice." We don't know which things he really means, and they often contradict each other, so I'll try creating a number of plausible Donalds. They'll range from "Secret-Churchill Donald" — someone who campaigns as a lying fool because he knows this is effective, but unknown to the public has an alter-ego who's a highly-informed strategic genius surrounded by competent and experienced foreign policy advisors who challenge his assumptions ruthlessly. For this Donald I'll assume he and his advisors share the goal of furthering American interests. On the other end of the spectrum might be "Psychopath Donald," a man who would score a full 40 on Hare's Psychopathy test (click the link to read what that is), and who would neither surround himself with competent advisers, nor take anyone's advice, nor act toward any goal save that of keeping himself entertained and stimulated. I'll then try to estimate the odds of his being or behaving as these different alters, and I'll ask how these alters would be apt to handle the scenarios I've suggested in Step 7. I'll try to sketch out a more rigorous way of calculating "odds of Armageddon" based on that.
I'll also sketch out what the world might look like if he followed through with various things he's said he'll do, using the most common-sensical, plain-English interpretation of his words, and argue that some of these things would be likely to raise the risk of global or thermonuclear war even higher than it already is. Some of the things he's said are contradictory, so I'll sketch out both or all three or four scenarios. I'll predict the effect these actions would be apt to have based on the best historical analogies I can find. I'll offer some evidence of how these statements, even if he has no intention of acting on them, have already changed the perception of America among its allies, enemies, non-aligned states, and terrorist entities, making us less secure. I'll outline how they would change even more dramatically if in office he acts on his campaign promises (as best I understand them), and what the implications of this would be. I'll make the case that even if judgements such as these are incorrect or unfair, other states will be obliged, out of an abundance of caution, to prepare for worst-case scenarios, and thus their fear of him will tend to be self-fulfilling.
I'll look at two ways he could end up making decisions, good or bad, unconstrained by the usual checks on a president's power. The first is the "sudden shock" scenario — something like September 11, or another highly traumatic event, after which the checks on his power might literally be gone (a plane hits Congress while it's in session, or a bomb takes out the Supreme Court), or easily overridden (think of Trump's gift for demagoguery, of our known willingness to accede to all kinds of liberty-killing legislation in the wake of a terrorist attack, our generally poor understanding of how our government is supposed to work and the importance of checks and balances, and how easily that combination could be exploited if Americans were even more frightened than they were on September 11.).
The second is the "slow accretion of untrammelled power" scenario to which I alluded in a comment yesterday. As I wrote, "His personality reminds me [not so much as Hitler but of] Recep Tayyip Erdoğan. … If you look at the last line [of a piece I wrote for City Journal about Istanbul in 2010], you'll see I wrote it when we didn't yet know what would happen next. That what happened next has been catastrophic makes me all the more uneasy about Trump's personality. We may have checks and balances sufficient to contain him for a while, but over the course of two terms, even enormously secure restraints can wear thin. Tayyip managed seriatum to discredit the military and imprison the top brass, stack the courts, stack the bureaucracy, quash the press, transform the Constitution, and ultimately make it impossible to get rid of him. It's easier to do than you'd think." In other words, I'll sketch out the way I've personally seen a charismatic, shrewd and power-hungry leader undermine checks on his power that were widely believed to be nearly-failsafe.
That's twelve posts, which I'll work through over the coming two weeks. Genferei, would you consider the challenge met if by this line of reasoning I derive, "Armageddon is a higher risk with Donald Trump in office than it is with any other plausible aspirant to the presidency?" If not, does this mean that no argument would convince you, or does it mean you're looking for a different kind of argument? If so, what kind of argument would that be?
(A closing thought: I'll make the argument more fully and seriously in days to come, but how do you reckon Donald would score on the Hare Psychopathy test? Genferei asked me to eschew amateur psychology — as would Hare himself — but I reckon Trump won't be sitting down with a professional psychologist anytime soon, so what choice have we but to practice amateur psychology? Run Trump through the scale as dispassionately as you can. What number do you get, roughly?)