Here's a chart from tech investor and journalist Benedict Evans I came across: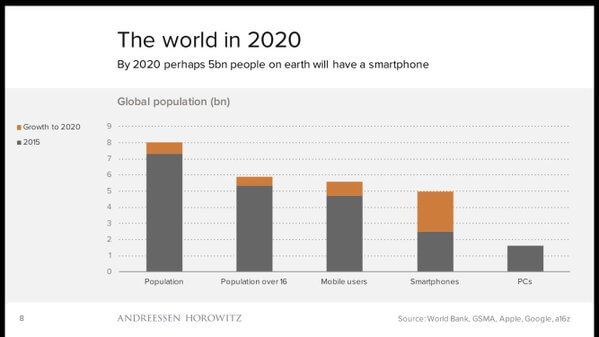 And here's why I think it's good news, aside from the magnificent progress of five billion people being able to ask to join their professional network on LinkedIn. Smartphones are individual, personal, and powerful. Smartphones will drive — and are driving — the move to distributed and personalized real-life services, from small things like commuting to work and buying food, to bigger things like monitoring your health and teaching new skills.
Smartphones are conservative, because they liberate the individual. And what's more, they empower the individual to make choices, rate services, talk back; all of the things top-down, Bernie-Sanders-style government won't allow.
This is an imperfect phrase — would be happy to hear an improvement — but one of the ways we can describe, to people who are genuinely curious, the difference between being a conservative and being a liberal might be to say that we're the Smartphone party and they're the Post Office party.