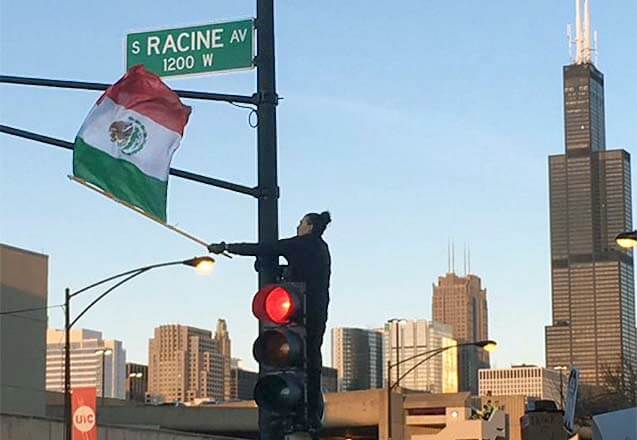 Many Americans get very mad when they see protesters waving Mexican flags in American streets. It calls to mind the people who have been flooding into their communities, their emergency rooms, their public parks and their schools for a generation – people with broken or non-existent English who are showing up in increasing numbers mowing lawns, installing carpets or flooring, working in liquor stores or bagel bakeries or garages or a myriad of other businesses or else who are standing out huddled together by the street at 6 AM waiting to be picked up by someone for day labor.
The flying Mexican flag reminds Americans that these people are breaking the law and living in a lawless underground which shuns the police. They are people who – either through poverty or because of a deficiency in character and upbringing – possess no concept of "respect for the law;" people for whom the law is merely a punishment entity that needs to be factored into their personal cost-benefit, risk-reward analysis. They are people whose fundamental amorality with regard to society's explicit and implicit rules allows them to obtain welfare handouts wherever possible, to apply for child tax credits for children outside the country, to use emergency rooms rather than pay for medical services, to drive without a license and drive away recklessly from accidents and to gather at and often trash public parks and spaces.
These are people who, for whatever reason, have chosen an illegal life course and who, in order to maintain it, are forced into a cascade of other illegalities. That someone living illegally in a foreign country would be unburdened by an abstract respect for the law of that country is not surprising. The disposition you would expect from them is contempt. It is not hard to believe that such people would be prone to disrespect more serious laws involving property and personal safety.
Those Americans who get angry at seeing the Mexican flag on their televisions are quite different from the people who are flying it. They are brought up with an idea that the rules have a basic logic and that they are there for the common benefit. Some may break the laws, many may cheat on the rules, but the vast majority possess an instinct that the law is supposed to be followed irrespective of how it inconveniences me right now or how likely I am to be punished for disobeying it. They wear their seatbelts and they don't run away from their bills. They wait their place in line instinctively.
The perceptions of these angry Americans toward the flag-wavers and their brethren is predicated on the skin color and accents or languages of the newcomers. They are better able to notice the influx of illegal aliens because many of the illegal aliens are Latino and speak Spanish. The angry Americans, however, get angrier still if you suggest that the source of their disapproval of illegal aliens is racism. The case is quite the reverse. The source of Americans' growing contempt for Hispanics – and there is no point claiming that it doesn't exist – is the knowledge that the people they see invading their country and taking their jobs happen to be predominantly (though not exclusively) Hispanic and the majority are in fact from Mexico.
Should the elite from the GOP and their Chamber of Commerce wing and the Democratic Party and the Masters of the Universe get their way and succeed in passing their vile amnesty, you can trust that the subsequent celebratory explosion will be marked by seas of green, white, and red Mexican flags. You can also trust that no single law will more piercingly rip the social fabric and fatally deepen the racism that already exists. There are Americans who will never accept the invaders and who will never forgive their enablers.
It is probably true that the Americans who are enraged by protesters waving the Mexican flag would not list solving illegal immigration – in comparison to providing jobs and building the economy or protecting them from the threat of terrorism – as their highest priority. While, in the words of Senator Jeff Sessions, they have been "begging and pleading their government to enforce the law" for a generation, still, they have grown accustomed to the dishwashers, the hotel staff, and the gardeners and they cannot afford to go around in a state of rage – at least until the flags come out.
It also makes sense to suppose that those Americans who are most enraged by the Mexican flags come preferentially from the lower rungs of society. Not only are poorer people more immediately impacted by illegal aliens (no illegal alien has threatened, so far, to take my nanophysics theory job), but there is something subtler and more spiritual about their anger. It is this:
If you are poor, it can be a struggle to respect the rules. It can be a struggle to obey them. Hell, just getting by may be a struggle. Perhaps you haven't seen a pay raise in a decade. Perhaps you are working longer hours in harder jobs than you used to. Or you are facing a pile of medical bills or are postponing your retirement. Or if you are younger you might be having trouble putting decent clothes on your kids without thinking about where or whether they will ever go to college. It is more than a suspicion to you that life in the lower echelons of American society is not easy and for what seems like the longest while it's been getting harder.
And yet with all the bills and the hardship and the sweat, you are able to find that vital, holy something that causes you, when you're not totally exhausted, to sit your kids down and tell them about the importance of obeying the rules. God bless you.
That vital something you have found has a name. It is called civilization.
I'm telling you people: literally millions of Americans who are not distinguished by their dedication to political discourse are rushing to support a rather loutish and highly imperfect presidential candidate (who will go unnamed) who started his campaign by exhibiting a profound sympathy for those who have suffered the most — practically and morally — from watching the rules get trampled. And trampled.
He has suggested that the only solution to the illegal immigration problem is for those who have come here illegally to return home. However much that may end up being a blue-smoke "touchback" – and we owe it to ourselves to make it more and to make it real – it is nevertheless, morally, the only answer.
Those people who get most angry at the Mexican flag wavers guard a wisdom that is little more than a rumor to you or me. If, in your efforts to crush the vulgarian, you manage to crush them as well, you will leave us with an empty space on the inside.
---
If you appreciate this essay and you are not a member of Ricochet, I would appreciate it if you join the community and comment.