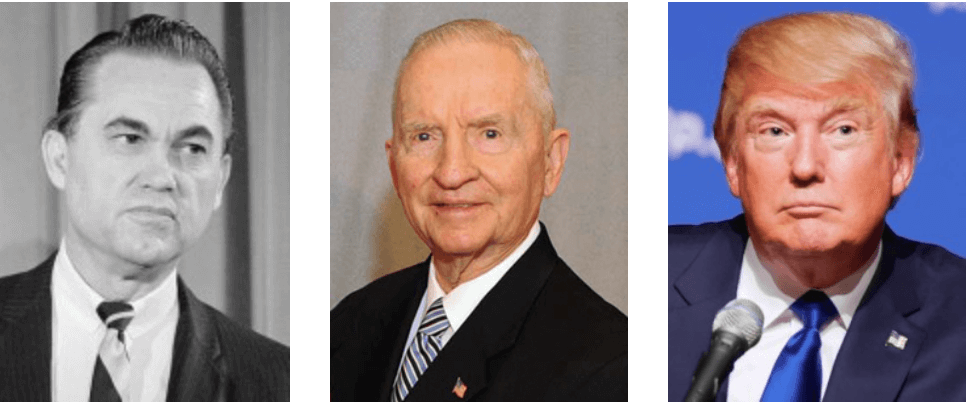 This morning, I voted in Michigan's Republican presidential primary, and I returned home to read in Erasmus' Adages in preparation for tomorrow's class. But before I settled down with book in hand, my mind began a-wandering, and I realized that I had seen this movie — or something very much like it — before.
Forty-eight years ago today, George Wallace won the Michigan Democratic presidential primary, and 24 years ago, Ross Perot appeared on the scene. Strangely enough, I have a sharper memory of Wallace's campaign than of Perot's. I did not live in Michigan then. I was a freshman at Cornell and had recently begun writing an opinion column entitled "O Tempora, O Mores" for The Cornell Daily Sun. I was then, as I am now, a political animal, and I watched with wonder the primary season unfold.
I was, in those, days a left-liberal. I had been swept up in the Kennedy mania in the wake of JFK's assassination. I did not like the Vietnam War, and I favored Eugene McCarthy. Those were the days! I was nineteen. The girls were enticing, and nearly everything that I read was fresh and new.
That summer, I returned to Oklahoma City and took a job as a reporter with The Oklahoma Journal. Now defunct, that newspaper had been founded on a grudge by the first figure in Oklahoma politics to have secured the Democratic gubernatorial nomination and to have lost in the general election. Henry Bellmon was then the state's first Republican governor, and my employer – hopping mad – had founded a newspaper to take on E. K. Gaylord, the proprietor of The Daily Oklahoman, whom he rightly blamed for doing him in.
The bigwigs did not then — and do not now — spend much time in Oklahoma. But it was an election year, the newspaper was run on a shoestring, I was cheap labor, and I was dispatched to cover this, that, and the next thing, including a press conference organized by the American Party for its candidate, George Wallace, and a rally it held on his behalf.
I had spent the summer of 1966 in Chicago as one of six high school students – three Roman Catholics and three Lutherans from the Missouri synod – who had been pulled together to discuss theology, morality, and politics on the eve of the 450th anniversary of the Reformation, and we had spent the summer visiting churches, attending press conferences, meeting with gang leaders and politicians, and keeping a diary from which the organizers extracted bits and pieces to make up a little book entitled Wine in Separate Cups.
One evening, we visited a tiny black Lutheran church and listened politely as Martin Luther King, Jr. spoke. On the way out, I shook his hand. In the summer of 1968, I was resolved that the hand that had shaken that of King two years before was not going to be sullied by the hand of George Wallace. So when he waded into the crowd of reporters and reached for my hand, I shrunk back. I can still remember his voice, saying, "Boy! Your mama should have taught you some manners."
I covered the Wallace rally later that day and watched the supporters of Eugene McCarthy – many of them my friends – stage a walk-out as the crowd rose in rage to shout at them. I was fired the next morning. Someone from the American Party had complained to the managing editor, and he decided to give me the boot. I was, however, useful. I could write, and I was cheap. So the city editor hired me back the next day. I honor the man who fired me – for I was in the wrong – and I am grateful to the man who hired me back. For that summer I had the time of my life.
I still remember the Wallace rally as if it were yesterday. It was a highly patriotic event, and my friends, the ones who staged the walk-out, were regarded as traitors. Race no doubt had a great deal to do with Wallace's support, but it was striking that he never mentioned the issue at all. His theme was what he called "pointy-headed bureaucrats" and "pseudo-intellectuals" (which is, I suppose, what I aspired to be), and he promised to throw the briefcases of the former in the Potomac and to put the latter in their place.
There was, as this suggests, more to his appeal than racial animosity. The people who turned out for him were angry that the Great Society had upended their lives. They were, for the most part, older folks. They were little people. They had fought in World War II or Korea. They had worked in factories or run small businesses. They had played by the rules. They had skimped and saved, and they had done tolerably well. Now, a bunch of snooty, ivy-league types had descended on them from DC and were telling them how to run their lives.
They did not much like LBJ. He was a crook, and they knew it. They liked Hubert Humphrey even less. He was, they knew, a socialist of sorts; and Eugene McCarthy and his brigade of college students they thoroughly despised. Wars were for winning; and, though they may not have loved the Vietnam War, it was their view that we should whip the communists there and then and only then come home. There was bigotry I do not doubt, but there was also public-spiritedness and a love of country behind their anger. They believed that they and the country had been betrayed, and they did not see anywhere safe to turn.
Twenty-four years later, there was another eruption. It had nothing to do with race, but it was — in all other respects — similar to the one that propelled Wallace to victory in the Michigan primary. This time, it was not an intraparty affair: There were longtime Republicans and longtime Democrats who rallied to Ross Perot, and they did so because they believed that there was a collusion between the two parties to cover up a scandal. These people knew that they had played by the rules, and they knew that the folks involved in the Savings-and-Loan Scandal had done nothing of the sort. These scoundrels had contributed heavily to Democratic officeholders; they had drawn in a hapless son of George Herbert Walker Bush; and they had gotten off scot free. Because of the involvement of the younger Bush, the Republicans did not want to pursue the matter, and the Democrats were deeply involved.
Today, we face the same sort of situation. President Barack Obama came into power intent, as he put it, on "fundamentally" changing America. He called his administration "The New Foundation," and he tried to be as good as his word. First came the expenditure of three-quarters of a trillion dollars, most of which went as gravy to the patronage-hounds of the Democratic Party. Then came Obamacare, with all the lies about one's ability to keep one's insurance and about cutting medical costs. This gave rise to the Tea Party, and the Republicans profited, chiefly because the Democrats' punitive treatment of the Republicans in Congress forced them to oppose the so-called "stimulus" and because the emergence of the Tea Party induced Senator Charles Grassley, John McCain, and the others who would have embraced Obamacare to back off. In the 2010 off-year election, the Republicans did better than at any time since 1928.
In 2012, the Republicans failed to find a plausible candidate who could capitalize on the fury that had gripped their base, nominating a man who had designed for the state of Massachusetts the healthcare program that had served as the inspiration for Obamacare. He did well initially and opted to sit on a lead that he quickly lost; and Barack Obama as president got a new lease on life.
Then, in 2014, this disaffected electorate propelled the Republicans to a victory even more dramatic than the one that they had won in 2010, and they gained control of the Senate. But with this victory they did nothing. They had long before surrendered the law-making power to the executive agencies that Obama was employing to reshape American life, and they had also given up the power of the purse. All that the president had to do was to threaten a veto and threaten to shut down a variety of government functions, and they cowered. Never mind the fact that the Constitution gave Congress the power of the purse and that the shut-down would be the president's work. They were too timid to fight the battle to the bitter end that would restore to them their constitutional prerogatives.
Moreover, in 2010 and 2012, Republican candidates had said a great deal about the need to put an end to illegal immigration, and this, too, was a concern for a lot of Americans who saw their jobs going to illegal aliens willing to work for a pittance. In the wake of 2012, however, under the influence of the Chamber of Commerce — which likes nothing better than cheap labor — the Republican leadership in both houses of Congress worked assiduously to legalize the presence of these illegal immigrants, and they sat back and did nothing while the president flouted the laws providing for the integrity of our borders.
That is when the little folks gave up on our officeholders, as they had done 24 and 48 before. I will not praise these people for their judgment. George Wallace and Ross Perot would have made terrible presidents, and Donald Trump is arguably worse. But there is a lesson in this. When a sizable proportion of the American population has a grievance, they expect redress and — if those in office fail to address their concerns — they will look elsewhere and regard the disreputable not as reprobates, but as virtuous men. Donald Trump would not be a real force in this electoral cycle if people did not feel betrayed.
I do not know where this will end. In 1968, the eruption made Richard Nixon president. In 1992, it produced William Jefferson Clinton. This year, if we are lucky, it might push Senator Ted Cruz to the forefront and, perhaps, over the top. But it could saddle us with yet another disastrous presidency.
There is, however, a moral to the story: When you step on ordinary folks and they get spitting-mad, you had better watch out. One of the two parties will address the concerns of these people, and the party that does so will prosper mightily over the next few years.